How do you make your day really stand out from the rest when some wedding trends are becoming over-used?
Here at Manor By The Lake we've hosted a lot of spectacular weddings and can offer some insider knowledge to make your wedding day one to really remember. 
Don't become a slave to Pinterest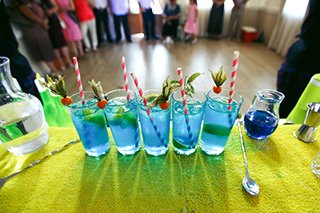 Don't get us wrong, we LOVE Pinterest, and it's a brilliant way of capturing and sharing ideas with the rest of your wedding party. The problem is that everyone can start tapping into exactly the same wedding trends, with the result that your day is in danger of becoming seriously 'samey'. From Prosecco to personalisation – there's a good chance some of 'your' ideas may have become extremely over-used. So lets think outside of the box a little.
Your wedding day should be all about you and your other half, so don't try and mould yourself into someone else's ideas. Embrace your partner's love of stout and your passion for butterflies, but do try to resist the lure of the overused cupcake. Choose an unusual sweet treat that says something special about the pair of you – even if that means providing a giant bowl of liquorice allsorts, custard creams or even retro sweets from yesteryear – remember love hearts? – everyone has their favourite.
If you really want to break away from current wedding trends, try and resist overusing blackboards by using antique picture frames from a vintage shop or use clever, sign-written props. If you've booked a caricaturist, get them to do some of the signs or table cards on a theme that's really 'you'.
Consider your guests
We understand that your wedding day is special, and that it should be exactly what you want, but if you're looking to stand out, then spare some thought for your guests. If you're in the midst of a busy wedding season, facing one every fortnight from now until October, then so are the majority of your guests.
A traditional wedding breakfast is great, but if you and your partner prefer a more casual approach to dining, then now is the moment to try something different – we promise that your guests will thank you for being daring. Forgo the name cards and let your guests sit wherever they feel comfortable, they will meet new people and make new friends of all ages. Encourage guests to change tables between courses and maybe introduce an ice cream cart as an extra option for dessert. I defy you to find anyone who wouldn't be delighted to see a creative fish and chip van providing additional evening snacks!
Giving people the opportunity to mingle means they'll be more relaxed and will enjoy themselves so much more than if they're forced adhere to rigid seating plan for hours on end.
Keeping up with the Joneses
When your friends have all decided to take the plunge at the same time, there can be a temptation to compete with each other to throw the 'best' wedding. Trust us, this is an easy trap to fall into, and will almost certainly result in some serious 'Bridezilla' behaviour. So try and keep things in perspective. It doesn't matter if your partner's best friend is having an eight piece band and you've only booked a four. It also doesn't matter if you wanted to book a caricaturist, but someone else got in there first.
Try and remember that your wedding day should reflect you and your partner and what you're like as a couple. Don't be drawn into trying to copy someone else's plans or even outdo them as the result will be remembered for ever… for all the wrong reasons. The only day you should be thinking about, is yours. If you both love magic and have always dreamed of having a magician entertain guests at your wedding, then go ahead. But try to try to find one that takes a different angle and has other skills as well. If the weather is looking good, encourage some different garden fun, like crazy golf and chess, rather than just the obligatory bouncy castle for the kids.
At Manor By The Lake our experienced wedding planners will give you reliable advice to help you create a day that is truly unique to you. We won't force you down a standard package approach, but allow you to customise your day to suit your needs. There's lots of scope to be different so let us help you make your special day one to remember.
To arrange a viewing, please call Tina at Manor By The Lake on 01242 245 071.