Hands up if you like Wedding Cake? Well here's the good news. For couples busy planning their big day, this is one of the most fun parts of organising your wedding! Get into the spirit of the Great British Bake Off and learn how to tell your fondant from your royal icing, and why you should be going naked!
Here are Manor By The Lake's personal favourites to help you choose a classy wedding cake for your special day.
Naked Wedding Cakes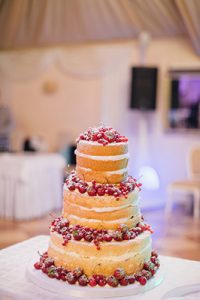 Yes, that's right – we're suggesting a naked wedding cake. Fear not though, nothing to see here, other than a beautifully paired-back cake that exposes the sponge and filling without being covered in icing. These look wonderful dressed simply with summer berries or in winter, choose late seasonal fruits such as apples, pears and cranberries.
Painted / Illustrated Wedding Cakes
Get creative with an artistic wedding cake featuring a hand painted design. Go for abstract colours that tie in with your theme, or choose a design that has special significance to you – maybe the design of your wedding invitations, or the flowers in your bouquet. If you're feeling really bold, why not commission painted representations of the bride and groom!
Lace Wedding Cakes
A popular current trend is for lace effect cakes. With these, icing is applied to mimic the intricacies of a lace pattern, perhaps taking inspiration from your wedding dress. Delicate fondant flowers and patterns are wrapped around each tier. To create intrigue, choose a delicate coloured icing for the smooth layer, and apply the white icing lace as a layer over the top. Stunning.
Colour Drip Wedding Cakes
These cakes are quite a new trend, but are proving extremely popular as they look dramatic, and taste wonderful. Cakes are iced in fondant or buttercream and then a rich chocolate, caramel or fruit ganache is dripped down the sides in decadent, sweet trickles of yumminess.
Ombre Wedding Cakes
First we had ombre dresses, then ombre hair colouring and now, ombre wedding cakes. Here, the colour of the icing is graduated from top to bottom and the technique can be applied to any colour scheme. Transition from a deep, rich colour to a paler hue, or simply graduate from a barely there tint to a pure white. These cakes can look as subtle or as dramatic as you choose.
Rosette Wedding Cakes
Rosette wedding cakes have been popular for a while but show no sign of disappearing from top tables everywhere. Sugar roses are individually created by hand to cover the entire cake with dozens or even hundreds of intricate flowers creating a stunning effect. Stay classy by sticking to ivory or white roses for an elegant look.
Cheese Wedding Cakes
And finally to our favourite option. The cheese wedding cake. Simply select your favourite cheeses and create a tiered tower of dairy delight! Choose well and you'll have a perfectly balanced cheeseboard to feed your evening guests – just add crackers, artisan breads and plenty of tangy chutney.
Cheese wedding cakes are perfect for couples who don't have a sweet tooth but still want to make a nod to tradition by cutting a cake and making a wish.
So which is your favourite? We hope we've given you some food for thought, and helped you in the planning of your special day.
For more wedding hints and tips, talk to our fabulous wedding planners. At Manor By The Lake we help our couples every step of the way so give us a call on 01242 245 071 or email [email protected] and we'll look forward to welcoming you to our beautiful wedding venue.