Are you newly engaged following a Christmas or New Year proposal? Or perhaps the news is hot off the press after a Valentine's Day engagement? Whenever you or your beloved popped the question, all attention must now shift to the truly exciting part…planning your wedding.
Our talented wedding planners at Manor By The Lake are on top of all the latest trends, so here are their tips on the hottest wedding trends.
Gin Bar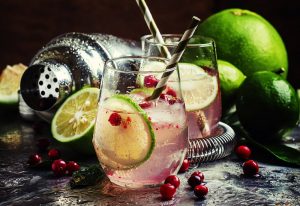 For a few years, couples have indulged their love of fizz with bubbly bars, and 'Pimp Your Prosecco' trolleys playing a part in their reception festivities. Now, it's gin that wants a look in.
From customised gin cocktails to DIY gin bars and even gin favours, the popular British tipple is everywhere. We loved a recent wedding where guests were each given a Gin & Tonic lip balm. A great excuse for lots of kissing!
Portrait Artists and Illustrators
We still love photo booths and stacks of props as a fun way to get your guests creating long lasting memories of your special day. However, a growing trend is to hire an illustrator or portrait artist to capture the moment with live sketches that can be taken home, or used to create an alternative picture album.
Dessert Table
We don't know if it has anything to do with the demise of the Great British Bake Off on the BBC, or simply because as a nation we love to bake, but we're loving the new trend for dessert tables.
For those who haven't yet experienced one, guests are invited to bring a cake or pudding to the reception venue, where they are displayed buffet style for everyone to enjoy after the main course. Some couples invite nominations for the best looking bake, with the winners awarded a prize by the happy couple.
Doughnuts
First, there were cupcakes, then macarons, and now…. doughnuts! The latest sweet trend to sweep wedding venues across the UK are these delectable fried treats. They make brilliant favours, can be customised with lots of different glazes and fillings, and can even be stacked like a croquembouche as an alternative wedding cake. What's not to like?
Be Socially and Environmentally Conscious
For many, a wedding celebration is a great opportunity to spare a thought for others and our environment. On what can be seen as a day of excesses, it's lovely to think of ways to respect the world around us and give something back wherever possible.
From printing your invitations on recycled paper with environmentally friendly inks to sourcing local food and homegrown flowers, there are plenty of ways to make a difference, however small.
Why not consider taking your wedding flowers to a local care home or hospice so that others less fortunate can enjoy them after your special day is over. If you really want to give something back, a great option is to forgo a wedding list, and instead, ask friends and families to make a donation to a charity of your choice.
To learn more about the latest trends for memorable weddings, give our knowledgeable wedding planners a call today. Why not arrange a private tour of our stunning Manor house while you're at it? Give us a call on 01242 245 071 or email [email protected] to find out more about Manor By The Lake.