Who doesn't love a sweet treat? We're seeing all kinds of wonderful ideas popping up at weddings this year. Give your guests the ultimate sweet indulgence by trying some of these top trends for wedding sweet treats.
Doughnut Wall
We couldn't believe our eyes when we saw our first doughnut wall. Why has no-one thought of this before? It's an absolutely genius idea and a great alternative to a formal dessert at your reception. You can use the opportunity to colour code your doughnuts to match your overall theme, or you and your other half could each pick a favourite flavour to offer your guests.
There's the stunning visual effect that everyone will love as well as the quite literal 'hand on' experience when people get to pick their own doughnut. What's not to love?
Candy Floss
Let all the fun of the fair come to your wedding venue! Forget chocolate fountains – candy floss machines are the next big trend for something fun and frivolous that appeals to everyone. There are plenty of companies who can hire out machines, or send someone to cook and serve for your guests. Did you know you can even colour match your candy floss to your theme?
As well as being a moreish treat, bags of candy floss make a great cost effective option as a favour for guests to take home with them. All you need is a stash of clear plastic bags and some personalised tags to commemorate the date.
Meringues
Colourful and cute, vibrant coloured meringues look amazing when stacked together in lots of different hues. As well as being properly pretty, meringues are gluten free and offer the perfect option for a customisable dessert.
Simply provide big bowls of whipped cream, fresh fruit, sprinkles and sticky, sweet sauces and guests can tuck in themselves to create their own, ultimate Eton Mess. You could also give guests bags of mini meringues to take home as a sweet memento of your day.
Macarons
These elegant treats seem to have taken over from the humble cupcake. We're loving the trend for macaron wedding cakes where hundreds of individual macarons are arranged in tiers of stunning colours to create the illusion of a traditional wedding cake.
With the option of flavouring each colour and layer differently, there's a wonderful opportunity to create a wedding cake alternative that everyone will want a bite from! Macaron towers can be created as small or tall as you like and are a stylish as well as a tasty centrepiece for your celebrations.
Sweet Cart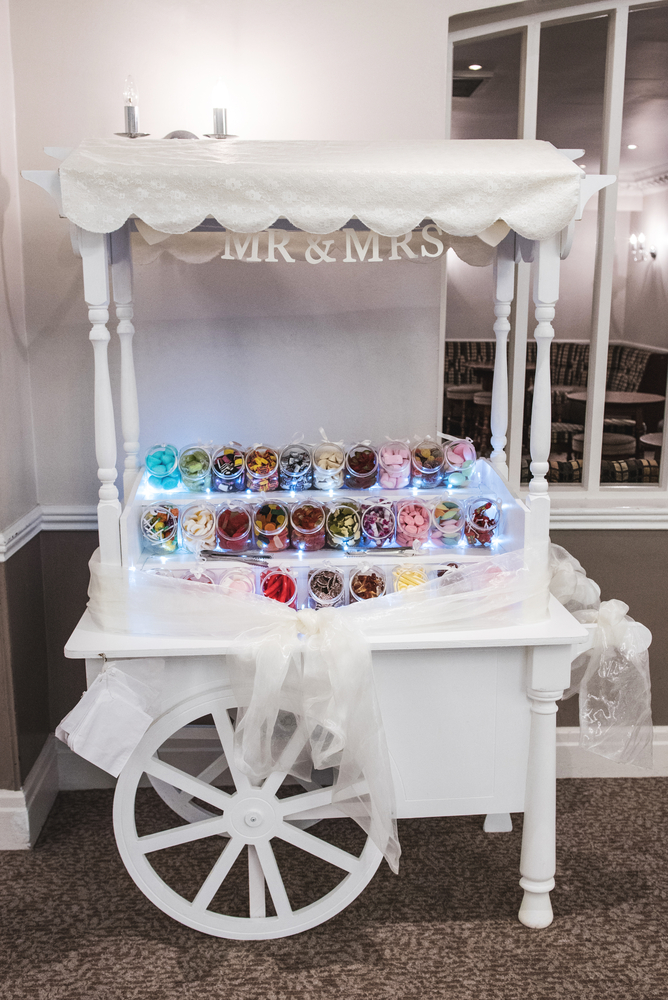 If you'd like to give your guests the opportunity to help themselves whenever they need a sugar fix, then why not consider a traditional sweet cart? You can choose all your favourite retro sweets and let your guests tuck in whenever they fancy.
Traditional stripy sweet bags can be bought online and printed with a personalised message so people can take home a stash of sweets when they leave your super celebrations. The best bit? A sweet cart will appeal to everyone from great granny right down to your youngest niece or nephew so you simply can't go wrong!
To learn more about the latest trends for memorable weddings, give our knowledgeable wedding planners a call today. Why not arrange a private tour of our stunning country Manor house while you're at it? Give us a call on 01242 245 071 or email [email protected] to find out more about Manor By The Lake.
Take a look at more fabulous Wedding ideas on our Inspiration Page and on Pinterest!