These days, traditional anniversary gifts can seem a little dated. Let's face it, we don't know many couples who'd appreciate a carriage clock or china figurines, so how can you commemorate these important anniversary milestones in a more contemporary way?
The Manor By The Lake event planners have some ideas to help you out!
1st Anniversary – Paper
We think this is one of the easier anniversaries to buy for as there's such wide scope with paper. Books make wonderful gifts and can easily be tailored to a couple's interests. Maybe they're keen cooks who'd love a recipe book or perhaps they suffer from wanderlust and would prefer a wonderful travel guide to inspire them for their next break away?
You can also go down the route of a piece of artwork printed, painted or sketched on paper – perhaps a landscape of the area where they got married?
From partner to partner, why not treat your loved ones to tickets to a show or concert – just remember you don't want the e-ticket on this occasion!
10th Anniversary – Tin
So now it gets more tricky. Who can think of anything desirable that's made from tin? We've done our best.
Why not commission a personalised tin with the couple's initials and wedding date and then fill with a selection of their favourite things?
Or, plant a selection of bulbs or herbs in vintage tin buckets for a personal and relevant take on the more traditional bouquet of flowers.
We personally love vintage tin signs that you can often pick up in salvage yards and junk shops and recently saw a fab old railway sign that we'd love in our living room… but maybe that's just us! Reproduction versions are also readily available online which makes this a slightly easier gift to secure.
25th Anniversary – Silver
Forget carriage clocks and photo frames – why not give something that reminds your loved ones of the year they got married? For couples celebrating this year, the year in question was 1992 which was the year Ab Fab first hit our screens! Yes, really. How old do we now feel? So, surely there's no better excuse for a themed party and a bottle (or 20) of good old Bolly?
For a great garden gift, what about a fire pit… ok so you probably can't stretch to a solid silver pit, but certainly a silver/grey coloured one is close enough and is a great excuse for a get-together. Toasting marshmallows while enjoying a few glasses of fizz and a catch up with great friends is surely one of the greatest ways to celebrate a milestone anniversary.
30th Anniversary – Pearl
So, we all know that real pearls come from the sea, so why not give a gift inspired by the seaside. Treat the lucky couple to a meal at a great seafood restaurant, or maybe a stay at a coastal hotel.
If you don't fancy going the coastal route, why not celebrate the number instead. Give 30 inspirational mini gifts that mean something to you or the couple in question. Create a compilation of 30 shared favourite music tracks or albums as a personal gift that will last a lifetime.
40th Anniversary – Ruby
The obvious rubies are jewels, but lots of other possible gifts are red and would make a great alternative. Ruby port, a crate of red wine, or what about vines to grow your own grapes and then bottle your own vintage? We've seen great grow your own pomegranate trees and strawberry plants too that would suit green fingered couples.
Why not go completely off piste – red wellies, a new red post box, or even a picnic basket full of red foodie treats? For a truly memorable experience, what about a hot air balloon ride – we can think of a certain large company with distinctive red branding that could do just the job!
Get creative and we're sure your thoughtfulness will be greatly appreciated.
50th Anniversary – Golden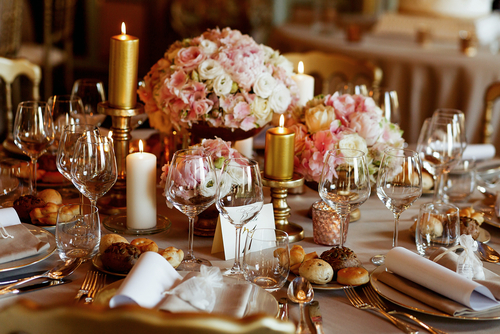 Well, this is the biggie! Anyone reaching this major milestone surely deserves a party of epic proportions. We love the idea of a golden-themed bash for your nearest and dearest and actually embracing tradition with lots of golden gifts.
If you're looking to throw or host a milestone anniversary party, why not give our knowledgeable event planners a call today. We can arrange a private tour of our stunning country Manor house which is the perfect setting for a multi-generational party.
Give us a call on 01242 245 071 or email [email protected] to find out more about Manor By The Lake and everything it has to offer.