Following on from our recent High Street wedding dresses post, we've picked up on another growing trend that's perfect for couples looking to save money on their wedding day.
This week, the Manor By The Lake wedding planners are here to share details of wedding cakes that are available to order from High Street shops and supermarkets.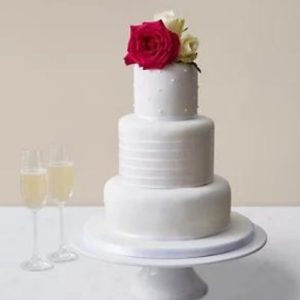 Who doesn't love the tradition of the happy couple cutting their wedding cake during the reception? But with prices for large, multi-tiered cakes regularly running to many hundreds of pounds, for some, it's an expense they just can't justify.
Brides magazine recently ran a feature on wedding cakes, featuring some truly stunning and original designs, but the eye-catching thought for us was… how much? Many of the cakes featured cost over £1500 and a couple, over £4000! For a cake!
Don't get us wrong, if money's no object and you live for cake, then who are we to disagree with forking out thousands for some seriously superior sponge. However, if like many couples we work with, you're looking to invest your wedding budget cannily, and aren't prepared to overspend on details that aren't massively important to you, then your wedding cake is an area where savings can definitely be made. If you don't have a talented friend or family member chomping at the bit to make your wedding cake, then a high street option could be right up your street!
Marks & Spencer Wedding Cakes
With almost 100 cakes to choose from, at Marks and Spencer, they've made choosing a wedding cake beautifully simple. Simply go online to view details of the full range and once you've selected a design and size, you order in store or online and collect from your nearest shop.
Most of the range has a 21 day lead time from order to collection, but if you're after a cheese or pork pie cake, these only need ordering 5 days before you wish to collect. There are also a number of more standard designs that can be ordered a mere 7 days before your big day.
From cupcakes to cutting bars, they really have thought of pretty much everything. You can opt for a traditional fully assembled tiered cake made from chocolate, sponge or fruit cake or a more contemporary design such as a naked or square cake.
For absolute flexibility, you can also order single tiers and accessories to create a cake that meets your exact requirements, allowing you to have a fruit top tier and sponge or chocolate lower tiers.
There's also the option to buy plain iced cakes that you can then decorate to fit your theme.
Single tiers start from just £8.00 and there are even taster cakes available to help you choose before you commit to your order.
Personally, we'd go for the Vogue Wedding Cake with white icing that has a tier each of chocolate, fruit and sponge cake and serves 100, all for the bargain price of £199.
Waitrose Wedding Cakes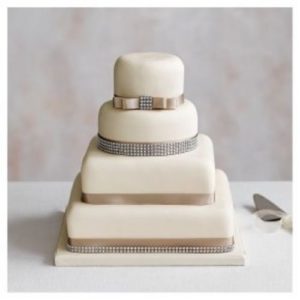 Similar to Marks and Spencer, Waitrose offer a wide range of cakes to complement every style of wedding from delicately romantic to timelessly traditional.
You can pre-order up to 3 months in advance and you only pay on despatch of your cake which will certainly help with wedding budgeting. You can opt to collect your cake in store, or have it delivered to your home or venue to suit you.
Waitrose offer cupcakes and wedding biscuits that perfectly complement the larger cakes, or can be used as charming favours.
There are naked cakes, cakes for self assembly and decoration, as well as fully decorated traditional and contemporary designs in chocolate, sponge and fruit varieties.
Where Waitrose has the edge over M&S is the fact that they sell a range of cakes from cake maker to the royals, Fiona Cairns. This is the lady responsible for the wedding cake served at the Duke and Duchess of Cambridge's wedding in 2011, and more recently, she was also responsible for Pippa Middleton's wedding cake just last month. The jewel in the crown of this cake range is her 5 tier Grace wedding cake – a delicate hand decorated ivory iced cake made of chocolate and fruit cake and ready to serve 210 people at £549.
For a more cost effective option, we love the naked 5 tier golden sponge with vanilla buttercream and raspberry jam filling all ready to decorate with fruit or fresh flowers. A snip at £149 for 100 people.
Tesco Wedding Cakes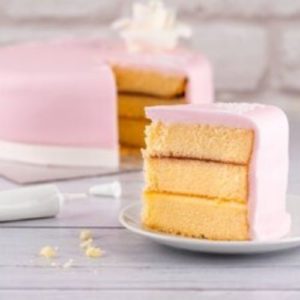 Supermarket giant Tesco has also embraced the demand for cost effective wedding cakes with its own limited range that all need less than a week's notice for ordering. Perfect for last minute changes of plans!
There are a small number of single tier celebration cakes available that would be perfect for a small wedding, as well as a range of separate tiers of sponge or fruit cake enabling you to build your own wedding cake.
As with Waitrose and M&S, Tesco sell the dowels and pillars so you can easily DIY your tiered cake, as well as cutting bars to make sure there are enough slices to go round on the day.
A 3 tier sponge filled with buttercream and raspberry jam covered with soft icing and hand finished with royal icing decorations will set you back just £80 and serve 90 guests.
Tesco
To learn more about all the latest trends for memorable weddings, give our knowledgeable wedding planners a call today. Why not arrange a private tour of our stunning country manor house while you're at it? Give us a call on 01242 245 071 or email [email protected] to find out more about Manor By The Lake.