Maybe you've just got engaged, or perhaps you're patiently waiting (or not so patiently dropping hints!) Are you a man who's all ready to pop the question but doesn't have a clue about what ring to buy? Whatever your status, who can resist the lure of other people's engagement rings.
The Manor By The Lake wedding planners have rounded up their pick of the most awesome celebrity engagement rings ever. Warning: drop dead gorgeous diamonds this way!
1 Kim Kardashian
She's not known for being the shy, retiring type, so it's no surprise that Kim Kardashian's (current) engagement ring is a bold and blingy statement. Her other half Kanye West collaborated with Hollywood jeweller to the stars Lorraine Schwartz to create the perfect ring for his now wife.
The stone is a completely flawless cushion cut diamond weighing an incredible 15 carats and set on a thin diamond band. Apparently Kanye wanted to create the illusion that the diamond was floating in the air and worked with Schwartz to create the perfect interpretation of his vision. When it comes to things floating, we reckon even the demanding Kim must have been floating on air when she saw the size of this rock!
Value: The ring is reputedly worth a cool $1.6 million
2 Pippa Middleton
 Having once achieved worldwide fame thanks to her remarkably pert posterior, Pippa made headlines once again last year when she accepted a proposal from her hedge funder boyfriend, James Matthews. The pair were holidaying in the Lake District when James popped the question with a stunning art deco style ring.
The ring features a 3 carat Asscher cut diamond surrounded by round brilliant stones in an octagonal setting and set in platinum. James helped design the ring, working with a London based jeweller to create the unique piece. Stylish and show-stopping – we reckon he did a pretty good job.
Value: Pippa's bling cost an estimated £200,000.
3 Lady Gaga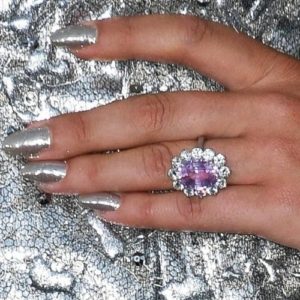 She's recently starred in a campaign for upmarket jeweller Tiffany & Co, but we're not sure whether Lady Gaga's beau managed to get a discount when he bought her huge engagement ring.
Taylor Kinney presented Gaga with a truly exceptional heart shaped stone when he proposed on Valentine's Day 2015. The stone is set on a delicate diamond band, barely visible beneath the huge stone. It's not exactly our cup of tea but is undeniably the most outwardly romantic ring we've ever seen.
Value: To get a ring like Gaga's will set you back a cool $500,000. (Image: Eonline)
4 Kim Sears
Andy Murray's leading lady Kim Sears waited for nine years before her tennis ace popped the question but we reckon that the wait was definitely worth it if the diamond is anything to go by! Andy chose the ring himself before proposing to Kim and selected a classic round diamond solitaire surrounded by a halo of tiny round diamonds all set on a diamond band.
The central stone is around 3 carats and due to the prominent high setting, is difficult to miss! With a personal fortune of around £30 million, the pair live in a £5.7 million house in Surrey so at least there's no doubt that Andy can afford such a blingy ring!
Value: This statement piece likely set Andy back around £200,000.
5 Blake Lively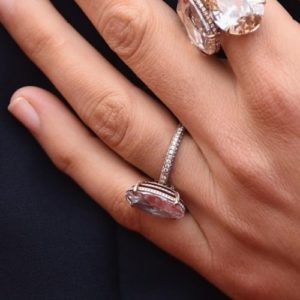 One of our absolute favourite rings ever, Blake's gorgeous hubby Ryan Reynolds proposed with a truly stunning pink diamond ring made once again by the talented (and popular) Lorraine Schwartz.
The ring feature a central 12 carat delicate pink stone is set in supremely fashionable rose gold and features pave and micro diamond bands that give it an art deco look. Given the rarity of this coloured diamond coupled with its awesome size, this is one of the most expensive engagement rings we've ever swooned over.
Value: Ryan parted with around $2 million dollars when wooing Blake with this ring. (Image: Hello magazine)
6 Catherine Zeta Jones
Many were surprised when Welsh darling Catherine Zeta Jones accepted a marriage proposal from the much older Hollywood actor Michael Douglas back in 1999. The proposal took place on New Year's Eve with Michael presenting his sweetheart with a 1920's antique ring by Fred Leighton.
The huge and unusual ring features a 10 carat marquise cut diamond surrounded by 28 smaller stones and set in platinum.
Value: This antique gem is valued at around $1 million.
7 Mariah Carey
The last time diva Mariah was engaged sadly didn't result in a trip down the aisle but it did at least provide plenty of media coverage due to the massive engagement ring presented by her one time fiance James Packer.
At 35 carats, this emerald cut stone is so large it's hard to see how Mariah managed to raise her hand! There are single side stones on each shoulder, and it's set on a plain platinum band – there's really no need for any more detail as the central stone distracts the eye from everything else! To put it into perspective, this ring is larger than the combined weight of Beyonce's engagement ring and Kim Kardashian's sparkler!
Value: Hard to pin down exactly but likely to be in the region of $10 million.
8 Amal Clooney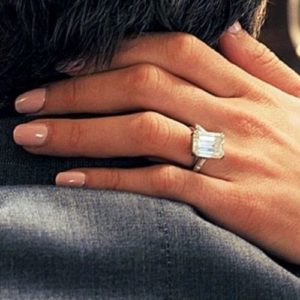 We imagine Amal must be a seriously special lady, I mean who else would be able to tempt long term bachelor George Clooney into marriage? So, this sophisticated lady deserves a sophisticated ring and George did not disappoint. Given Amal's job as a human rights lawyer, George purchased a stunning ethically sourced diamond for his fiancee.
The emerald cut stone is around 7 carats and has a classic side stone setting of tapered baguettes set on a platinum band. Rumour has it the new Mrs Clooney thinks her engagement ring is too distracting to wear at work and only wears the rock when she's with her husband. We're not sure we could ever take off a ring that's this gorgeous!
Value: George will have parted with around $750,000 for this stunner. (Image: Meaghan Keelin on Pinterest)
So, there you have it, Manor By The Lake's round up of the most awesome engagement rings worn by the great and the good! Even if you don't have the mega millions budget, we've hopefully given you some ideas and inspiration when choosing your own engagement ring. 
If you are recently engaged then why not give our super wedding planners a call today on 01242 245 071 or email [email protected] to book a private tour of our stunning country Manor house.