Wishing for a boho-chic inspired wedding?  With the festival trend growing more popular every year, we're seeing a growing number of alternative and funky ideas to incorporate into your wedding celebrations. Check out our favourites below!
Lighting
Jam jars are a great way to add a touch of DIY décor to your wedding theme. Adding coloured tissue paper to line the jars are a perfect way to pair them with your overall colour scheme and they help create an enchanting atmosphere for guests. For inside your marquee or tent, opt for fairy lights and hued lanterns across the roof to create beautiful mood lighting!
Decorative entertainment
If you're planning an outdoor wedding reception, incorporating fun and games into the entertainment is a must. Not only is it a perfect ice breaker for friends and family of the bride and groom, it's also an exciting way to add some friendly cheer to the atmosphere.
The in-action shots of guests playing giant jenga will make for some adorably fond memories and add a splash of humour to the wedding album.
Try setting up an area for a game of rounders, an activity that both the adults and children can get involved in. Sack races will add a healthy dose of competition and take guests back to their school days during sports day! After a glass of prosecco or two you can be sure this game will have guests in fits of laughter. On top of this, scatter some hula hoops around, a few bouncy balls and some picnic blankets and let the guests get creative!
Flower power
Flower garlands, boho style blooms and wild flowers all around. Festival weddings aren't complete without an overload of stunning floral décor.
For a quirky twist on a classic, try filling botanical bunches of flowers in funky patterned wellies. They're cheap and cheerful and you can scatter them in and around the grounds for a unique accent to the theme.
As for the type of flowers to use, alongside wildflowers, daisies are also a great choice for a festival celebration. These sweet forget-me-not buds symbolise loyal love and innocence. Include them in your ceremony arch or even use them as inspiration for a statement wedding cake.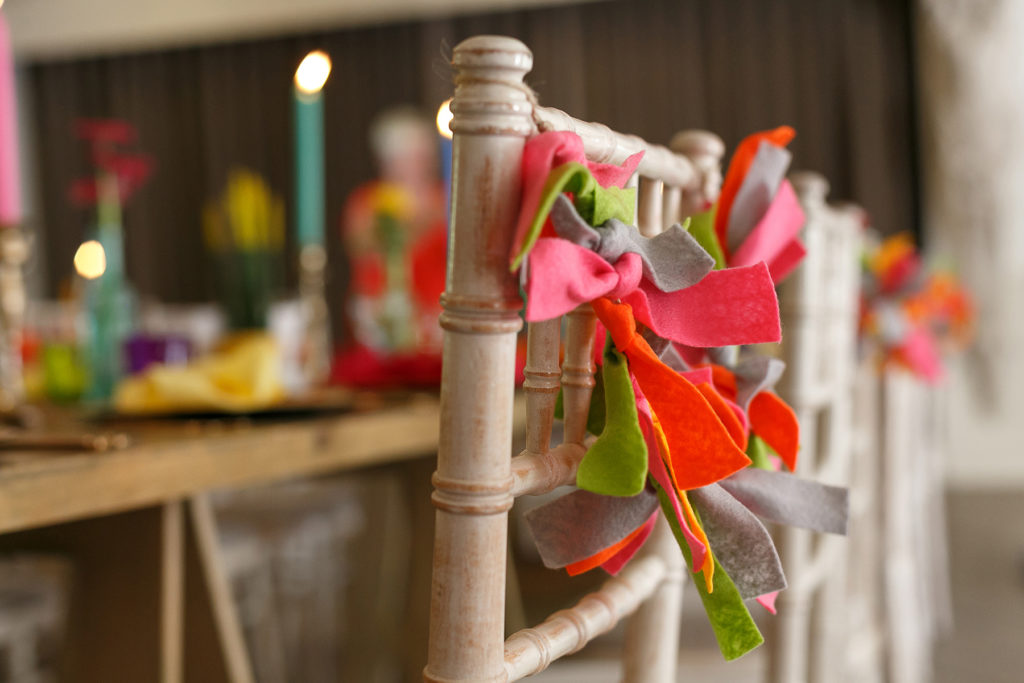 Signature signage
Sometimes a large outdoor space can feel quite empty and barren, spruce up an uninspiring area with colourful signage to make the space feel inviting. If you're hosting a live band to headline your celebration add a line-up board listing the events of the evening.
The wonderful thing about adding signage to a festival wedding is how creative you can get with personalising the design. Whether you want to keep it rustic and artsy or opt for simpler monotone signs, either option will give an authentic festival feel to your wedding. Get imaginative with the materials you use from neon coloured paint and light up lettering to chalkboard backgrounds and glow in the dark writing. The possibilities are endless!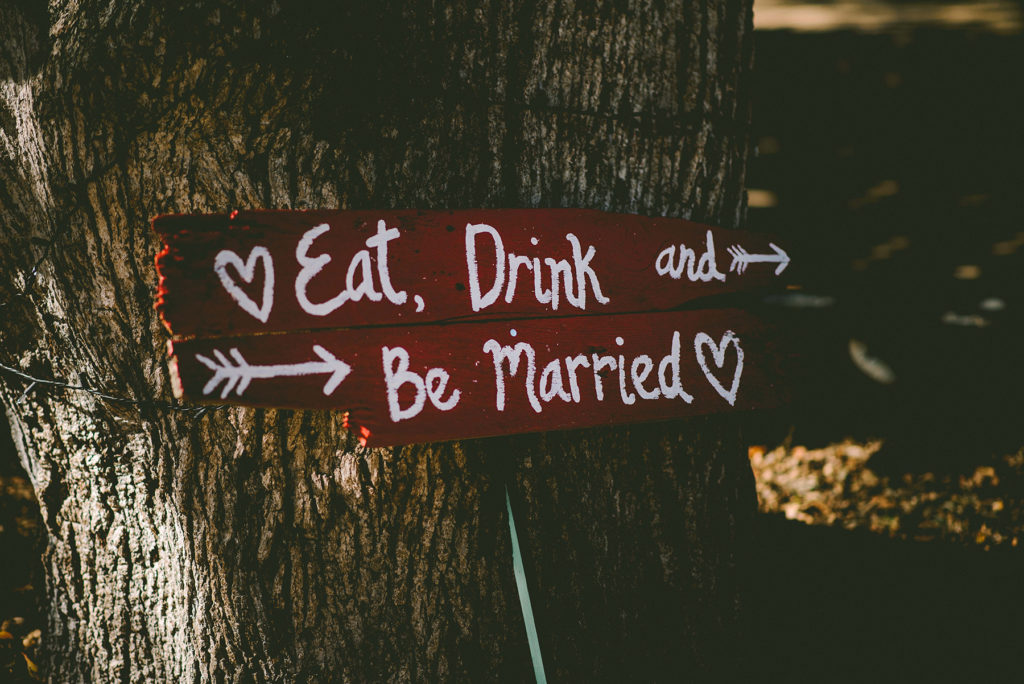 Tablescapes
For couples who are looking to add some pizzazz to their tablescapes, a festival wedding is a theme where anything goes! You can mismatch fabrics and florals to your heart's desire. The festival season also marks the beginning of spring so your options are endless when it comes to flower arrangements.
With airy fabrics, pastel palettes, and peonies in full bloom during the spring season, you can opt for a sweet and simple look. A blue chequered picnic style table runner, paired with teapot vase centrepieces give the décor a light-hearted and cutesy air to the theme.
For a funkier design, use Gin bottles and label tables according to areas of your favourite music festival such as the 'pyramid stage' or 'the park' at Glastonbury! It's a great way to tie the décor into your overall festival theme and can be a great conversation starter for guests!