Something that has become increasingly popular when planning a wedding is the shift in catering towards specific tastes, styles and hobbies. Gone are the days of the static wedding, we now celebrate the couples personalities and style.
One of the biggest movements is the flexibility of the wedding menu, offering a whole host of delicious dining options ready to wow and excite.
There is so much choice when it comes to wedding food, from the traditional sit down three course meals to sociable bowl foods (thanks Meghan and Harry).
So, how are you going to feed your guests? What food excites you? What delicacies do you truly love?
Let's look and see what options are available and get our mouths watering!
Themed weddings
Themed weddings are huge this year, largely focusing on foods associated to the couple's honeymoon destination. It's such a nice way to seamlessly move through your wedding celebrations.
The most popular destinations for honeymoons include the Maldives, Santorini, Thailand and Bali.
All these stunning locations have equally stunning local cuisine, which can be incorporated into your wedding menu.
Whether you include these flavours in your canapes, your wedding breakfast or as part of your evening food, it will add such a personal touch to your festivities.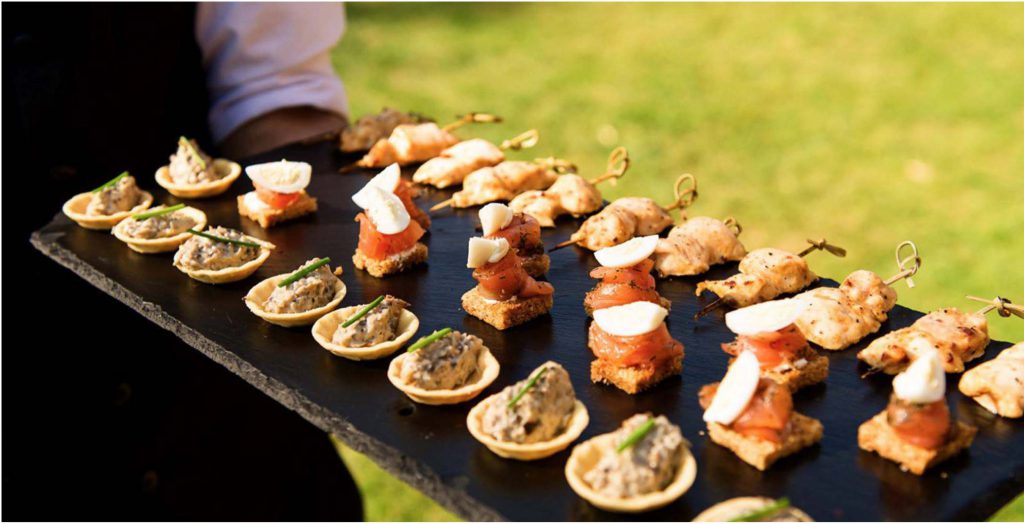 Street food to celebrate your journey
Street food has been part of weddings and events for years, but this was always limited to the traditional hog roast. Everyone loves a hog roast with all the trimmings, the apple sauce, the soft buns and the aromatic stuffing… you can't beat it.
What about those who aren't a fan of pork, or meat in fact. Why not step outside the box and think about the places you have traveled together as a couple.
Have you spent the evening eating Phad Thai in a street market? Indulged in fish n chips during a glorious beach sunset? Or enjoyed the fresh hit of lime during your Mexican adventure? This is a time that you can really explore your journey as a couple and share it with your friends and family.
Live cooking for excitement and dramatics
Live cooking isn't just about the delicious food finale, but also about entertainment. Fresh food being spectacularly created in front of you and your guests.
This is all about excitement and drama (in a good way), really adding some zest to your evening.
There is so much choice from curries to paella, chilli to stir fry Hong Kong style. Great way to really incorporate your favourite meals or heritage into your big day.
The friendly wedding breakfast
The wedding breakfast is the perfect time to take a load off and relax with good food and delicious wine.
One thing that is becoming more popular with couple's and their food choices is the knowledge of where the food has come from.
Local, organic and farm to table food is being required as the generation becomes more aware of the treatment of animals and the methods being used to mass produce crops.
There has been a huge shift towards more vegan/vegetarian friendly recipes, always worth thinking about when picking choices for your menu.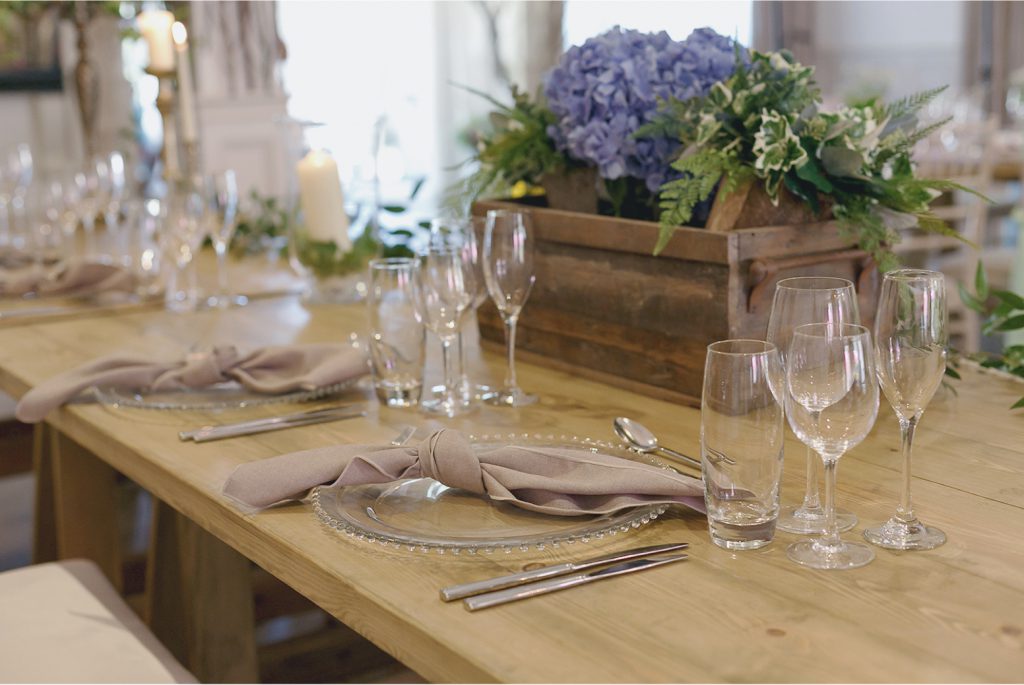 Cute canapes to accompany pre-drinks
Social eating has become very popular during weddings. Allowing you to mix with guests, enjoy a glass of champagne and still be able to tuck into some tiny treats.
These miniature mouthfuls can be as elegant or as quirky as you like, giving the perfect opportunity to create a talking point whilst waiting for the wedding breakfast.
Take cuisine from countries all over the world, from juicy US sliders to satay-style chicken, giving your event a real international edge.
Creative carts and stands
Carts and stands not only offer decoration and choice, but they are also socially exciting, Pinterest and Instagram love a cart!
2018 has seen a huge rise in gin carts, rum carts and pimp your prosecco stands. Offering guests to move from the bar and create their own style drinks.
The carts can also be seasonal. If you are looking for a true summer vibe, an ice cream cart would be ideal. Winter weddings lend themselves to a s'mores cart, allowing guests to build their own tower of chocolaty, gooey goodness.