Every couple's wedding is different, especially when it comes to their wedding style. Some wedding themes are influenced by colour, others by an era, and more recently films.
Film themed weddings are increasing in popularity and why not! Many couples fall in love because of certain movies, whether it's from what they watched on their first date, their shared love of a genre or the general romance associated with a certain flick.
Why not design your wedding day on one of these fairy tales for your happy ever after?
Disney themed weddings
Disney films are filled with the ultimate couple goals, romantic quotes and beautiful scenes. Everyone has a favourite moment, a favourite character and has grown up falling in deeper love with its nostalgic feel.
The great thing about Disney is that there is something for everyone, from the comedy and quick wit of Hercules to the classic romance of the Disney princesses. Invite the likes of Belle, Cinderella, Mickey or Minnie to your wedding day, but beware their outfits may outdo yours.
Add a bit of Harry Potter magic
Quotes such as 'After all the time? Always' and "You are protected, in short, by your ability to love" are just 2 of the reasons why Harry Potter is one of the best loved collections of all times.
The emotional connection and beautiful words included in the books and on screen has captured the heart and soul of many generations. Why wouldn't you want the same magic, love and feel of the films included in your wedding day?
Let Star Wars take your wedding to a different dimension
Star Wars has been in our lives for many years, taking our imagination to a whole new world… literally. Many relationships have been built up and opinions divided by peoples love of the franchise.
Adding the look and feel of the Star Wars brand will give your wedding day an almost futuristic feel.
Imagine hiding R2D2 into your wedding cake, having a light saber archway to walk through or by having a customized runner quoting the start of your favourite Star Wars film?
Such a cool way to start your married life!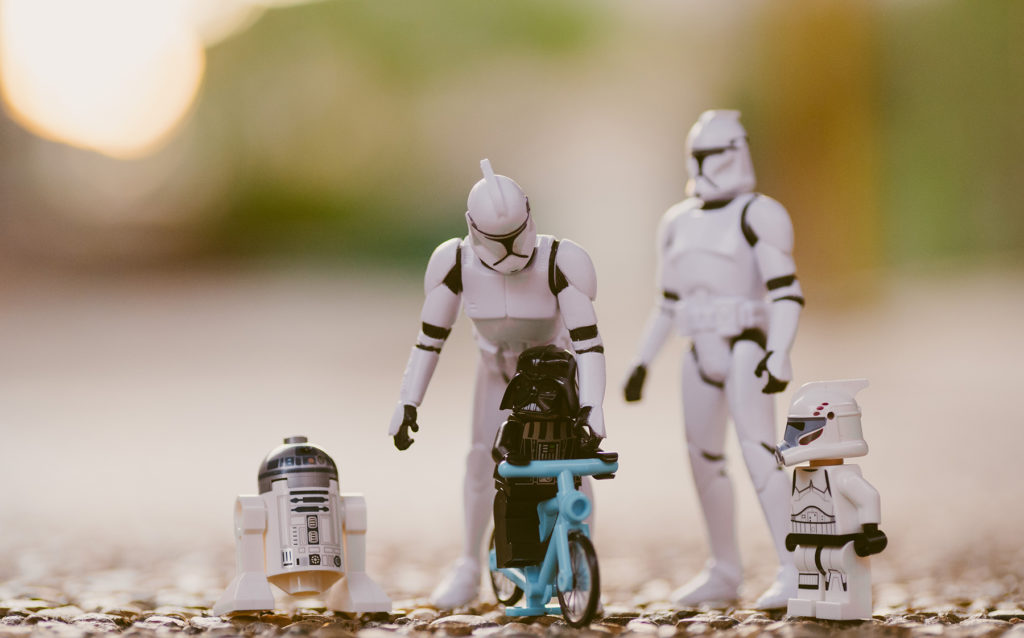 Make everything awesome with a Lego Movie wedding
Lego is loved by all kids big and small. It is colourful, fun and now a big hit on screen as well as in our children's toy box.
One of our favourite wedding cakes this year must be this Lego cake. At first glance it's a normal wedding cake, but as you turn the three-tier beauty around, you are greeted with the intricate detail of mini Lego bricks and much-loved Lego characters.
This theme can be incorporated in many areas of your wedding day, from centre pieces to entertainment for the children.
It really does prove, that your wedding day doesn't have to be serious.
Style it out the Great Gatsby way
Go back to a time of elegance, sparkle and cigars, and be inspired by the Great Gatsby. Since Leo raised his fizz filled champagne saucer, couples love for the 1920s has grown.
Weddings of this style are filled with opulence, accents of gold and plenty of champagne. They are the perfect opportunity to incorporate Jazz, Blues and Broadway style entertainment giving guests the ultimate environment to have a dance.
Take the geometric patterns and beautiful fonts and create a world of sophistication and class, ready for you to walk down that all important aisle.