Type of Ceremony | Spread the news | Dress to impress | Suppliers | Gifts
So, your other half has popped the question! Firstly, congratulations from us all at The Manor. Secondly, what can we do to help?
For some, you have been awaiting, imagining and planning your wedding since you were little. For others, you have no idea where to start or what you want.
If you're the planning sort and want to explore every possible detail, then setting a date for 1- or 2-years' time might be for you. If you just want to get down that aisle and can't wait to say 'I do', let us help you plan the ultimate last-minute wedding.
Taking into consideration time-restraints for a legal wedding, the ideal time frame you will be looking at is 8 weeks before your big day.
You will need this time to make sure you have a registrar booked. This needs to be done before anything else is booked, as Registrars can be limited, especially in the popular wedding months.
The other time restrictive task you will need to keep in mind is your final planning meeting 4 weeks before your big day. This is the time when you confirm final details with your wedding planner, from your final numbers to suppliers being used.
Why Wait? Practical reasons for booking a last-minute wedding
There are many practical reasons why people choose to not wait for your special date.
One of the most popular reasons being the pending addition to your soon-to-be family.
For some, tradition is very important, so you may want to get married before giving birth or the adoption process is finalised. The good news is you usually get at least 8 months' notice before their arrival. For the ladies, fitting in your dress may be of importance, so an 8-week wedding would be ideal.
Perfect for civil servants

Civil servants such as teachers, armed forces and even those in the NHS are really restricted when it comes to holidays and time off. A last-minute wedding could be for you…
If you book your date when you know for sure that you will be off school or in the country, then this can all be planned before usual work duties resume.
You also have that holiday time to help plan and be involved, rather than only hearing the odd snippet of your special day during the planning process.
Picking the perfect time for your honeymoon
In the past few years, the wedding world has seen a shift in the importance of the honeymoon. Some are opting to spend less on the wedding day itself and more on their once-in-a-lifetime trip, whilst others ask for travel vouchers rather than wedding gifts.
If there is a specific location you are looking at for your honeymoon, the time of year you go can be of the essence, especially if good weather is on your 'must-have' list.
The most popular destinations for honeymoons include the likes of the Maldives, Thailand, Bali and Bora Bora, all absolutely stunning locations; but with all that beauty comes monsoon seasons.
If your chosen destination is in season now, you may not want to wait a whole year before going away with your new spouse.
In the same breath, maybe it's not the honeymoon weather you are excited by; maybe it's the beautiful UK seasons that you love.
Wedding seasons to adore
It could be the start of autumn, you're looking around and falling deeper and deeper for the turning leaves and warm colours. It might be spring going into summer and there's nothing you want more than a glass of fizz in the gardens with your friends and family with warmth radiating on your face.
You don't have to wait a year for that season to come around again; get booking and embrace the beauty of your favourite season with a last-minute wedding.
The most prevalent reason for our guests deciding to book a last-minute wedding is cost. Like any industry, with a last-minute decision comes fabulous savings.
Not just with ourselves at Manor By The Lake, but if there is availability for bands, entertainment, photographers and other suppliers alike at this point in the year, they may also have some deals on offer.
Maybe there isn't a reason, maybe there isn't any practicality in your decision, maybe one day you just look at your other half and decide you no longer want to wait to become their husband or wife.
This is the time when a last-minute wedding can be so exciting and a pure whirlwind of emotion. Book today, make quick decisions and lose all the drama that comes with intricate planning and over-thinking.
We will help you with our last-minute wedding guide…
Picking the perfect last-minute wedding venue
Your last-minute wedding can be made incredibly easy by purely choosing the right venue. It's all down to the facilities available and services they provide. Picking the right venue can save you so much time, planning and admin work, helping keep things running smoothly.
Wedding Specialists
If we were to offer one main tip, when picking your last-minute venue, it would be to choose somewhere that specialises in weddings and events. These venues come with some facilities already in place from tables to cutlery and functioning bar.
Everything from their garden layouts to their internal décor will be dedicated to creating the perfect wedding environment, whether it's a classic manor house setting, or a more modern, eclectic style.
One wedding, One Venue
A venue where you can get married and hold the reception would also be amazing. This takes away the worry of hiring wedding cars and trying to find a church or second venue last minute. Having just one venue all day will also save you heaps of money.
One venue will also save you buying two lots of décor, all your focus can be on making one venue stunning.
Can you stay over?
When booking a tour around your final shortlist of venues its always worth asking if you can stay the night before and the night after. This saves so much time in the morning and allows your day to be that much calmer.
You can enjoy the luxury of arriving the night before and waking up in your chosen venue. Just imagine being able to get ready in a leisurely fashion, eating a delicious breakfast and when it's time, just strolling across to your soon to be Husband/Wife.
The support of a wedding team
Another great tip would be to choose a venue that comes with a fully functioning wedding planning team. These wonderful people are the pros and they will talk you through every step, helping keep your head clear.
They will have a system in place which will help you plan to every little detail, ensuring that nothing is missed. They are experienced, creative and have enjoyed many weddings, so they know what needs to be done.
The great thing about having a wedding planning team is that they also know the latest wedding trends, so if you need to discuss ideas or in need of inspiration, they will be on hand.
If you find a wedding venue, with a team, also ask about their wedding collections and packages. All the basics will be covered within these collections from table linen to arrival drinks, giving you a great base to start adding your own personal touches.
Delicious food and drinks collections available
Food has become a huge part of weddings. Long gone are the days of basic dining and we have welcomed a whole new realm of exciting canapes, delicious food carts and even live cooking.

This style of dining may seem a little overwhelming if you are trying to plan things last minute, but if you chose a venue with internal caterers, it's as simple as making an order and leaving the pros to it.
Having a venue with food and drink collections in place will be a huge help.  Giving you some food'spiration and covering all the basics when it comes to feeding and watering your guests. These collections generally include a welcome drink, wedding breakfast, a drink for toasts, evening food and a glass of wine for each guest. However, each venue varies.
Good connections with local suppliers
Last but not least, find a venue who has good connections with local suppliers. They can recommend people who they have worked with in the past, so they know the venue. This will also help with booking, as the venue can give you all the contact details and names that you need from photographers and entertainment to Love Letters and florists.
When it comes to finding your perfect venue, choose a place that makes you fall in love all over again. Somewhere that makes your heart soar and makes you feel at home. If it suits your style, your budget and your dreams then it is the venue for you.
Seal the deal with the perfect ceremony
The beauty with modern day weddings is that there are so many ways that you can get married.  Whether you're religious, spiritual or just want to be legally joined to your loved one.
In the UK, 28 days is the shortest time frame for you to be legally wed. If you wanted to do it sooner than that, VEGAS BABY!
Before booking your last-minute wedding, we would suggest checking the availability of your registrar or church. Without either of these, a legal wedding is not possible.
What is a civil wedding?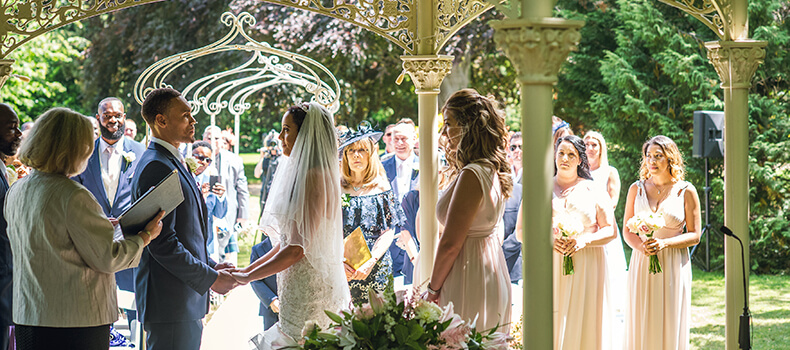 A civil marriage is a ceremony with no religious affiliation. It is performed by a government or civil official and meets all the requirements needed for a legal wedding.
Civil ceremonies take place at a registered venue of your choice. This can be in a beautiful manor house, a rustic barn or even under a beautiful gazebo in your favourite gardens.
It's important to check with the venue that the area you want to have your ceremony in or under is registered before booking.
If you're not religious, then a civil ceremony is for you. They don't include any hymns, religious readings or prayers. However, readings or songs of other styles can be included to make it beautifully personal.
To have a civil wedding, you will need to book a registrar. Each county is different, but during the busy wedding season, their availability can be quite limited. So, we would always advise booking them in at least 4 – 6 weeks in advance.
Can I book a church last minute?
Each parish is different, and a last-minute church wedding can be tricky, but can also be done.
To enjoy a religious ceremony in your local church you much attend the Sunday service for three consecutive weeks to have your banns read. This signifies that you wish to get married. It is possible to skip this process; however, you will need to apply for a common licence.
Each church differs; however, they generally request that you regularly attend the services. If you only visit now and again, or not at all the Vicar may request you join a wedding preparation class.
Churches can be booked months in advance, so it is worth talking to your local vicar ASAP to see if there is any availability during the time that you wish to get married if this is the style of wedding that you are looking for.
What is a celebrant wedding?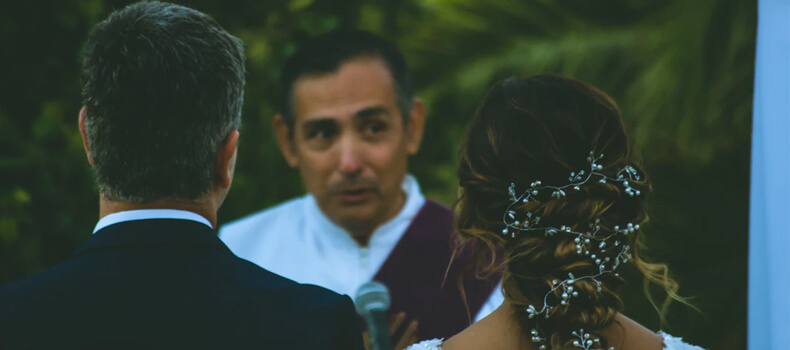 A celebrant wedding is a non-official ceremony held by an officiant. They are relaxed, informal and can be held anywhere.
There are no restrictions when it comes to a celebrant wedding, meaning it can be 100% in your own style. This is perfect for those who differ in beliefs or want to get married in a specific place.
Your service can be as long, or as short as you like depending on the ceremony content you decide on.
To make your wedding official you will need to sign the register at your local registry office after (or before) the ceremony takes place. To do this, you will need to book the signing room, take along two witnesses and sign the documents.
The type of ceremony needs to reflect on your own beliefs and style. If you want to celebrate your faith as well as your marriage, don't settle for anything less than a church ceremony. If you want your favourite songs playing, along with personal readings and poems, maybe a civil or celebrant marriage is more you.
Celebrate your love in your own special way and your personality will shine through beautifully.
Spread the news
Last-minute weddings come with time restraints. Your numbers and food choices need to be back in time for your final planning meeting so you need to get the good news of your pending nuptials out there ASAP.
There are many ways to make inviting your loved ones easier and quicker, which doesn't involve hours of design, glueing and address label making (although that is always fun).
Why not use social media invitations
If you want to go the whole hog of save the dates, invitations and planning invites, then maybe start with a very 2018 WhatsApp group or Facebook event. This gets the date out there, so people can book in their diary.
Each of these electronic services offers read receipts when your invitee has received the message and they can quickly respond with a yes, no, or maybe with the tap of a finger.
For your actual invites, a more formal method might be required. There are many ways that you can create beautiful e-cards that give your guests all the information you would usually get in a normal invite.
Or an e-card…
Your e-card can then link to a wedding website. Within this website, you can include additional information including dietary requirements, local hotel information and menu choices.
Wedding websites can also offer an insight into your wedding design, helping you incorporate your wedding colours, design attributes and even pictures of you as a couple to really set the scene.
The fantastic thing with doing everything online is that it also saves printing costs and is more environmentally friendly. Perfect for those who hate paper waste and want to do their little bit to make our world a better place.
You can still keep to traditional invites!
If you want to keep with the traditional invite styles, we would suggest going high street or a simple print design.
Order invitations which are already designed and that you just need to add names and addresses. There are some stunning designs out there to enjoy, including a variety of different colours. It's hard to not find styles that match your wedding design.
A simple one-page design can also be put together and printed in a very short space of time. Information needed on your design includes a space for names, wedding date, wedding time, the address for the ceremony and reception, as well as RSVP instructions.
If you use a couple of lovely fonts and some good quality paper, then this is easy to print, envelope and sent to your nearest and dearest.
Dress to impress…
With many wedding boutiques asking for 9-12 months to secure the dress of your dreams, finding the perfect wedding dress at short notice may be your biggest area of concern. However, we've done our research and have rounded up several fabulous options that are far more readily available for a last-minute wedding.
Hit the High Street – High Street Wedding Dresses
There is a growing trend for High Street stores offering ready-to-wear wedding attire for brides, grooms, and their attendants. Not only are these options easy to source; they are normally much more cost effective than a designer gown from a specialist boutique and you don't need an appointment to try them on!
Phase Eight has clearly taken inspiration from some of the most popular wedding dress designers with their intricate beading, delicate lace, and romantic designs. With prices starting at just £275, they're practically a steal!
As one of the first stores to offer an affordable bridal range, Monsoon offers stunning dresses from £229 in a wide range of styles, so whether you want a short and flirty number, or something more classical, this range is worth a look! They're also a great place to go for bridesmaid and page boy outfits and fabulous accessories.
We think Debenhams is the ultimate one stop shop for wedding parties everywhere. Grooms, ushers and page boys will find everything they need to hire or buy from suits and waistcoats to cummerbunds and cufflinks.
There are gorgeous ranges for bridesmaids and flower girls as well as designer ranges for brides from Ben de Lisi and Savannah Miller. With underwear, shoes and wedding favours on offer too, you can kit out your entire event in one go!
If the groom is keen to sort himself, then pack him and the boys off to Moss where they'll find a huge range of options for both contemporary and traditional looks. As well as being able to hire everything; including shoes; there's also the option to go down the tailoring route. So, if he's in need of a new suit, this could be the perfect time to treat himself with something made to measure.
If you want to completely put your feet up and shop online, retailers such as ASOS, Boohoo and Missguided all have their own range of wedding dresses, including bridesmaid dresses and wedding accessories.
You may not be able to try before you buy, but you can shop and try on your dress in the comfort of your own home and send back if it's not what you are looking for.
Dying for Designers – Designer Wedding Dresses
If your heart is set on a designer dress then there are still options available at short notice. Register your interest with all your favourite boutiques and brands so that you'll be the first to be notified of any trunk or sample sales. You may just get lucky with an event in the lead up to your big day where you can snare your perfect outfit at a significant discount.
Another option is searching the buoyant second-hand market for your dream dress. With many popular designers such as Jenny Packham and Vera Wang charging thousands for their creations, there's a healthy market for resale from brides hoping to claw back some of their very hefty investment.
We've seen £4,000 dresses sell for just over a quarter of their original price, so it's definitely worth having a look at sites such as Still White and Pre-Loved for any bargains.
Make sure the sellers have included lots of photos and ideally, travel to see the dress and try it on in person rather than buying unseen. Dresses that have been professionally dry cleaned and have all their original tags and receipts, as well as spare buttons and beading, are a good buy.
If you're limited by time rather than budget and you've set your heart on a very particular dress that you've seen in a boutique, then talk to them about the option of a priority order to secure your dream dress in the time you have available. Some designers can offer a speedy service, but may ask you to pay for the privilege.
Finding Last-minute suppliers
Many couples mistakenly think that if you book your suppliers last-minute, then you will only have a small selection available to you. This is not always the case for mid-week weddings.
Suppliers at the weekends can be booked months/years in advance, however during the week you will find availability and prices quite good. Giving you all the choice at a fraction of the price.
Talk to the people in the know
When booking your suppliers, it is worth talking to your wedding planner or venue. They may have a list of suppliers who they recommend, saving you the time of searching through all the musicians, photographers and cake decorators in the UK.
One of the joys of booking someone that the venue knows well also means the supplier will know the venue as well.
They know how to get there and where to set up. It also means that suppliers such as photographers and florists will know the best places to decorate and where to take photos without having to book in a visit before the wedding
High street last-minute wedding shopping
If you're struggling for availability or budget when it comes to your flowers, head to the high street.
Good quality supermarkets and high street stalls can have a stunning selection of flowers available.
They might not that the variety of a florist, but the ease of buying and cost will reward you greatly.
You can either go for a pre-packaged collection of flowers or grab various bouquets and mix them up.
Local markets are also a fantastic place to look for affordable flowers, they may also have a wider selection that you might not find in the shops, depending on the quality of the market.
The high street is also branching out when it comes to wedding and party food. The likes of Marks and Spencer's, John Lewis and Waitrose all offer their own range of celebration deliciousness.
They have everything from traditional wedding cakes to pork pie cake's, canapes to deserts.
Talk to the students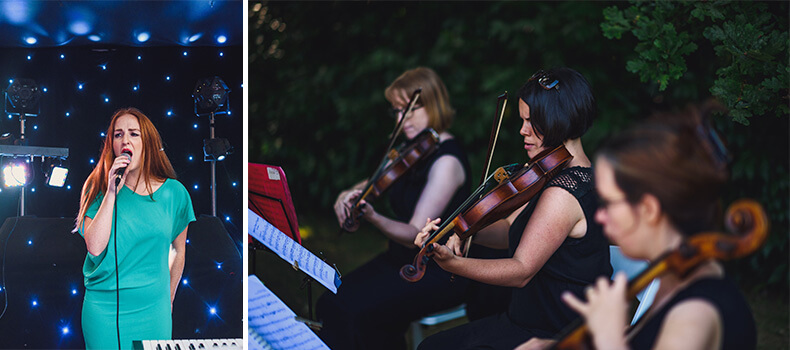 Within your local university/college there are many talented young musicians, photographers, beauty therapists and entertainers.
Why not put an advert out with the university offering one of them a chance to be a supplier at your wedding?
Benefits behind hiring a student or someone fresh into the business is that they will know the latest trends in their field, they will be cheaper, and they could offer something very different to what others have done in the past.
Student suppliers also will have more availability than professionals, as it will be a side project to their studies.
Last-Minute Wedding Gifts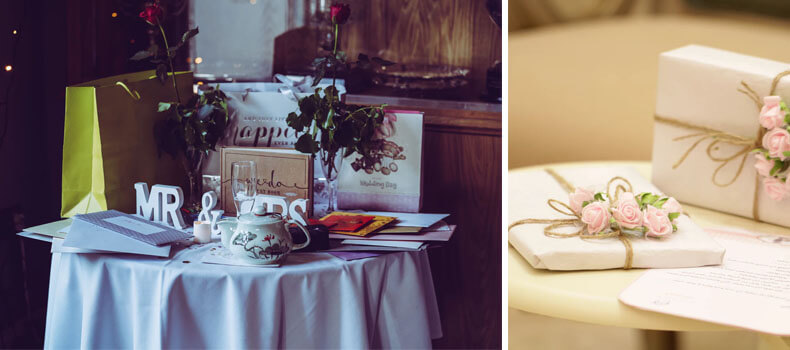 As with all our recommendations, the key to stress-free short notice wedding planning is to make everything as simple as possible.
When it comes to your last-minute wedding gift list, the classic voucher is the ultimate choice.
As you will know, vouchers can be for anything from travel vouchers to large department stores to help stock up your home. Marks and Spencer, John Lewis and Debenhams are all very popular choices when it comes to home ware and kitchen accessories.
If you're hoping for a honeymoon, this could be the perfect opportunity to ask for vouchers from a leading travel provider such as Kuoni who offer a great scheme that works just like a traditional list.
You register and provide your guests with the list information and they can then make contributions towards your honeymoon fund and leave you a congratulatory message.
Virgin offer a similar scheme and with both companies renowned for their luxury holidays, it's an ideal way to save for the honeymoon you've always dreamed of.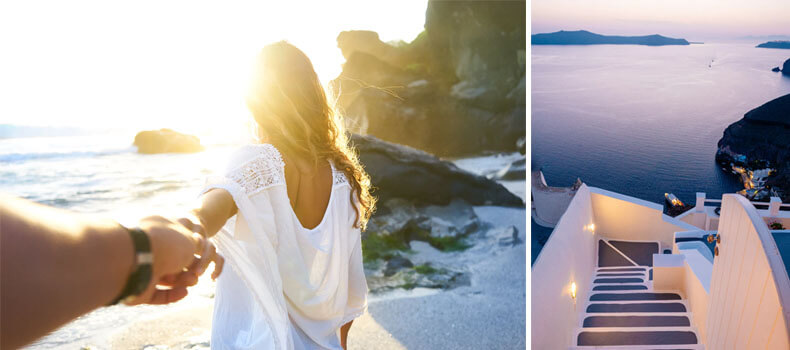 If this is your only list, you could find that you may save hundreds or even thousands on your honeymoon by asking all your guests to contribute in lieu of a tangible gift.
If you'd rather have a more traditional gift list to help with furnishing your first home together, or simply hoping to upgrade your well-worn crockery, then online company Prezola offer a fantastic directory that features over 50,000 gifts from hundreds of popular brands.
With featured brands including everything from Dyson and Dualit to Sophie Conran and Smeg you can give your home a fashionable refresh and best of all, you can compile your list from the comfort of your own sitting room.
We think this is a nice task to do as a couple so why not crack open a bottle and spend an evening creating your wish list.
It'll give you a break from thinking about the logistics or balancing the budget for your wedding day.
Did you know that Amazon do wish lists as well? You simply list what you would like, create a link to your wish list and send to your friends and family.
Your guest will choose what they are buying, and it's ticked off, so others can't duplicate. Everything is anonymous, so you know what you are getting, but not who from.
If you have everything you need, or find receiving gifts a little awkward, why not donate to a charity of your choice.
Give your guests the details of the charity and how to donate in your invitations so their money can go to a worthy cause. Perfect if there is a charity that you hold close to your heart.
Enjoy, enjoy, enjoy!
Most couples say their wedding day passed in a haze and that they want to do it all over again, so take note; this day is to be savoured wherever possible.
In the days leading up to the wedding make sure your trusted attendants and family all have their 'to do' lists at the ready and are clear on their responsibilities for the day. Write a list of all your suppliers and their contact details and pass it to someone reliable so if there are any last minute checks to be made, it won't be you that needs to make them!
Your wedding planner will be on standby to take care of timings and deliveries as well as making sure your guests are welcomed and looked after from the moment they arrive.
All that's left for you to do is enjoy every moment with your other half.
Try and create an opportunity to grab a few private moments together after the ceremony to just be with one another and soak up the feelings and emotions you are both experiencing. This is your once in-a-lifetime moment and we wish you every happiness in your future life together.
If you want more inspiration for your own wedding day, then why not talk to our fabulous wedding planners who, trust us, have seen pretty much everything! Whether you want to celebrate with an ostentatious bash, or prefer a simpler and more stylish affair, we promise the Manor By The Lake team will give you all the help and support you need.
We love helping couples plan their own magical day and we'd love to offer you a private tour of our stunning country Manor House. Check out our Open Day Page for any future events going on.