In the wedding industry, wedding venues may hold strong, but trends come and go. We love seeing a new influx of colour and style, keeping every wedding different and exciting. If you are getting married in next year or two, here are some fantastic upcoming wedding trends in 2019. Ready to ignite and excite you for your pending nuptials.
Greenery and foliage
Following the Royal Weddings of 2018, the simplicity of beautiful greenery and foliage has taken the wedding work by storm. Foliage over flowers is the way to achieve this natural style.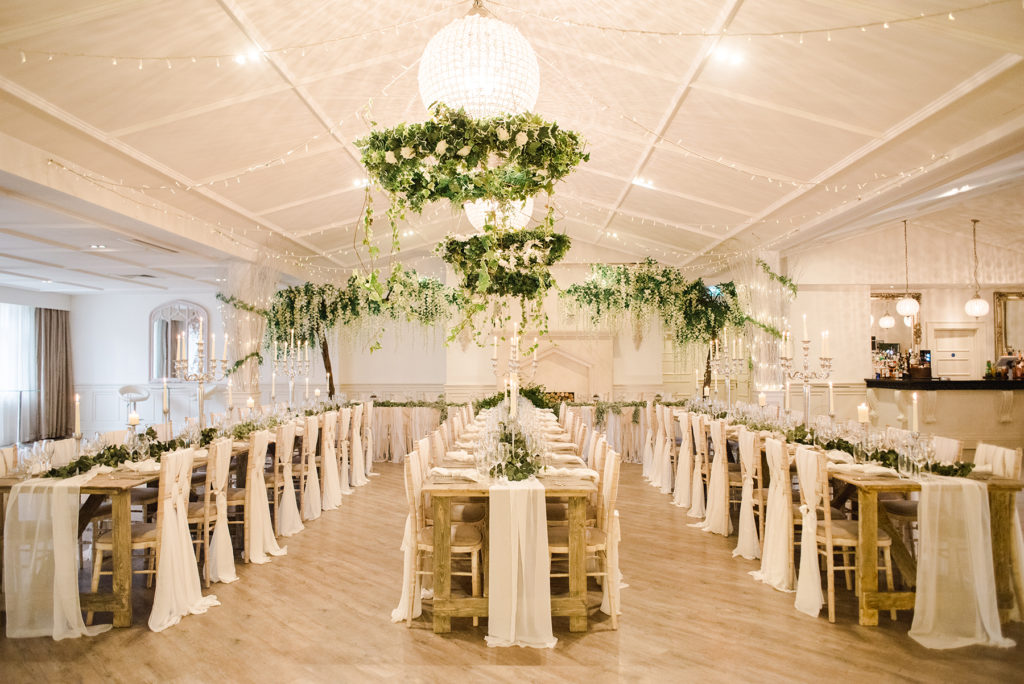 Soft 80s
In the words of Calvin Harris, 'We got love for you if you were born in the 80s'! Soften those 80s vibes by picking up some of those delicate shades. Pretty pastels mixed with wooden accessories create a real peaceful, cool vibe.
Dates not days
This is one for 2020 rather than 2019. There was a time that all weddings were booked on a Friday and Saturday. Now we are seeing an increase in mid-week weddings due to dates being the deciding factor. 2020 loans itself to some real corkers, whether it's down to number patters like 200220, or a Leap Year wedding on the 29th February 2020.
Eco-conscious
From vegan weddings to eco-friendly décor, the eco-conscious wedding has taken 2019 by storm. Choose planted flowers over picked bouquets, be selective with what materials are used throughout your day and step away from the meatier menu.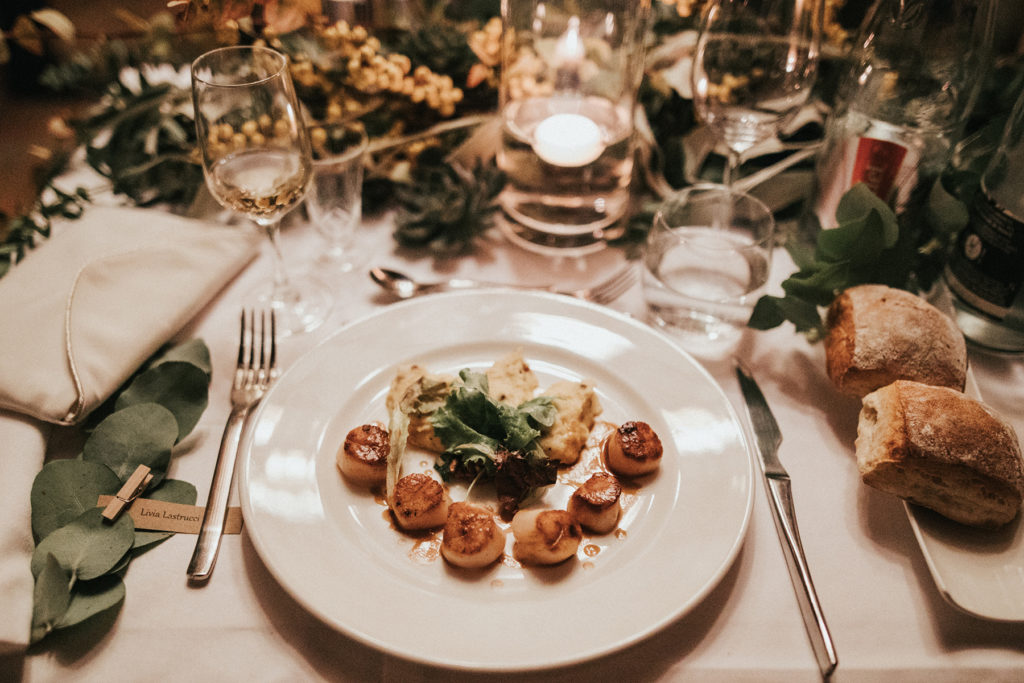 Jewelled tones
Enriching colours and deep jewelled tones create a beautifully enchanting style, offering opulence and royal like beauty for your special day. Think royal blues, emerald greens and lavish purples.
Ranuculus
Similar curves and petal formation of the peonies, this ultra girly flower is romantic, comes in beautiful ombre style shades and looks delightful with a variety of foliage and flowers.
Art deco (geometric)
Step back to the 20s with an art deco vibe. Strong patterns, sharp lines and gold finishes really add a touch of class to your day. Think great Gatsby and grab that glass of champers to celebrate your nuptials.
Pops of colour
Step away from the safe side and go daring with your colours. Create a statement, powerful style with clashing colours and vibrant shades. Bolder the better with bright oranges, summery yellows and crimson reds.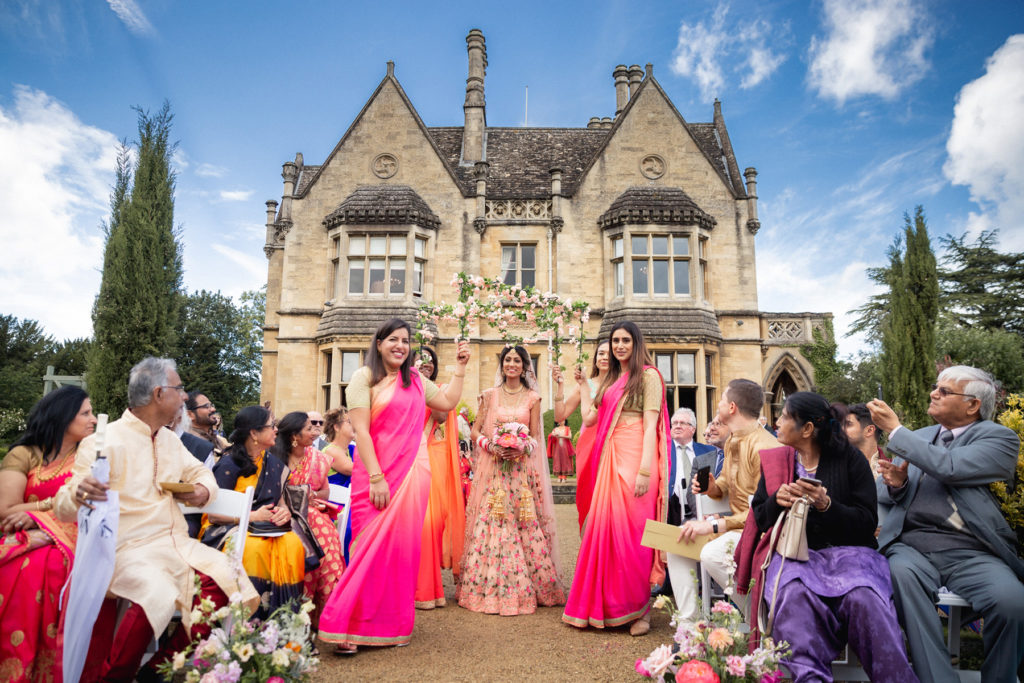 Drones
Gone are the days where a simple family photo with you all waving your hands in the air. Now photography is going above and beyond by heading to the skies. Get incredible photography, videography of your venue and your wedding party in the grounds. The ultimate birds eye view.
Food trucks
Every couple has a different idea of how they want to feed their guests. From a classic 3-course dinner to live cooking. Food trucks are following along from the trends of gin carts and champagne baths. Instead of canapes, why not order a pizza van whilst photos are being taken.
Boho
Idyllic for an outdoor wedding, the Boho trend has been about for years. Lucky for us, this trend is going no where fast in 2019. Floral crowns, relaxed wedding dresses and décor hanging from trees offers an almost hippy vibe.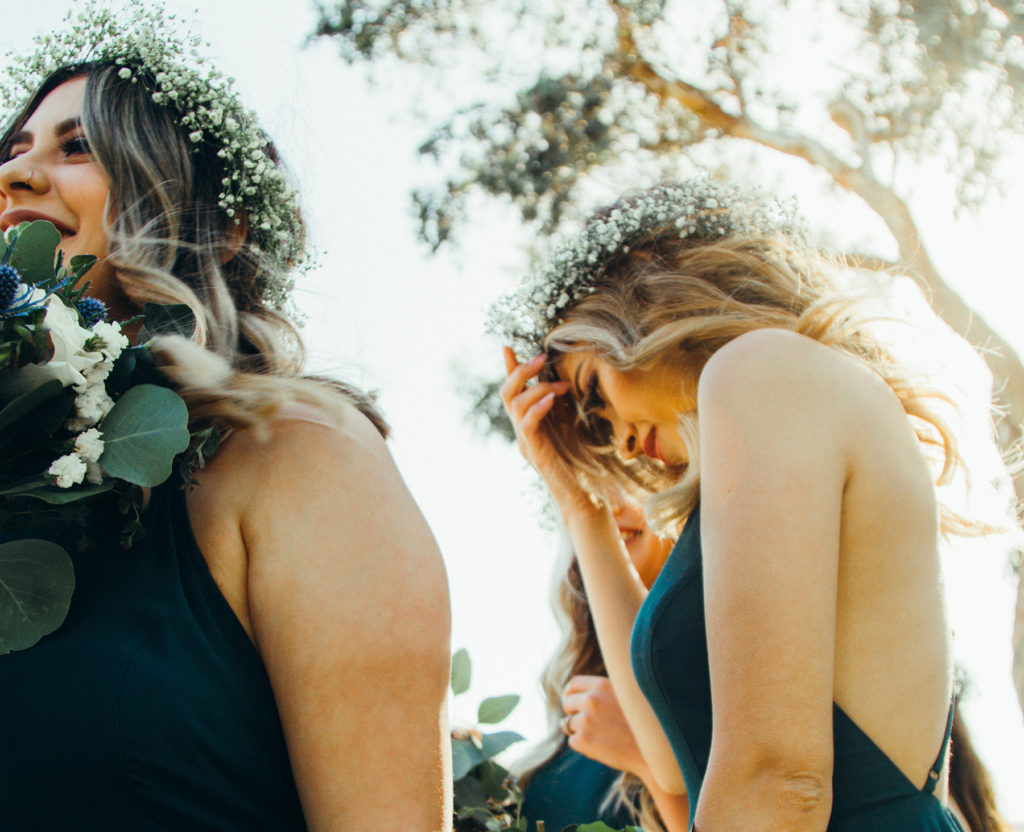 Dusk weddings – romance at night
Spring/Summer evenings lends themselves perfect to a romantic evening wedding. Spend the day getting ready, say 'I do' as the sun goes down and follow it up with a night of dancing with your loved ones.
Watercolour patterns
Following the ombre trend, watercolour is set to be the go-to style for wedding stationary. Whether it's showing off variations of your chosen wedding colour, or with a painted picture of somewhere dear to you, this style offers so much beauty.
Oxblood hues
This is one for the winter weddings, offering deep tones of red. The fabulous thing about Oxblood is that its purply/red/brown tones leaves itself open to be complimented with a variety of different colours. Whether it's neutralising pinks, muted greens or glamorous golds.
Vintage
Take a step back from clean finishing and perfection and go a little rustic with a vintage style. Perfect for the old souls out there, this look gives a beautiful elegance to your wedding style.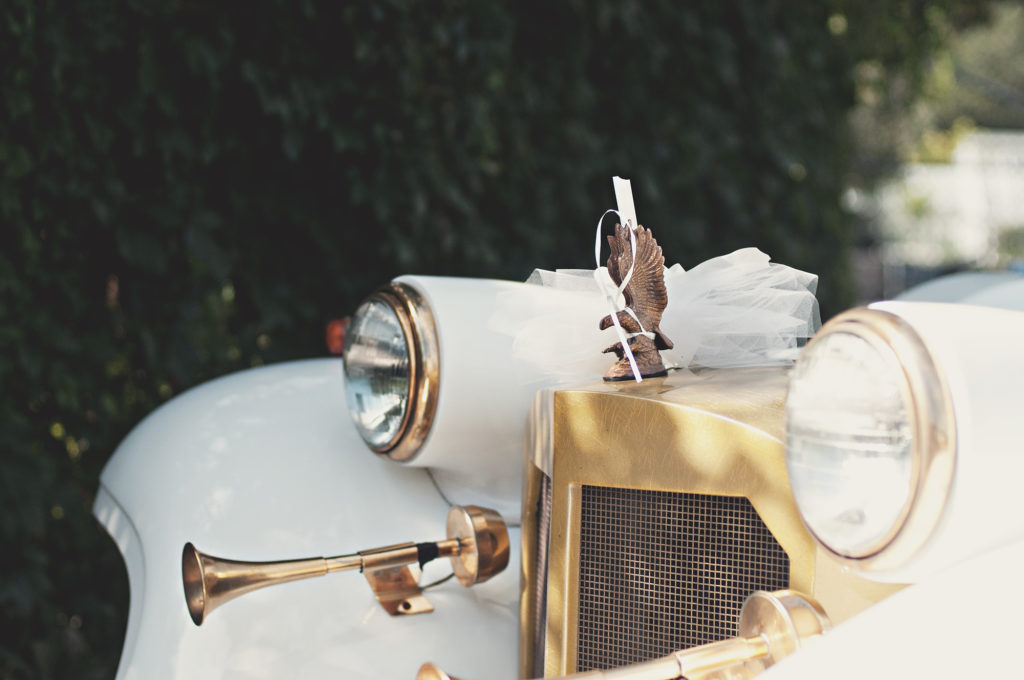 Dahlias
This statement flower offers a bouquet texture, drama and colour. Surround with delicate leaves or chunky succulents to really make a statement bouquet.
Classic romance
Whatever trends come and go, the classic romantic style of feminine colours, curvaceous finishing and flourishing flowers will never disappear. A true fairy tale wonderland envelops the day offering the perfect atmosphere to say 'I do'.
Quality over quantity
Many are choosing to go for delicious dining, expensive photography and spending more on the experience rather than the number of guests. You never wanted Aunty Mavis's, cousin's, sister there anyway!
Donut walls
Quirky, fun and utterly delicious. Pick your favourite colour donuts and display them in this funky fashion. Word of advice do not choose jam donuts… absolute carnage.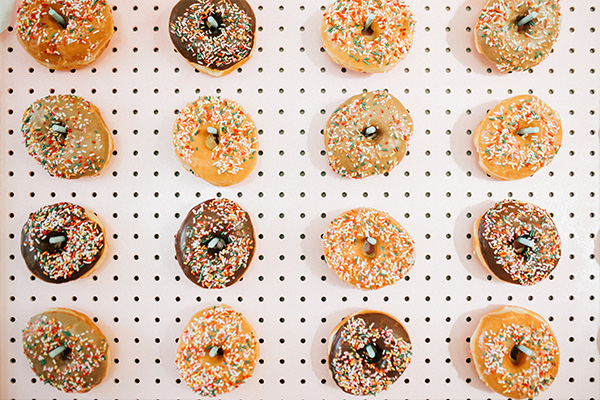 Blush and gold
Stepping back from last years rose gold, we are now seeing a gorgeous combination of blushes and golds creeping through. Offering the same feminine touch but allowing the option to enjoy gold cutlery and warmer tones.
Personal touch
A trend that has been developing over the past couple years involves adding your own unique stamp to the day. There are so many ways to do this from having your favourite tipples as your drink for the speeches, making your table numbers dedicated to things you love as a couple or including people you love in your accessories.
Shimmer and shine
Add real glam to your table décor with a bit of shimmer and shine. Sequined runners and crystal encrusted accessories will create bling throughout your day.
Naked wedding cakes
This rustic style adds a real 'wedding in a barn' vibe. Offering a beautiful textured canvas for flowers, foliage and décor. Who needs icing when you have a light layer of buttercream.
Insta-worthy
As everyone knows, social media is everywhere, including in wedding preparation. Couples are choosing their décor around being Insta-perfect and adding their own fun #hashtag to celebrate the day.