Who proposed to who and how?
James proposed when we were on holiday in Cyprus, we were on the beach as the sun was setting, it was a complete surprise!
What attracted you to Manor By The Lake?
We fell in love with Manor By The Lake as we walked around the grounds, it was breath-taking and everything we were looking for.
The team were incredible, so friendly and couldn't do enough for you.
What decorative touches did you include in the day?
For the favours, we had candles for the women, made by me and my best friend. I love candles so it was a simple choice!
We used a glitter tape around the candle tins to fit in with the colour theme.
For the men we had Corona with lime wedges, James loves Corona! The favours were a subtle hint of our favourite things.
The table plan I made myself, I wanted something a little different so I used a mirror!
The table names were all of our favourite films which I made from the same glitter and lilac card that I used for the table plan.
The centrepieces were from Manor By The Lake. They had some beautiful decorations including, fairy lights on the ceiling, candelabras on the tables
and an archway around the door and pillars.
We had two cakes in a way, Krispy Kreme doughnuts as well as a sponge cake. I love Krispy Kreme doughnuts and we wanted to have as many personal touches as possible.
The cake was a two-tier sponge with a peach ribbon and a diamante buckle. The cake topper read "Happily Ever After" linking to my trip to Disneyland Paris for my hen do. I am a huge Disney fan!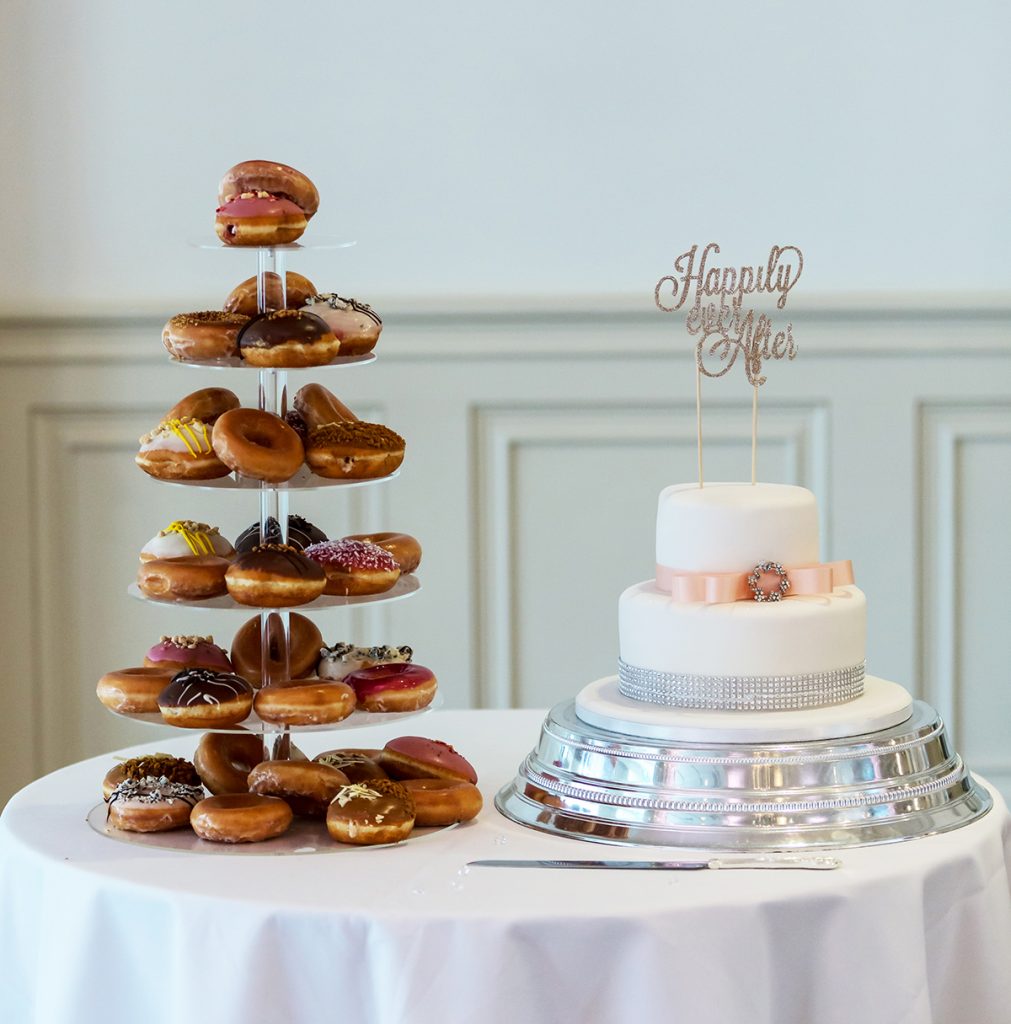 What were your flowers like?
The flowers were supplied by Daisy Lane Florist. She was a good friend of my sisters and knew exactly what I wanted!
The flowers fitted in with the colour scheme and had a selection of my families favourite flowers in them.
I also had small pictures of my grandparents tied around the stems.
Did you have anything extra?
My stepdad built us a wonderful sweet cart and personalised it for us. James is a huge fan of The Walking Dead so he created a sign that stuck to the back of the cart saying "The Walking Wed".
What dress did you wear?
My dress was from Krystle Brides in Bath. The Designer was Enzoani Blue and the dress was called Istanbul.
I fell in love with the dress because it mixed modern and classic designs. It was simple and I was sure James would love it!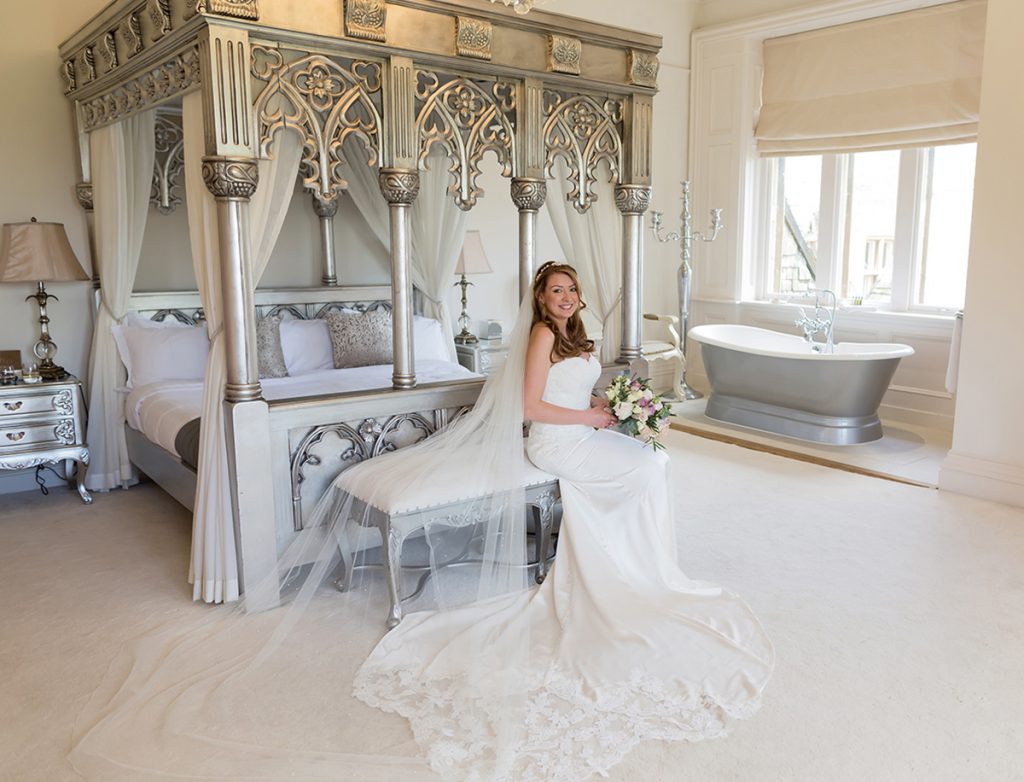 I accessorised with a floral headband, a simple necklace also from Krystle Brides and a bracelet with a Sapphire in it.
My engagement ring is Sapphire so I wanted them to match. My bouquet was in the shape of a teardrop and my earrings were my something borrowed from my mum.
What did the Groom wear?
James chose the suits himself, they were dark blue with silver ties for the Groomsmen and a pale blue tie for himself.
I didn't want to go with James to choose his suits as he didn't get to see my dress until the day.
What did the bridesmaids wear?
The bridesmaid's dresses were chosen by my Maid of Honour 15 weeks before the wedding.
The original dresses fell through and by luck, my sisters had gone into Mew's Bridal in Clifton and found these incredible dresses which could be made in time.
The Designer was Ghost, one of the dresses they have was in a James Bond film so it fitted in with the theme of the wedding!
We chose a very pale pink, full-length dress with a high neck.
How did you entertain your guests?
We had a DJ provided by Manor By The Lake. We gave him a list of songs that our guests had requested when they sent back their RSVP's.
It certainly made the guests get up and dance which is what we wanted!
We made sure to choose a mix of our favourite songs as well as guests requests and Manor By The Lake also played music during the wedding breakfast, including a whole host of Disney songs which added fun and laughter!
How did you both feel on the day?
It was completely surreal! I mainly felt calm and excited, until I had to walk down the aisle and then the nerves kicked in!
When I saw James with this massive smile on his face, I relaxed and couldn't wait to marry him!
What parts of the day stood out for you the most?
For me it was when my parents saw me for the first time, walking down the aisle, being declared husband and wife and James' speech.
He's not a very emotional person but he struggled to get through his speech without crying!
For him, it was when he first saw me and when we had our first dance together.
Do you have any funny stories or unusual anecdotes from the day?
Just after the first dance one of our ushers did "the worm" across the dance floor! His signature move!
I have a wonderful picture of this. I also stayed at the Manor the night before and to calm my nerves, myself and some family members played hide and seek in the grounds!
Sasha and James' Top Tips
With the little touches like the favours, table plan and table names, I tried to hand make a lot of it.
This created fun-filled evenings with my friends and made it feel less stressful!
Photography: Phil Webb – www.philwebbphotography.com
Dress: Krystle Brides – www.krystlebrides.co.uk
Accessories: Krystle Brides (Necklace) – www.krystlebrides.co.uk
Wed2B (Hair Piece) – www.wed2b.co.uk
Debenhams (Bracelet) – www.debenhams.com
Make-Up: Stacie Evered – www.stacieeveredmakeup.co.uk
Bridesmaids Dresses: The Mews Bridal – www.themewsclifton.co.uk
Grooms & Groomsmen Outfits: Slaters – www.slaters.co.uk
Flowers: Clevedon Craft Centre – www.clevedoncraftcentre.co.uk
Cake: Occasion Cakes – www.facebook.com/Occasion-cakes
Stationairy: Bride & Groom Direct – www.brideandgroomdirect.co.uk