It's important to us that your wedding day is as unique as you are. From the ceremony to the food, each element should reflect your tastes, values and personality as a couple. While all couples aspire to make their wedding individual to them, those marrying together two or more cultures will have the chance to make it that much more special. With our high ceilings, natural light and decadent rooms, Manor By The Lake offers plenty of space to celebrate your fusion wedding.
What is a fusion wedding?
Fusion weddings are ceremonies that incorporate two or more religions and/or customs from both sides of the family. Observing a wide range of rituals, customs and beliefs, Manor By The Lake is a flexible wedding venue in Gloucestershire that can meet your specific needs.
Why choose the manor for your fusion wedding?
Lavish spaces
Bursting with character, the manor has an abundance of decadent spaces for intimate celebrations of 24 and larger gatherings of 250.
Before the ceremony your friends and family can relax in one of cosy lounge areas. Featuring spectacular oak paneling and open fireplaces, and views of our landscaped gardens.
Our dedicated team
With 10 years' experience planning, preparing and delivering Fusion weddings, our team tirelessly observe every detail to help you achieve the wedding you've always dreamt of.
Our wedding planners will not leave any stone unturned, ensuring the decorations and planned rituals are executed exactly as you imagined.
Exclusively yours
We welcome you to make the Manor yours for as long as you wish, with 2-3 day wedding experiences available. The Manor has 12 individually designed guest rooms featuring four-poster beds and en-suite bathrooms with freestanding baths.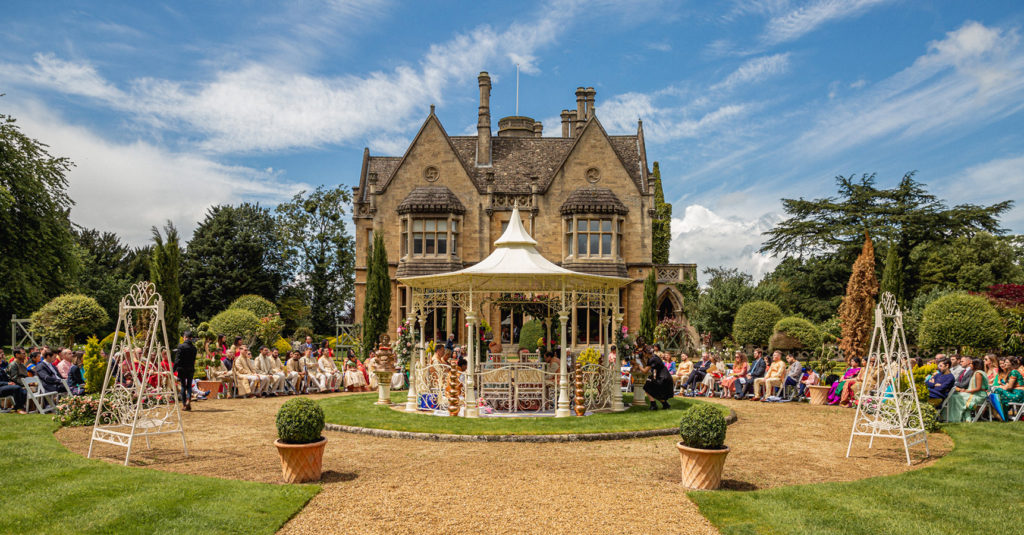 The backdrop of your dreams
Set in seven acres of award-winning gardens, the manor benefits from its own private lake, Italian garden, woodland paths and perfectly manicured lawns. A truly unique setting, the manor is a perfect backdrop for any special occasion, with almost limitless photographic opportunities.
How to choose your customs?
Interfaith weddings provide a beautiful opportunity to show love and respect for each other's beliefs. A great way to be inclusive of both religions is to find customs which overlap. For example, the Indian Mandap has similarities with the Jewish Chuppah; in both instances the couple and their family sit under a canopy for the ceremony.
Why not bring elements from both cultures to the scene? Manor By The Lake's versatile spaces provide you with boundless options for setting up the canopy for the Mandap or Chuppah ceremony in any area you choose. Another example of course is the Jewish "Hava Nagila" where the bride and groom are lifted above the crowd in their chairs. Indian weddings feature a similar tradition during the reception.
Blooms
Wedding across all cultures and traditions use flowers to symbolise celebration. Including certain colours and blooms into your ceremony is a great way to showcase your beliefs and cultures. At Manor By The Lake our talented Creative Designer Amanda Croot wows our couples with the most spectacular floral displays and artistic installations.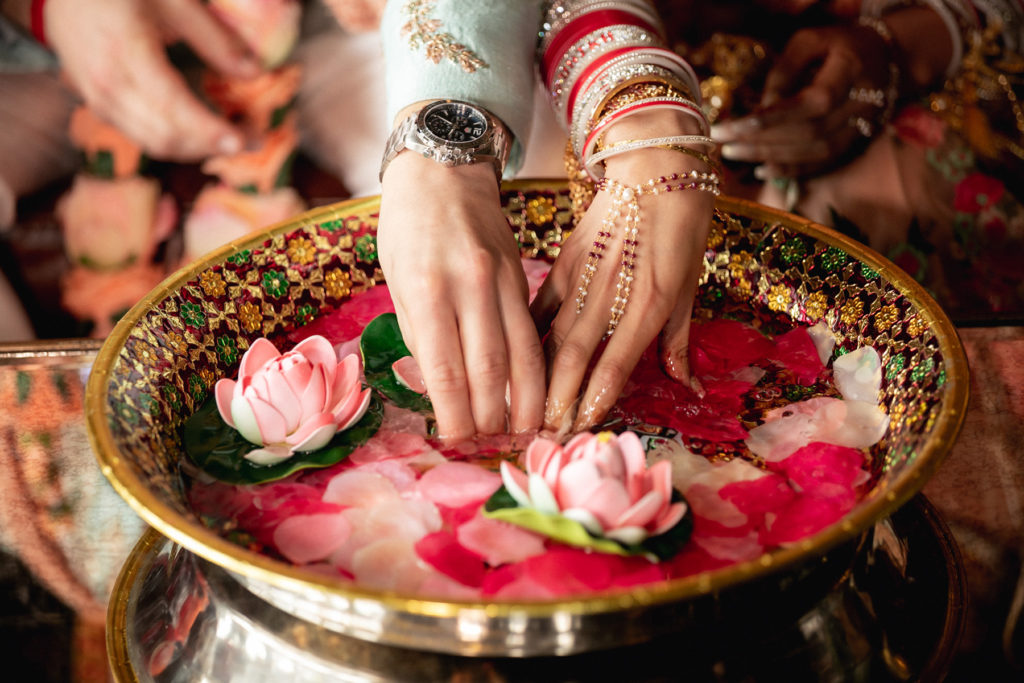 The feast
The best part of a fusion wedding is the food! The traditional dishes you serve on your wedding day demonstrate your roots to your new families. With two cultures to celebrate, your guests will be spoilt for choice!
Our approach to catering for your event is totally focused on your wishes. We'll talk you through your plans for the day and take the time to understand the style and format for the wedding. Our chefs at the Manor can create a bespoke menu for your day, or we can help you arrange external caterers.#
Involving your guests
Another important factor with an interfaith wedding is to give yourself and your family plenty of time to discuss the plan. Some family members might need help understanding traditions they're not familiar with, while others will want to have a say on what they feel should be included on the day. While it might not be possible to make everyone happy, you can certainly give everyone a chance to feel heard.
A fun way to do this is by creating your own website. Here you can publish your order of the day online for your family and friends to see well before the wedding. You can also include brief descriptions of the traditions you'll be including and why they are important to you both.