Who proposed and how did you do it?
Christian proposed whilst we were away on holiday in Turkey, we had booked a meal on the beach in a cabana for Christian's birthday which turned out to be the perfect moment.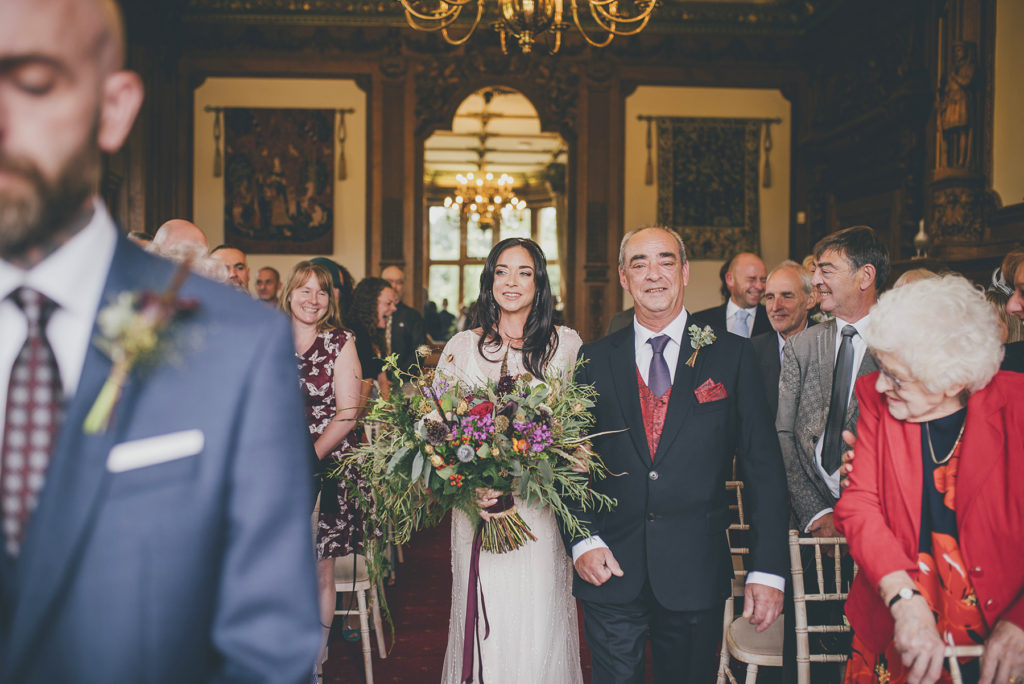 What made you choose Manor By The Lake as a wedding venue?
We choose Manor By The Lake as we were able to have an outdoor ceremony in the beautiful gardens with the Maximilian room as our plan B. We also loved being able to have the manor solely for our use, with beautiful bedrooms and Butterfly Cottage for us girls to chill out in the night before. The Rock Bar was perfect for Christian to use as a groomsman's room, and this sealed the deal for us.
Who were your bridesmaids and what colour did they wear?
My sister Amy & my closest friend Rachel were our bridesmaids; the dresses they choose were Grecian style in blush pink. Keeping the dresses simple worked well with my bouquet and our cake.
Who did you have as groomsmen? What did they wear?
Christian's brother Ryan was best man; our groomsmen were their dad David & Christian's nephew, Oscar. They each wore a two-piece suit with a navy tie to complement the groom.
What did each of you wear? Who was it by and what style did you go for?
Christian wore a Hugo Boss fitted three-piece suit matched with Italian leather shoes purchased from Pockets of Worcester.
I wore an Ellis gown from Lacewings, Worcester. The dress had a Great Gatsby vibe with beautiful hand-sewn beaded embroidery which matched perfectly with the venue.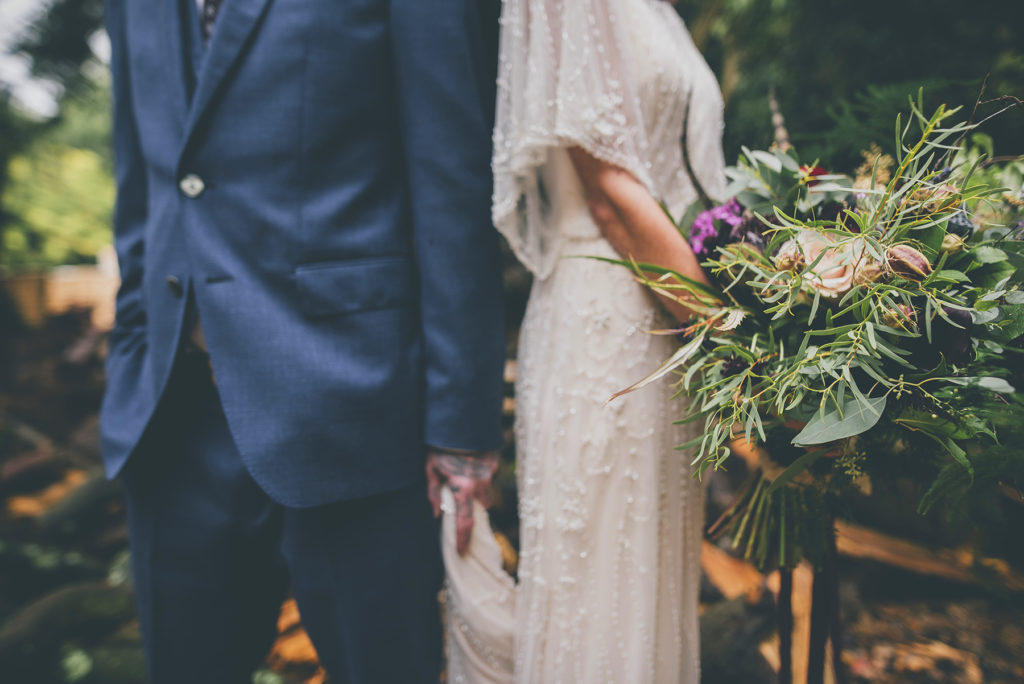 What food did you choose? Is there a reason for your choices?
With a variety of menus on offer, we choose the tapas, mezze and ploughman's 3-course buffet with a hog roast in the evening. We love to eat Mediterranean food and chose the buffet to cater for all tastes on the day with the option of going back for more!
What did you have as your wedding music (walking down the aisle, first dance etc) and why did you choose those songs?
I've always loved Greensleeves and wanted something different so had a harpist play this as I walked down the aisle. As a surprise for Christian I had the Imperial March from Star Wars played as our recessional music, he's a big fan! Our first dance was Al Green Let's Stay Together; we love it, but also it was the only one we could agree on.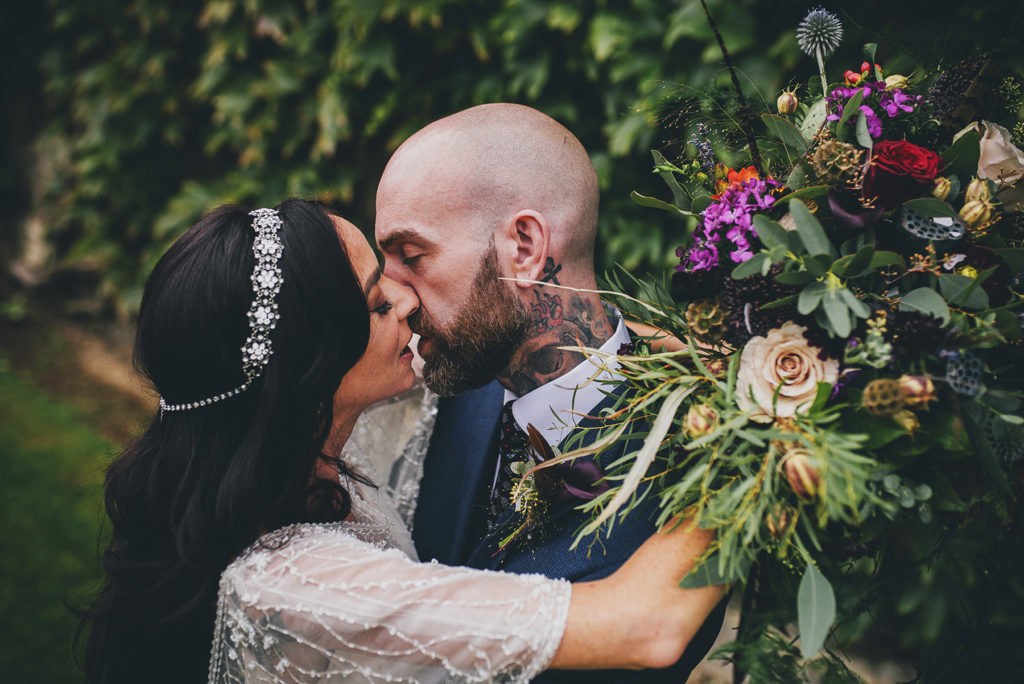 How did you entertain your guests?
Our guests enjoyed using the Rock Bar during the evening which was perfect for relaxing with a games room, jukebox and small bar. Our brilliant DJ played Motown, funk & soul with a few Hip Hop tunes to satisfy the groom.
How did you both feel on the day?
Excited and surprised how calm I felt, I wanted so much to see Christian and walk down the aisle with my dad.
What moments stood out for you the most?
For me, it was my dad's speech. He is a man of few words who hates public speaking, however his speech and tribute to our mum were amazing.
If you had 3 pieces of advice you could offer to future couples getting married, what would they be?
Definitely set up a new email specifically for the wedding, this helps with organisation.
Meet your suppliers, especially your photographer. You have to be able to have a good relationship with those making your day special.
Budget, use a spreadsheet, always look at the cost. If you are able to, source what you need online and with help from friends you can make it yourself!
Suppliers featured on your special day:
Photographer: Dearest Love Photography
Flowers: The Great British Florist Herefordshire
Catering: Manor By The Lake, wedding cake made by a family friend
Entertainment: DJ Iye95,  friend of the groom
The dress: Ellis Bridal Gown, Lacewings Worcester
Hair: Bridal Hair by Helena Sinclair
Beauty: Hibiscus Beauty, Worcester
Wedding décor: Secret Garden wedding Services, Worcester