Your wedding is the most magical day of your life and should be personal and meaningful to you and your partner. While it's important to express your individuality with your wedding style, many couples look to wedding trends for inspiration. With this in mind, here are the upcoming 2020 wedding trends to help you plan your perfect wedding day.
It's all about the dress
White wedding dresses are a classic tradition that will continue in 2020, but many designers are now creating a huge range of different styles and outfits to suit every bride's style – all of which are equally eye catching. You can now find everything from simple wedding gowns, to two pieces and even knitted designs. Dresses are also coming in a huge range of different colours – from subtle blush tones to vibrant shades of red and gorgeous royal blue. Brides are now encouraged to express their individual style and consider a range of outfits outside the norm. Modern brides are now picking whatever outfit will make them feel fabulous on their special day, even if it's not in a traditional wedding dress style.
Squad goals
Having bridesmaids is an important long-term tradition that shows no signs of dying out. However, the way that couples dress their bridesmaids has changed significantly over the years. Brides are now choosing to dress their bridesmaids in outfits that reflect their personalities, instead of just opting for uniform dresses in one colour scheme. Mix and match styles with contrasting colours, necklines and prints are becoming increasingly popular – every individual is unique, why can't their dresses and your wedding day be too?! This means that bridesmaids can choose a dress that suits their individual body shape and style and have an outfit that they're likely to wear again in the future.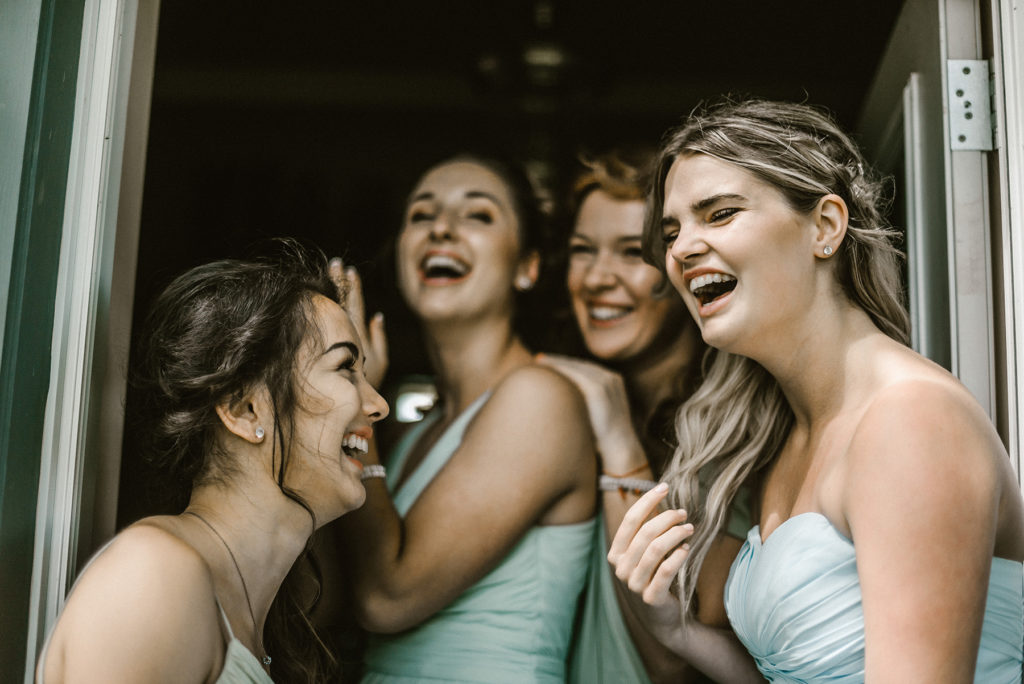 Go green
Concerns over the state of our environment due to global warming are growing. More and more people are becoming eco-conscious and looking for ways to reduce carbon emissions. Because of this, many couples are now choosing to plan green weddings that are less harmful to the environment. Here are some of the top ways to make your wedding more sustainable:
Choose a local caterer and plan a menu that uses organic, locally-grown ingredients
Hold your ceremony and reception at one location to reduce travel emissions
Have an outdoor weddings i.e. in a garden or woodland area
Make your wedding stationary out of recyclable material
Ask for a donation gift towards an environmental charity or cause
Opt for a pre-loved wedding gown instead of purchasing a brand new outfit
Let's eat cake
Let's be honest, the wedding cake is one of the stars of your big day. Couples are no longer just picking a traditional fruit sponge for their wedding day. Many couples are now requesting something fresh and unique when it comes to their wedding cake and looking for something that's different from the typical wedding look. This has led to some impressive and interesting cake creations – from extravagant ten tiered cakes in multiple flavours, to solid chocolate cakes and even cakes made entirely from cheese. Save a slice of the solid chocolate cake for us!
Bloomin' lovely
Flowers play a key role in the majority of weddings. Not only is a floral bouquet and arrangement simply stunning and breathtaking, they create another opportunity to express yourself as a couple. Many couples spend a lot of money on flowers to transform their wedding venues and create a beautiful space. The rise in popularity of green weddings means that couples are now opting for in-season flowers, instead of having popular wedding flowers transported to their wedding. Choosing locally grown flowers is an excellent way to make your wedding more sustainable and reduce environmental harm. Bridal bouquets have also become increasingly extravagant over the years and many brides now choose to have jewellery, mementos, and even edible items included in their bouquets to make them more personal. The use of fake flowers has also seen a surge in popularity, creating a piece of the wedding you can keep and repurpose as a stunning keepsake decoration taken directly from your dream wedding.
It's all in the detail
Many wedding experts agree that there has been a shift away from the traditional colour schemes that couples used to focus on. Many couples are now open to using a range of different shades and patterns to create the best atmosphere and vibe at their big day. Personalisation is extremely popular and couples are creating a huge range of meaningful decor for their weddings – from photo walls showing pictures of their relationship over the years, handmade seating plans and table numbers. Lighting has also become a key focus and chandeliers, pendants and lamp shades are often used to create ambience and focal points at modern weddings.
Final thought
Wedding trends have evolved significantly over the years. The most important thing is that you plan a wedding that is meaningful to you and your partner and reflects your individual personality. Use these key trends to help you plan your perfect wedding day in 2020 or beyond.