A wedding is a celebration of love and the fusion of two families. At Manor by the Lake we pride ourselves on delivering truly special weddings and specifically our ability to host Asian weddings. Our award-winning team has a wealth of experience in weddings and our chefs take pride in creating cuisines that will indulge everyone's taste buds.
We know that the colours, smells and most importantly the taste of expertly cooked Asian food is something that will be a priority for your wedding, so we have put together this blog which is dedicated to Asian weddings and the cuisine, including a recipe for an Indian inspired smoked haddock fishcake that we are sure you will love! We would love to see your photos if you give the recipe a go, remember to tag us!
Indian Inspired Smoked Haddock Fishcake Recipe
Ingredients
For the fishcake
400g smoked haddock
2 baking potatoes
100g frozen green peas
A handful of mint leaves
200ml milk
½ bunch of roughly chopped coriander
Flour
2 eggs gently beaten
Breadcrumbs
40 ml oil
1 tsp nigella seeds
For the spice mix
2tsp cumin seed
2tsp coriander seed
2tsp fennel seed
4 cloves
1 tsp turmeric
½ tsp chilli powder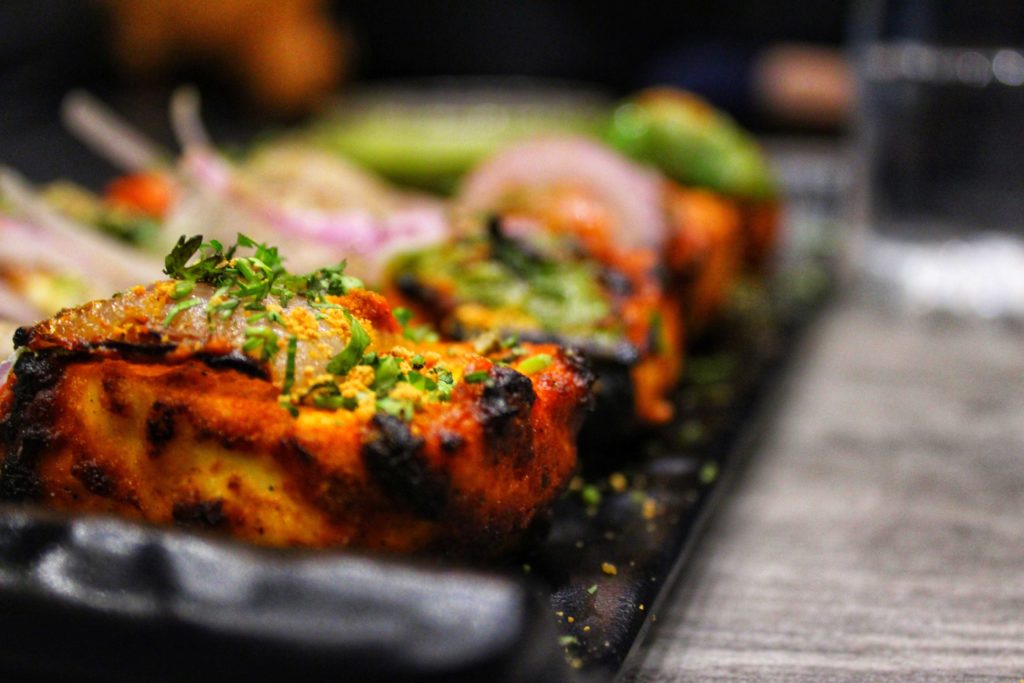 Method
Wash the potatoes and pierce them with a knife. You can either wrap them in foil or just put them in a baking tray as they are. Bake for about 40-45 minutes. Test them by piercing a thin knife through them; you are looking for a slight resistance. Once they are done, put them on the side and let them cool down.
While the potatoes are baking, prepare the spice mix. In a pan, gently toast all the seeds and the cloves. When they become fragrant, pull them off the heat and transfer them into a spice grinder or a mortar and grind them to powder. Once done, add the turmeric and the chilli.
Gently poach the fish in milk, when it's done, break them into large chunks and remove all remaining bones. Set this aside for now.
Roughly chop the mint leaves and mix them with the green peas. Either mix together in a food blender for a couple of seconds or alternatively, you can mash them in a mixing bowl with the end of a rolling pin, and season it with a pinch of salt. This will be in the middle of the fish cakes.
When the potatoes are cool enough to handle, peel them and mash them with a potato masher. Don't make it too smooth, it's much nicer to have a bit of a texture. Add the spice mix and the chopped coriander to it and give it a good stir. Add the fish chunks to the mix and mix it carefully, making sure you don't break up the fish too much.
We weigh our fishcakes in the restaurant, each one is 90gr. You can make them smaller or larger, but try to keep them a consistent size.
Have a portion of the mix in one hand, create a well in the middle, spoon the pea and mint mix into it, and shape it into a ball. You can flatten this slightly to create the fish cake shape.
Beat the eggs and the oil together in a bowl, mix the breadcrumbs and the nigella seed in another, and have the flour in a third bowl. Roll the patties into flour then eggs then the breadcrumbs, ensuring that they are evenly coated.
Bake on a baking tray at 180c for 15 minutes until golden brown.
Serving suggestion
These fishcakes are delicious and can be served with a variety of dishes including salads, sweet potato chips, steamed spinach or kale, coleslaw or just a simple cucumber raita. Enjoy!