Can't get out and about to visit venues and plan your wedding day like you planned? Don't worry, there are plenty of ways you can keep your planning on track from the comfort of your very own home!
When it comes to wedding planning, you don't have to be rushing around, clocking up miles visiting every wedding venue, supplier, or shop that you come across or think might be useful for your special wedding day. If you can't get out and have to stay at home, that doesn't mean planning for your wedding has to go on hold.
With a computer and a mobile phone, you've got the wedding world at your fingertips and can book and plan to your heart's content. In addition to this, with all the spare time you'll save from not traveling to each and every supplier and wedding venue you like the look of, you'll be able to thoroughly research, organise and even book some of the key elements of your wedding day!
How To Book Your Wedding Venue From Home 
You don't have to physically stand inside a wedding venue to fall in love with it these days. Technology is so advanced that you can virtually "walk around" many venues from the comfort of your own sofa, thanks to 360 virtual tour videos on websites, incredibly detailed images, floor plans, and aerial views. It's like taking a real tour but from inside your own four walls, how amazing does that sound! Plus there's Google Street View if you want to have a look at the approach to a venue to check it's in a beautiful area as it says it is!
360 Virtual Tours 
Couples who are looking to plan a destination wedding, but can't afford or have time off to fly out to their chosen country, can choose to book their wedding venue in this way. Perfect for international couples! Virtual tours are a process that happens on a regular basis, so you're not being difficult if you'd prefer to view your venue virtually, before viewing in-person.
Manor By The Lake has plenty of online resources that'll make you feel like you've really set foot in the glorious exclusive-use venue before you book, just from an incredible virtual tour that takes you around the entire manor. It allows you to peek into all the characterful nooks and crannies, including the rock bar, ballroom, and suites!
You'll be surprised how much detail you can see in this tour and how real it feels once you're "inside" the manor! Make an occasion of it with your fiancé or fiancée and sit down together with a glass of bubbles before going on the tour together.
Video Calls With Wedding Venues
In some situations when it might not be possible to physically visit the venue itself or meet the wedding coordinators, it doesn't mean you can't tick 'book a venue' off your to-do list. You'll still be able to contact the venue and planners by phone or video call, who can answer those questions you can't find on the website. Make sure to ask them about any special wedding offers too!
If you've fallen in love with a wedding venue online, then it's not just a case of booking your big day without any human contact. Wedding planners, venue staff, and on-site caterers can come together to meet you in person via conference call platforms like Skype, Teams, and Zoom, so you can have the personalised service and time to discuss your individual plans that you'd get if you were actually at the venue.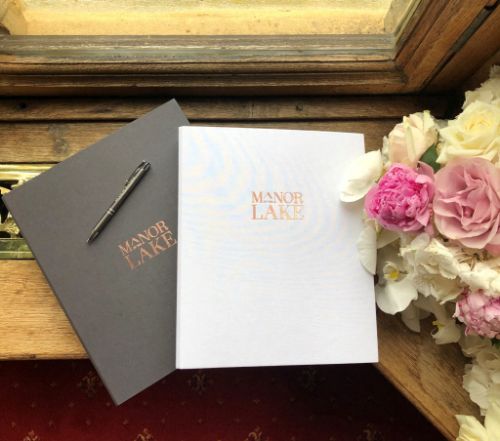 Social Media For Wedding Planning
Don't forget the power of social media too. Venues will have social platforms such as TikTok and Instagram with lots more beautiful images, videos, and wedding inspiration. From wedding breakfast setups to outdoor wedding inspiration, intimate wedding ideas, or thoughtful touches – such as a cocktail hour for your guests.
Take a look at our real weddings too, which can give you ideas for how previous couples have made the most of the venue and put their own stamp on the venue.
If you're struggling to get hold of a venue on their usual office number, then you can always contact them via email and social media – never be afraid to reach out via alternative methods!
Virtual Stag and Hen Parties
Thanks to the power of Zoom, the wedding couple don't have to go without their respective parties. Over video chat, you can perform a range of great quizzes, take part in a virtual wine tasting or even set a series of challenges for the hen/stag to complete as you watch on from the comfort of your laptop! Lots of fun companies are catering to this style of event now that they are as popular as they are, so don't be afraid to reach out if you'd rather do your stag/hen from home.
How To Book Your Wedding Suppliers From Home
Once you've sorted your venue, booking anything else from home will feel like a breeze. Finding suppliers like your florist, photographer, videographer, and decor stylists, can easily be done online and from home, as you'll be able to see samples of their work on websites and social media.
You can get started on the legal side of things online or on the phone too – from booking registrars, registering your marriage, and talking to your church's priest or vicar about the details of your ceremony.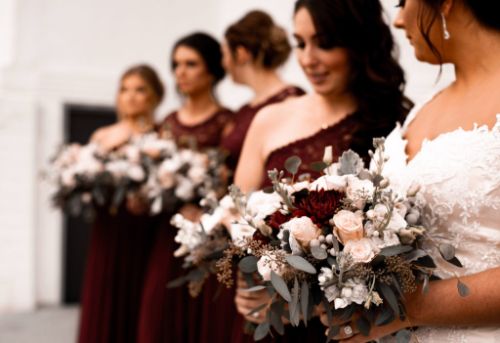 There are some elements of wedding planning that are harder than others to do from home – and the most obvious one is suit and dress shopping. If you can't wait to get going on the search for your perfect wedding dress, then use the time at home to do some serious research and get organised to hit those boutiques!
Some brides have an uncanny ability to know exactly what style dress will suit them and if you're in this minority then ordering a dress online might not be such a risk, but for most brides, it really does pay to spend time and effort trying on a range of dress styles. Most bridal boutiques can provide private fittings if you do feel iffy about going in for your fitting!
From home however, you can make a list of the best wedding boutiques in your area or high street options, spend hours on Instagram and Pinterest putting together a collection of wedding photos of dresses you love, and also become well acquainted with the many different designers and high street brands. This will make finding your dream dress much easier once you're actually in a shop. In short, now is the time to do your homework!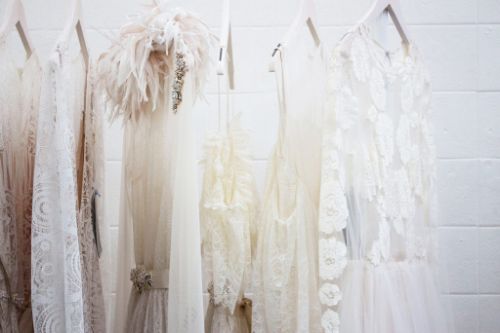 Online Wedding Planners
And to make the planning process even easier, there are a whole host of fantastic wedding planning apps and templates out there for you to use during the run-up to the big day to keep organised. Although many venues provide you with your own private wedding planner (which will make your life just that little bit easier), it's always good to know what your options are!
At Manor By The Lake, our friendly team is just at the end of a phone or video call, and is more than happy to help! From online wedding journals to help with your wedding planning, and access to an online shop for in-house decorations, virtual planning meetings, and online wedding plans…we are here every step of the way with planning your wedding from home!
With clever use of wedding virtual tours, conference call platforms, and by picking up the phone, planning your wedding at home couldn't be easier – you can do everything from taking a tour of your venue to finding your dream wedding dress!