Are you starting to plan for your 2023 wedding day? Wedding planning is just around the corner, so we've spoken to a number of wedding experts about upcoming wedding fashion trends to help get you started planning for your big day this year. Here are some inspirational ideas:
Go Creative & Eco-Friendly
Are you eco-conscious? Explore different ways to make your special day environmentally friendly, there are plenty of small changes you can make that will have a major impact.
Go green with your wedding planning, with recycled paper for printed invitations, save-the-date cards, table plans and menus. Look for companies that give back to the environment while shopping for a stationer. For example, Little Difference and Paper Culture, plant trees for every order they receive to be more eco-conscious.
Alternatively, seed paper is the most earthly eco-friendly biodegradable material that sprouts into flowers when planted in a pot of soil. Suppliers such as Botanical PaperWorks offer a wide range of custom goods on plantable paper, from place cards to invitations, confetti, and wedding banners. These are becoming increasingly popular wedding trends.
When it comes to wedding decor, be conscious of floral centerpieces as there is no doubt that flowers will look beautiful, however freshly cut plants aren't the best for the environment. Luckily, there are fantastic eco-wedding alternatives. Consider potted plants or flowers, such as orchids, spray roses, herbs, and even trees, that can be reused at home, on a patio, or transplanted into the garden after the event. If you are going with cut flowers, choose seasonal flowers that are grown locally, by searching for sustainable florists online. Many couples work with small local farms or grow flowers themselves, reducing the need to transport blooms long distances, which is proving popular.
Bold & Playful Print Trends
This trend goes beyond florals and pops of colour. A big trend for 2023 is bold, daring, and powerful. Bridesmaid's outfits will steer away from summery pink, yellow and orange tones, with a new wedding trend of shades including dark navy, cobalt, noir, and digital lavender (the colour of the year).
Virtual Save The Dates
Another wedding trend for 2023, is sending your guest list virtual save-the-date invitations. They have become increasingly popular as sending out paper invites can be expensive and aren't environmentally friendly either. Digital save the dates inform guests well ahead of the wedding, of the important details – such as the wedding date and wedding venue before sending out the rest of the information.
Locally Sourced
Think globally, eat locally. Many brides and grooms-to-be are more concerned about the environmental impact these days, many have turned to local wedding suppliers in order to have a more eco-friendly big day.
When shopping locally for your wedding you'll give your wedding a unique, local vibe while supporting local businesses. And you'll feel good doing it. Win-win!
There are so many benefits to shopping locally:
Add unique style and personal touch to your wedding
Reduce the carbon footprint of your big day
Support local businesses
Local florists, wedding cake and artisans bakers live in the community, they know the area, and its many natural products, and will help bring an authentic style to your wedding. You can also reduce the ecological footprint of your big day with locally-sourced foods, decorations, gifts, and even your wedding dress. Shopping locally for your wedding dress and finding a local dressmaker to add a special touch to your dress will give you extra kudos when people learn it was made nearby. And, when you buy from a small business, you can feel good knowing your money is multiplying locally, enlivening the very place where you so happily tied the knot.
Wedding Dress Rental
Hire for wedding dresses has gone up by 132% as couples are looking for more sustainable options. It also helps reduce the costs of having their dream dresses, as they are most likely only going to wear their wedding dress once.
Something Blue Bridesmaid Dresses
Lavender-coloured wedding dresses are becoming a popular wedding colour trend for 2023. This is partly due to Bridgerton having a huge impact on weddings with regency blue being a popular colour choice. You could incorporate blue into your wedding colours.
Outdoor Weddings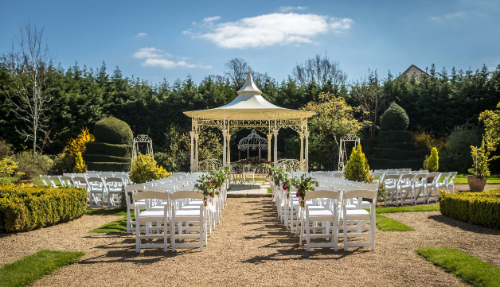 Since the outbreak of coronavirus, having an outdoor ceremony has become more common. Destination weddings have also increased in popularity, with couples opting to get married in warmer destinations so they can have an open-air wedding ceremony with their closest family members.
At Manor By The Lake, we have three beautiful outdoor spaces – the Italian Pavilion, Lakeside Pavilion, and Manor Arches which are popular for an outdoor ceremony, before moving into the Maximilian or Ballroom for the wedding reception.
Wedding Suits For Women
Other wedding trends for modern brides include wearing a suit rather than a dress. Bridal suits are increasing in popularity and are now available in more styles than ever before!
Wedding flowers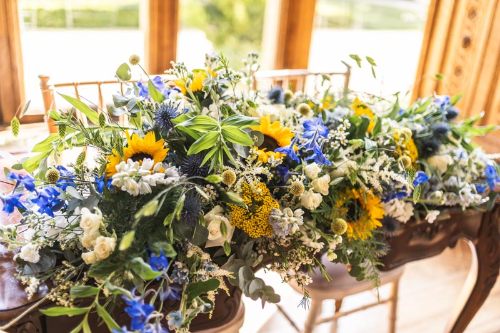 After the wedding day, it's becoming popular for more couples to keep their wedding flowers by pressing them, making keepsakes such as jewellery or paperweights with epoxy resin, or using them to create bath salts as mementos from their special day.
As one of the best wedding venues in the South West, Manor By The Lake is taking bookings for next year, with few dates remaining. Our committed wedding planning team keeps on top of upcoming wedding trends. They will be more than happy to advise and assist you in planning your wedding day.
Contact us today to book your date and start planning your wedding.