Choosing your wedding favours is one of those things that a lot of couples struggle with and many don't know where to start when it comes to choosing them. One of the main things to remember when you are looking into wedding favours is to choose something that your wedding guests will want to take home and keep or 'favour' for years to come.
It's also down to personal choice and taste, there isn't any set criteria or item that you should provide as a wedding favour, so choose something that you both feel your wedding guests will love. You could match them with your wedding theme or you could just think of things that your guests can use after your wedding day.
To help you decide what wedding favours to choose, you could think about the type of wedding favour you'd like. For example, you could choose something that compliments the meal during the wedding breakfast, or it could have a functional purpose for guests or even a charity aspect. Once you have thought about this, it will help you to think about the actual items to choose for your guests.
If you are really unsure of where to start on this, we have put together our top 10 wedding favours that we have found, to help give you some inspiration. If you are looking to have a sustainable and ethical wedding, you could make your own wedding favours. DIY favours would be a lovely keepsake for your guests, would keep your budget low and also by ensuring they are sustainability produced, you would be doing some good for the planet too.
1. Key Bottle Opener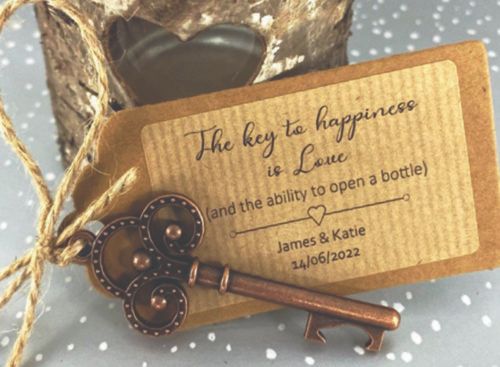 Pack of 30, £45 from Glendale Engraving UK
This wedding favour idea is functional and something that we are sure lots of your guests will get plenty of use from after your wedding day. How many times do you spend ages looking for a bottle opener when you want to open a bottle of wine at a dinner party! This key bottle opener also comes with a rustic label so you can personalise the message for each of your wedding guests which gives it a personal touch.
2. Blush & Gold Mini Gin Bottles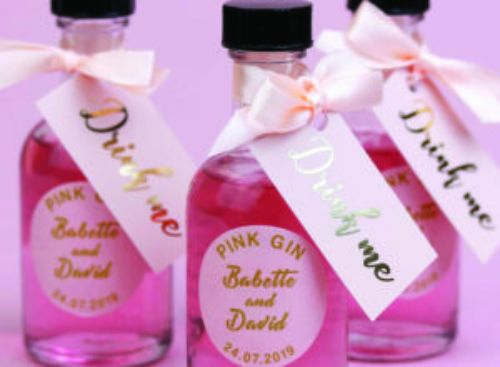 £2.99 from Hearth and Heritage
These miniature gin bottles can be personalised and feature a 'drink me' tag on each bottle, tied on with pink ribbon. They don't come with the gin included, but you could fill these with your favourite brand of gin for your guests that they could either enjoy during the wedding breakfast, or when they get home.
3. Personalised Succulents In Silver Pots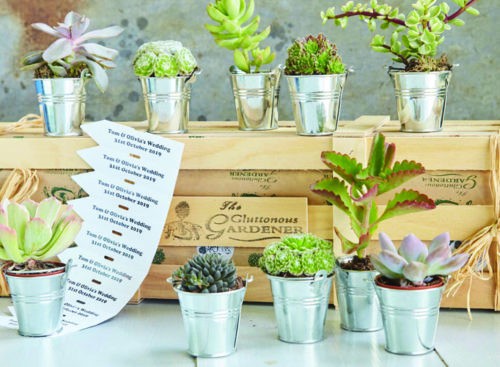 £60 from The Gluttonous Gardener
These succulent pots are Eco-friendly and are a really unique way to say thank you to your wedding guests. These exotic little plants are easy to look after and grow, and will be a lasting reminder of your special day. They can also be personalised with your own message.
4. Personalised Chocolate Pizza Favours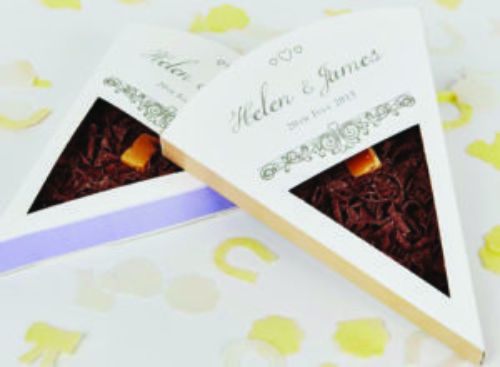 £2.50 from The Gourmet Chocolate Pizza Company
These handmade chocolate pizza slices are a really great idea for your wedding favours and can be personalised with your name and the date of your wedding. There are a choice of four flavours for you to choose from and will be a perfect gift for your family and friends.
5. Personalised Hot Chocolate In A Tube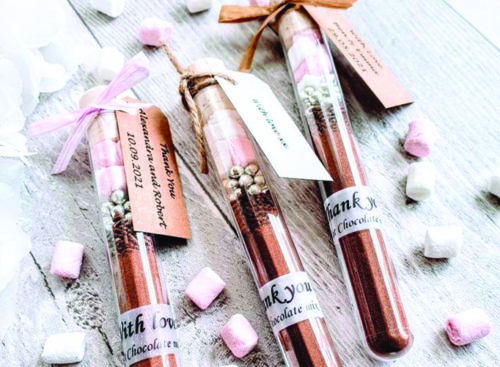 These hot chocolate tubes are a really unique and fun idea for your wedding favours. They come filled with hot chocolate powder, chocolate sprinkles, silver balls, and marshmallows, and are ideal for your guests to take home and enjoy. The tubes can also be kept as a reminder of your wedding day.
6. Personalised Mini Candle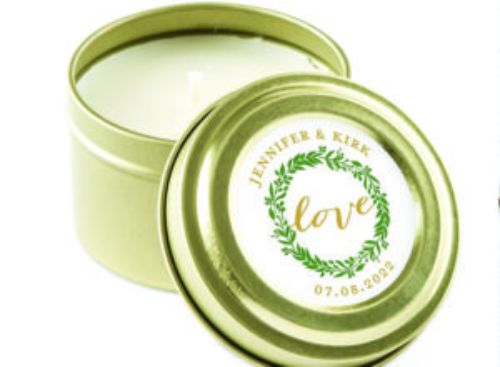 These small, tealight sized candles come in their own individual jars with a gold lid and can be personalised with your own message and the date of your wedding. They are made using all natural vegetable wax and will be a functional yet beautiful keepsake for your wedding guests.
7. Pomegranate Trinket Boxes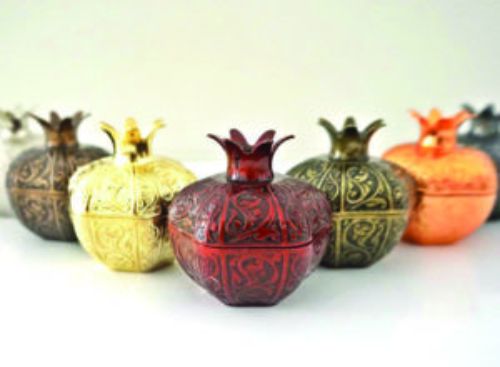 These are really unique ideas for wedding favours and something that your guests will be able to take home and use themselves. There are seven colours to choose from and three different sizes, so they will be perfect for a range of budgets.
8. Safety Matches In A Glass Bottle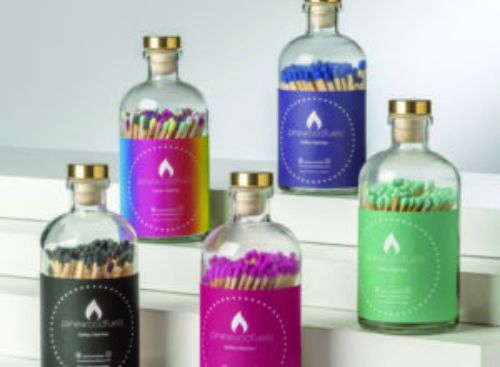 These small glass bottles are filled with safety matches and come in a variety of colours. They might be something a little different to traditional wedding favours, but they're definitely something that all your guests will be able to use after your special day. You could have your own personalised labels or stickers to go onto each bottle as well to add your personal touch.
9. Miniature Hangover Kit
£0.99 from Bespoke Moments Ltd
If you and your guests love to party then this might be the ideal wedding favour for you! These bags come with a personalised tag and are left empty so that you can fill them with the contents of your choice. This is definitely something that will come in handy the day after your wedding!
10. 'Love Is Sweet' Personalised Wedding Favour Bags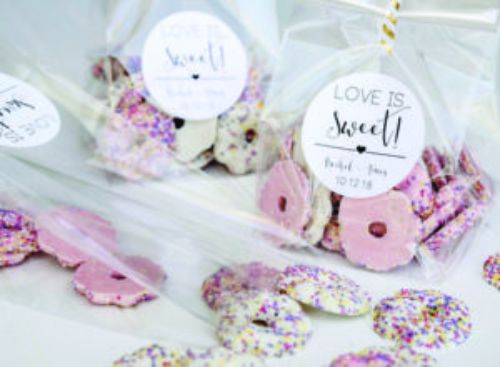 These cute bags come with a personalised label sticker which can include your name and the date of your wedding, or even a personal message or quote. You could include some sweets inside or even a cookie or biscuit of your choice. These sweet treats are great to give your guests, especially if they have a sweet tooth!
We hope we have given you some inspiration if you are looking for your own wedding favours to give your guests, from mini bottles to sweet treats, there are lots of choices of gifts to give your guests. The choices are endless when it comes to choosing the right gift, but make sure that whatever you choose is something that you feel your guests will love.
It's also good to remember that these are only small items for your day, so don't overspend on your budget. If you can't afford something, look into alternatives or ways you could make them yourselves. It's always nice to make things for your own wedding as it gives it a more personal touch and gives your wedding guests something to remember.