1. The winter wedding venue of your dreams!
If you're looking for winter wedding ideas and you love cosying up with your partner and the warm twinkling glow of a fire, then a winter wedding can be a wonderful option for you both.
A perfect winter wedding can be the most romantic of all the season's thanks to the shorter days meaning you can bathe your wedding in the beautiful glow of hundreds of candles or fairy lights.
Winter is also the perfect season to make the most of having an exclusive use manor house as your wedding venue. With all your guests inside you can use all the cosy and inviting spaces to focus all your attention on decorating the stately backdrop to suit your style. And if it snows, just imagine how incredible your wedding venue pictures will look outside in the enchanting gardens and by the glittering lake. Sounds like perfect winter wedding idea to us!
Why not consider booking Manor By The Lake for your special day? Located in Cheltenham, Gloucestershire, surrounded by 7 acres of grounds and gardens – a true gem of the Cotswolds. We are an exclusive use wedding venue, meaning you have the whole estate and grounds as if it was your home. With so many beautiful indoor spaces to hold your ceremony, you will be spoilt for choice! And if all of that wasn't enough, we have fantastic special offers that are to-good-too-miss for the winter months.
2. Wintery Pallettes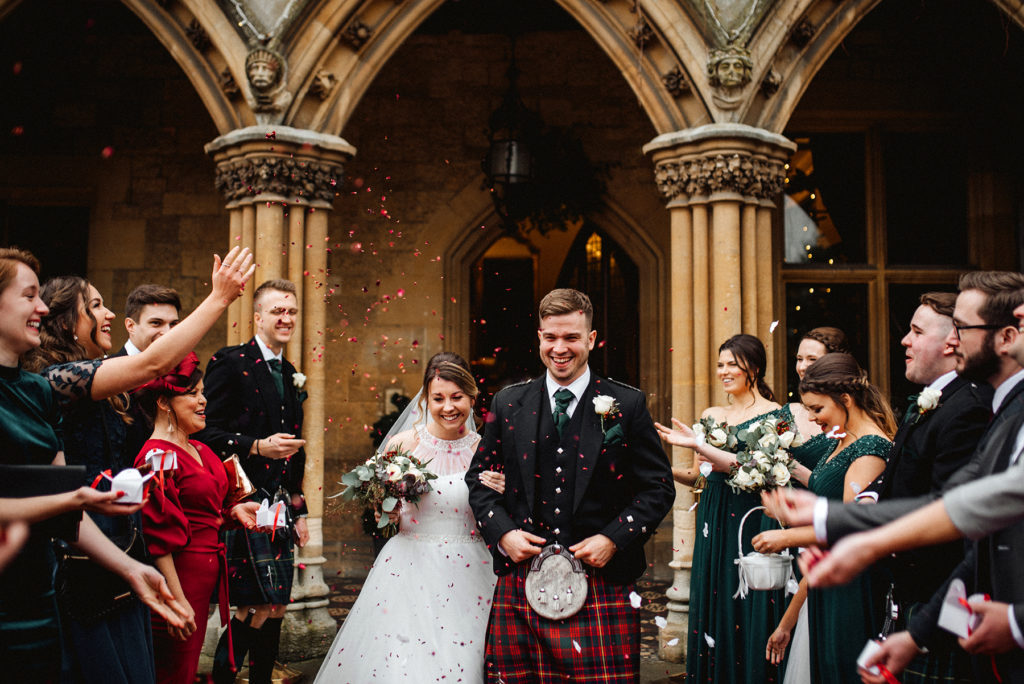 To create a warming winter wedding palette, it's a good idea to embrace deep and opulent colours like burgundy, dark greens, navy, and sometimes even black.
The best thing about this season is that you can indulge your inner magpie by going big on glitter as it will look fantastic against all the dark hues. Sequin glitter dresses for your bridesmaids paired with faux fur – shawls, this will certainly capture the perfect pictures!
Metallic colours like gold, bronze, and copper also work particularly well for winter weddings, add those subtle touches with maybe your glassware, cutlery and beaded charger plates?
Here at the Manor, we allow you to decorate the venue however you wish. We have an experienced team on hand who are able to assist with ideas, as well as contacts for our recommended suppliers. We want to make sure that you get the perfect winter wedding venue of your dreams, that is decorated to perfection!
3. Dress to impress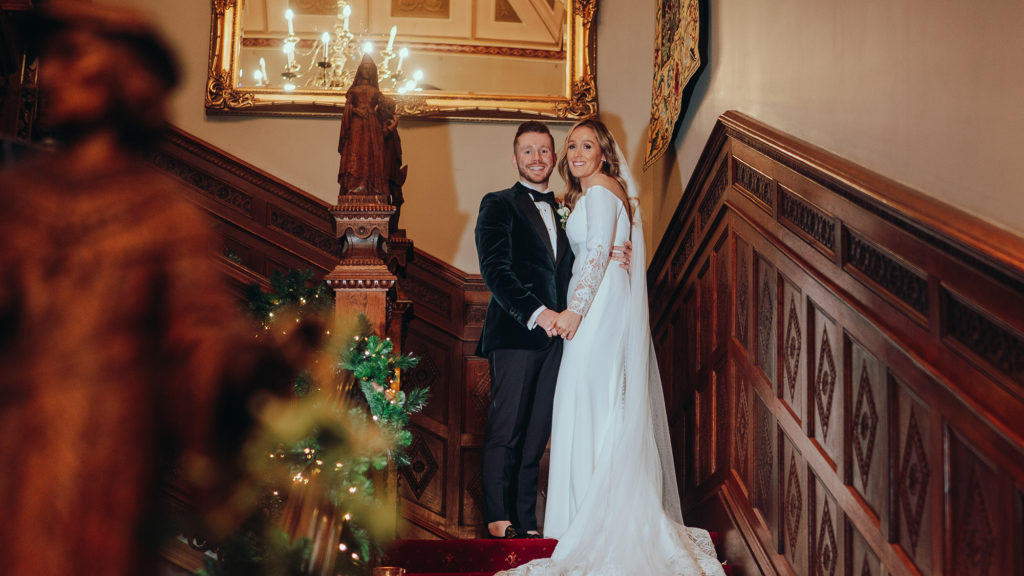 Once you have your wedding venue booked, the next step is to find your dream wedding dress or sleek tux – Arguably the most exciting part of the whole wedding experience! Nowadays there are so many options to choose from – long-sleeved wedding dresses, satin, lace, sequin to flouncy wedding dresses. Suits in deep velvet colours or a 3 piece black tie tux, there is alot to decipher in the world of wedding outfits.
But not only that, but there are also so many choices when it comes to the details – such as choosing a dress with faux fur, tulle sleeves, or a sleeveless dress with a wintery shawl to go with it. All the dress shops are your oyster and enjoy every moment of finding your perfect dress to say 'I-Do' too!
4. Deck the halls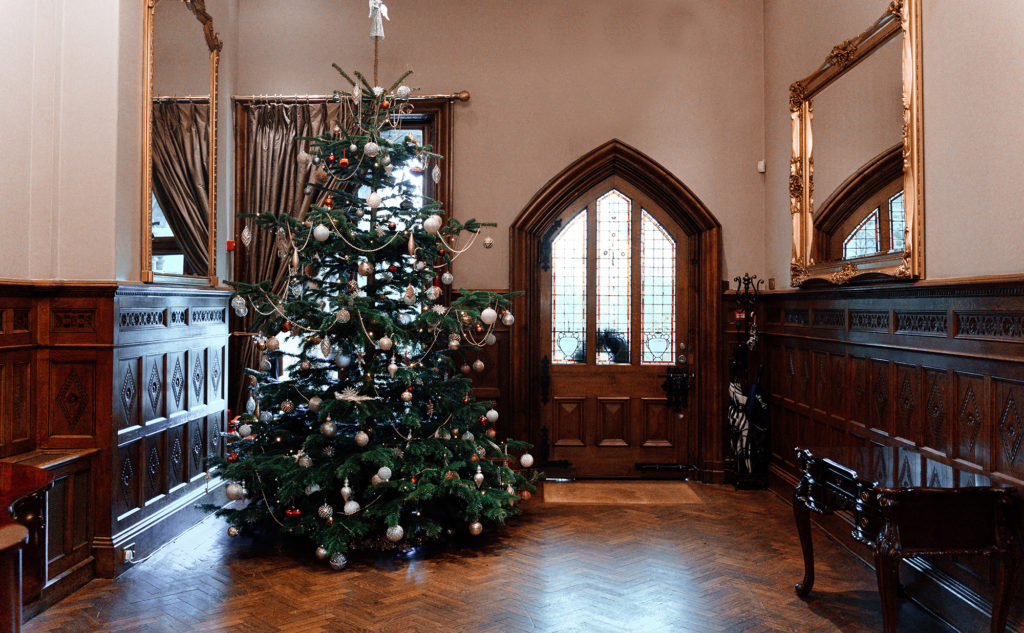 If you're getting married in December, there's an obvious winter wedding theme that you can embrace… Christmas! Plus Manor By The Lake will already be adorned in all its festive glory, meaning you can relax when it comes to the décor and make the most of the winter wedding wonderland backdrop that's already there. From festive decorations to Christmas trees and fairy lights a-plenty throughout the manor.
Take a look at our winter wonderland wedding collections, which also include complimentary decorations for you to add to your fantastic day!
If Christmas is your theme, get creative with baubles, glitter candles, mini Christmas trees, fairy lights, and crackers. If you're going for more of a wintry scene outside of the festive period think of wooden details, rustic touches, elegant velvet and natural textures to add warmth to the look.
5. Winter blooms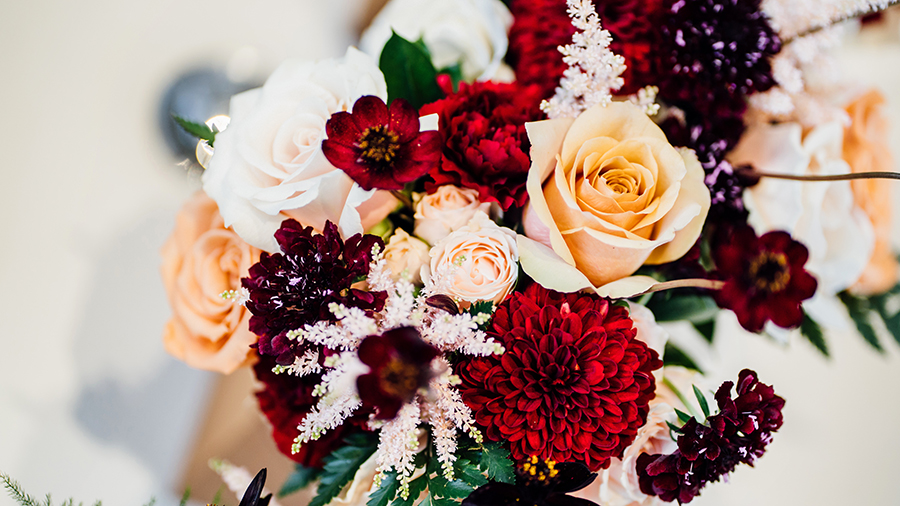 Winter might not be the first season that springs to mind when you think of flowers, but you'd be surprised by how many elegant arrangements you can create at this colder time of the year, plus there's not much chance of them wilting in the hot sun! A winter wedding can, in fact, be an opportunity to get more creative.
There are plenty of lovely flowers like roses, lilies, and freesias that are available year-round and you can also make the most of seasonal blooms like hyacinths, amaryllis, hellebores, paperwhites, and ranunculus. You can also ask your florist to add a little bit of sparkle or metallic frosting to your foliage and bouquets, for a wonderfully wintry look.
6. A slice of winter
Choosing your wedding cake can be so much fun. Whether you are looking to have a traditional three-tier cake, a small one-tier, wedding cupcakes, or an extravagant 5 or 6 tier cake, there are so many types, flavours, and styles to choose from.
To fit in with your winter wedding theme, you could have a gingerbread-themed cake, snow-themed, or a traditional white iced cake finished with some pinecones, greenery, or winter flowers cascading around.
7. Shorter days, Longer parties!
Another fabulous winter wedding idea is to book an earlier ceremony time. This allows more time to get the wedding photographs while it's still light outside.
It also means as the night closes in sooner, more people are likely to join you on the dance floor in the evening, as they aren't enjoying the light summer evenings instead! Ensuring a party like no other, a real chance to make a impact with evening entertainment and everything that goes with having the party of the year!
8. Find the perfect winter wedding photographer
Choosing the perfect photographer can be quite a job in itself. Ensuring that their style of photography suits what you are looking for and that they aren't afraid of the winter light due to having fewer hours of daylight.
Finding an experienced photographer is so important to get the best photographs possible. Even better if they have experience in flash photography, for a wintery day as the nights get darker, it can make such a difference. A good idea is to incorporate a sparkler or fireworks photo in the evening with your guests.
On the brighter side, if you are lucky enough to be blessed with snow on your wedding day, all photographers will be ecstatic as snow illuminates a couple like no other light can! Really creating the most incredible snowy photographs.
9. Festive feasts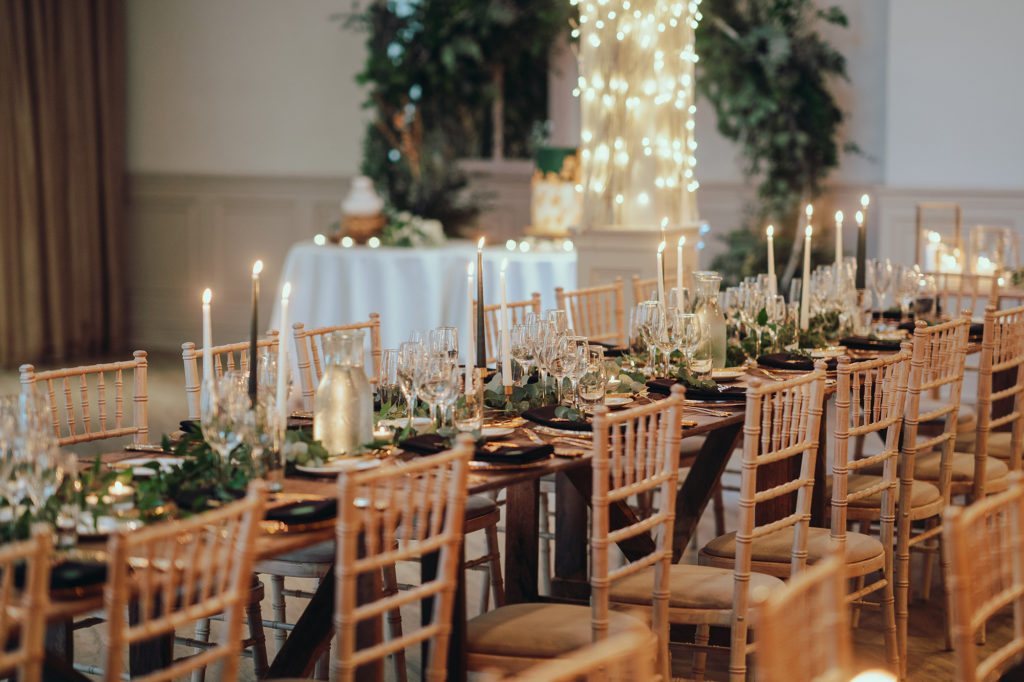 Give your guests a warm welcome to your day by serving a classic winter cocktail like a delicious mulled wine or winter punch full of fabulous spices. Maybe choose to pair it with a sweet treat too, such as mince pies. Sounds like a perfect start to your special day!
When it comes to food at a winter wedding, it's very much a case of more the merrier. Much like at Christmas, your guests will be in the mood for warming and hearty dishes so reflect this in your menu with choices like seasonal meat, vegetables, and wholesome hot puddings. Consult with your wedding venue to ensure you create the perfect winter wedding for you, your friends, and your family!
At Manor By The Lake, we have award-winning in-house chefs who are happy to work with each and every couple to create a bespoke menu depending on what you are looking for. The chefs use fresh, locally-sourced ingredients, to produce the best delicious dishes for you to enjoy.
10. Tying bows and finishing touches
All the extra details make such a difference to creating your perfect wedding day. Why not add some blankets to keep your guests warm, or a hot chocolate station with whipped cream, candy canes, gingerbread biscuits, flakes, and marshmallows to keep your guests cosy and warm.
You may even choose to add some salted caramel vodka or amaretto for adult guests to enjoy an extra tipple with their drink! We can't deny that hot chocolate stations go down a treat with children and adults alike.
11. Late-night treats
You can't go wrong with adding a few extra treats to keep you going during the wintery evening, such as giant cookies or muffins, bacon or sausage rolls, a selection of cheeses, a port station, or a selection box of whiskies. Your guests are for sure going to enjoy them as the clock strikes midnight.
12. Signature Winter Cocktails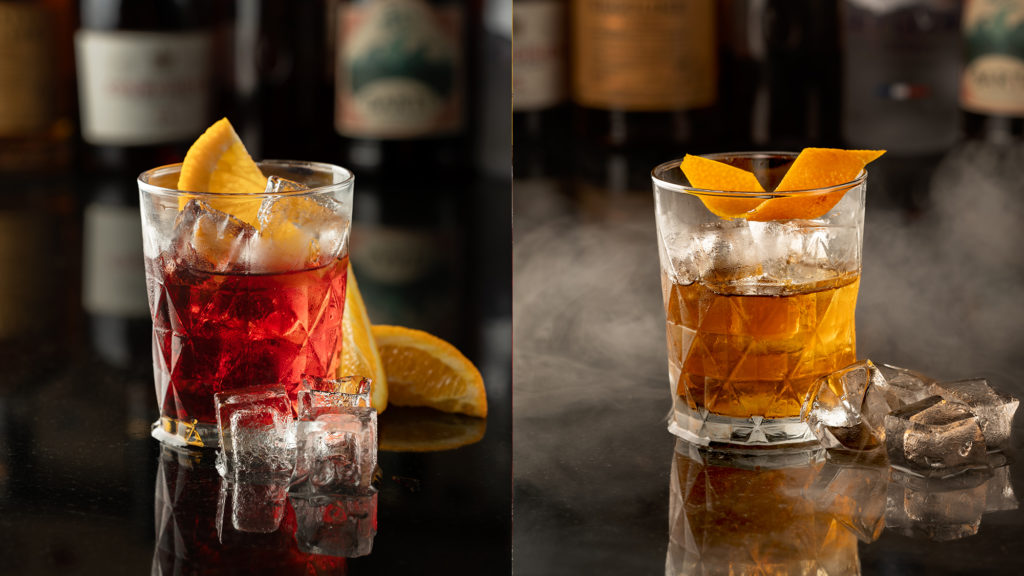 Adding some winter cocktails to your wedding day before the ceremony or during the drinks reception can really help guests to embrace the theme of the day. A few examples include sloe gin fizzes, winter whiskey sours, gluhweins, mulled ciders, or classic snowballs.
Here at Manor by the Lake we love nothing more than discussing all your ideas and creating bespoke cocktail menus and making signature drinks reception tipples, all based on your taste, of course.
13. Festive Favours
Winter wedding favours you may consider gifting to your guests hot chocolate sticks, gingerbread biscuits, mini wintery scented candles, Christmas cupcakes, Christmas decorations, chocolates, or candy canes. You will sure be flooded with sweet shop ideas once you start, all suited perfectly to your winter weddings.
These can also double up and act as your place card settings for your tablescape also!
14. Seasonal Festivities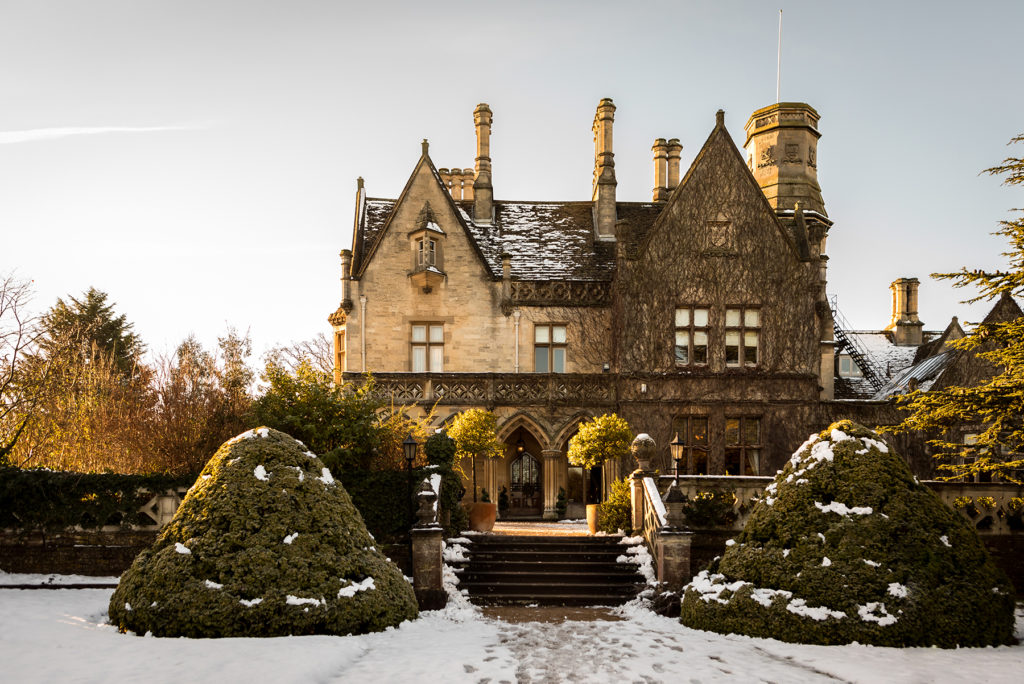 Have you considered adding a magician to your wedding, to really add that magical element to the day? Or perhaps having Father Christmas in the Manor handing out presents to the children, maybe even a snow machine?
There is so much you can include into your day, such as Christmas novelty glasses or Christmas scratch card games to keep adults and children alike entertained!
15. Escape to the sun, book your dream honeymoon!
As your wedding planning comes together, it's now time to think about your Caribbean (perhaps) honeymoon to look forward to after having the most magical time at your winter wedding! Why not look forward to some winter sunshine after your special day?
Looking for more inspiration? Take a look at a selection of real weddings at Manor By The Lake and gather some inspiration!
Please feel free to contact our wedding planning team on 01242 245071 or [email protected] for more information on our winter weddings, and to book your private tour. Our team can't wait to hear from you and to go through your plans for your big day.