Knowing your Miu Miu pumps from your Jimmy Choos can be a blessing and a curse when it comes to your wedding. Any bride will tell you that personal style is of paramount importance, and you'll want to reflect your individuality in everything from your dress to your venue.
However, it often comes with a price tag that would make even Kim Kardashian's eyes water. From vintage chic to the couture-ready bride, it all comes at a price; so what's the modern bride to do?
The best-kept secret amongst the most sophisticated brides these days? Midweek weddings.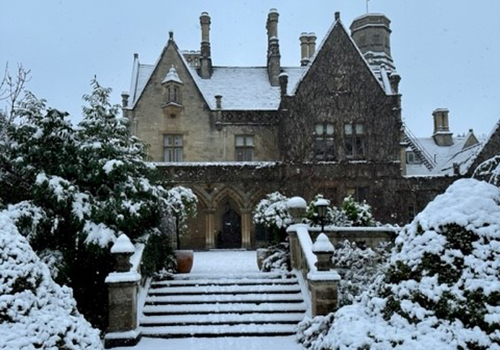 So, you have sourced the wedding dress – thank goodness for sample sales and eagle-eyed bridesmaids. The wedding shoes? You limited yourself to two pairs; a show-stopping pair and a more sensible flat pair for all the dancing you are going to be doing. You've even convinced your gorgeous groom to go with the Hugo Boss made-to-measure suit.
And so you turn your attention to the perfect wedding venue only to be disappointed by the gigantic price tag attached to that fairytale castle. Or worse, the day you have your heart set on is already booked up. Did you know that some of the most sought-after wedding venues have bookings up to two or even three years in advance?
Manor By The Lake is an exclusive-use wedding venue located in Cheltenham, Gloucestershire. Surrounded by 7 acres of gorgeous gardens and grounds, the Victorian Manor makes a stunning backdrop for your wedding photos.
Do different seasons make a difference?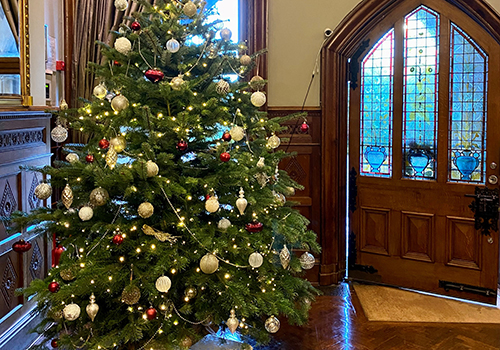 The time of year you choose to get married will make a massive difference. The peak wedding season tends to be between May and October. Off-season wedding dates tend to be in January and February.
We believe that winter is the best time to get married if you're looking to tie the knot on a budget. Winter weddings are more cost-effective compared to booking a wedding date in peak wedding season-Spring and Summer because there can be many benefits to booking an off-peak season. You may even have a little bit of luck and wake up to a white wedding!
At Manor By The Lake, we have a current special offer for January 2024 – saving couples over £2,500 with complimentary bedrooms and winter decorations and for February 2024 – saving over £1,999 with 6 bedrooms complimentary, winter decorations, and 50% off additional evening guests. These packages will help you save money and stick within your wedding budget.
It's quite the dilemma for the modern-day bride, with so much inspiration at our fingertips. The internet (how many Pinterest boards does your big day have? Including the secret ones!), magazines, and even plotting your big day with your close girl friends and family members mean inspiration can strike a bride at any time and place. Having a champagne wedding on a lemonade budget is no easy feat.
Securing your suppliers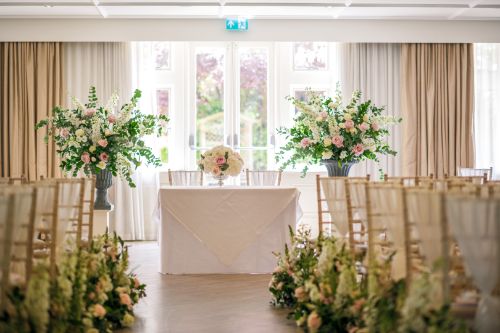 Here in the Cotswolds, we are spoilt for choice when it comes to top-end suppliers. Photographers, such as Dan Morris and Phil Webb; quality chefs; and wedding venues like the beautiful Manor By The Lake, the options can seem overwhelming.
More suppliers are available in off-peak season or less popular dates. Photographers and videographers will have more room to negotiate, as they don't have such high seasonal demands for their services. Meaning you can have your favourite suppliers not worrying that they are all booked up, and while reducing wedding costs!
Don't forget the additional extras like the DJ, Florist and wedding decor company to decorate the wedding venue. These suppliers will also have more availability during the cheapest months meaning you can shop around more to find the best suppliers for your wedding day.
Keeping your wedding costs within budget will be a breeze once you have found the perfect date for your wedding day.
Suddenly, giving your wedding day the wow factor is not the problem. Trying to fit all your ideas into one big event is going to be the issue. Why not give our friendly wedding planners here at Manor by the Lake a call on 01452 245 071 and let them help you keep all those ideas in check and plan the wedding you didn't think you could afford.
We can't wait to welcome you to the Manor to show you around, and discuss your ideas for your dream wedding day!