Originally an American tradition, baby showers have become a growing trend in recent years in the UK. So, our lovely event planners at Manor By The Lake thought they'd pull together their top tips to help you throw a beautiful baby shower.
Who should throw a baby shower?
Usually, the mum to be's best friend will do the honours as it's considered poor form to throw yourself a party where you're hoping to be 'showered' with gifts! If no one has offered, we think it's ok to drop a little hint.
As well as being a lovely opportunity to receive gifts for your new baby, it's actually a great chance to talk to other new mums and mums to be and help prepare yourself and build a network of support for when your baby arrives.
Who should you invite?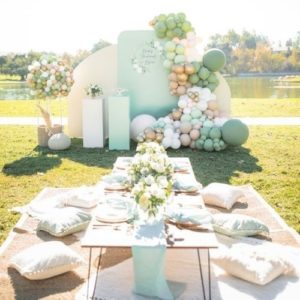 There are no hard and fast rules as to who you should invite to a baby shower, but it makes sense that your closest girlfriends and family members are on the guest list. Work colleagues, NCT friends and neighbours who you see regularly will probably also want to be involved.
If you're throwing a baby shower for a friend as a surprise, you may want to take advice from her other half, or mum, to make sure you don't miss anyone important off the guest list.
Send out invitations around 4-6 weeks before the event. Email or posted invitations are perfectly acceptable and chase RSVPs the week before so you know how many to cater for. Image: karaspartyideas.com
What happens at a baby shower?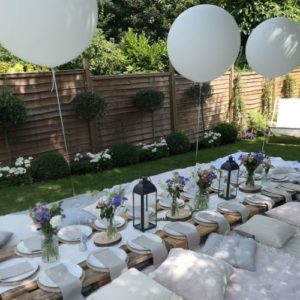 A lot depends on the type of person your expectant mummy is. Some people love the idea of playing baby-related games, such as giving each guest a piece of string, and getting them to guess how long it needs to be to go around the bump! Or you could hand out baby magazines, and get people to choose the baby models they think will look most like the new arrival.
For those who aren't keen on playing games, why not use the opportunity to make something useful and personal for the new parents. Buy an empty notebook, and pass it around so that everyone has the opportunity to write a piece of advice for the new mummy and daddy.
Whatever type of shower you're throwing, it's always nice to have some baby related decor to make the occasion feel special and to celebrate the impending arrival. If you know the sex of the baby, a simple pink or blue theme works a treat, or how about a gender reveal during the baby shower? We loved the story of one mummy who had a cake baked with a pink sponge and a plain white icing. Guests had to wait until the cake was cut to discover if the bump was a boy or a girl.
Fabulous food and drink
No baby shower is complete without some tantalising food and drink, but this isn't the moment for a formal sit down affair. Finger food is ideal for people to nibble on, and afternoon tea is a very popular choice. We think cupcakes, cream teas and mini sandwiches served with champagne and non-alcoholic fizz make a great option and can be served at almost any time of day.
If you're planning a baby shower this year, for you or a friend, talk to our events planners about the options we can offer at our stunning Manor house.
Give us a call on 01242 245 071 or email [email protected] to find out more and arrange a private tour of Manor By The Lake.