Choosing to plan your wedding during the festive season offers several FANTASTIC BENEFITS over a traditional summer wedding. Firstly, you will have significantly less competition when it comes to top WEDDING VENUES and suppliers. This means you may be able to find some incredible deals and make your wedding budget go further. Secondly, you will have the opportunity to create a truly unique, intimate wedding and take advantage of the beautiful festive landscapes – you may even get a magical white wedding if you're lucky!
When it comes to wedding planning, location is one of the most important factors to consider. The Cotswolds has become one of the most popular wedding locations in the UK due to its spectacular natural beauty and an excellent selection of stunning venues. What's more, the central location of the Cotswolds makes it extremely convenient for all of your wedding guests to get to. To help you plan your dream wedding, here are some useful tips on how to enjoy a New Year's wedding in the Cotswolds.
Host a fantastic wedding at an exclusive venue
The first action in any wedding plan is to find a fantastic venue to host your special celebration. It is important to keep in mind that the BEST WEDDING VENUES tend to get booked well in advance (especially on popular days like New Year's Eve). For that reason, it's always best to start researching venues as soon as possible. Once you have a venue booked, you will be able to send out your invitations and start planning the rest of your celebration. It is always best to look for an exclusive use venue, as this means you're guaranteed privacy on your big day. The last thing you want is to see random people you don't know wandering around your venue on your wedding day! The service you receive at an exclusive use venue is typically better, as the staff only have to serve your wedding party. With an exclusive use venue, you will typically receive sole exclusivity of a venue, the grounds, the staff and anything else you require on the day. This helps to give your wedding the ultimate sense of intimacy.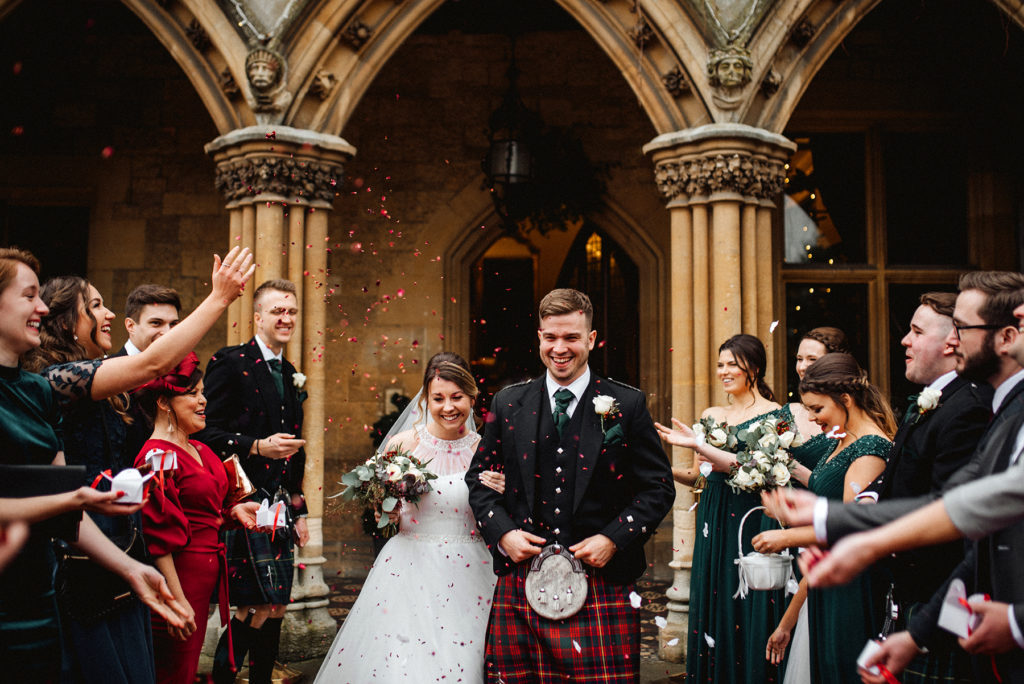 Enjoy the fireworks
Many couples choose to treat their guests to a firework display when planning a New Year's or winter wedding. There is nothing more magical than welcoming in your first year as Mr and Mrs with a spectacular firework display. A colourful firework show makes the countdown to New Year even more exciting! Choosing to have fireworks also gives you something special to look forward to and can be the perfect finale for your perfect wedding day. While fireworks are extremely popular at weddings, it's important to remember that not all venues allow firework displays on their grounds, so make sure you speak with your venue first. According to experts at ELECTRIFY VENUES, you should consider making your firework display unique by having a colour matching finale with your wedding theme or opting for fire writing with your initials.
Make use of the surrounding area
The Cotswolds is a stunning historical area boasting rolling countryside, lush woodland, and plenty of beautiful natural scenery. This means that you'll be spoilt for choice when looking for scenic spots to entertain your guests. Be sure to make the most of the surrounding area by planning lots of exciting outdoor activities, so your guests can admire the breathtaking scenery. For instance, you could arrange fun garden games like giant Jenga or lawn scrabble. If you're planning outdoor activities, then be mindful of the weather and make sure to provide your guests with outdoor heaters and blankets to ensure that they're comfortable on the day. Before and after your wedding, your guests can take advantage of the beautiful nature, ancient villages, and charming tea rooms in the local area.
Use the landscapes for your photographs
If you're planning a wedding over the festive season, then it's highly likely that you've imagined having your photographs taken while standing among beautiful winter scenery. Winter landscapes can be spectacular and offer a unique backdrop for your wedding photographs. You may even wake up to a magical white wedding if you're lucky! Make sure you take advantage of the beautiful scenery when planning your wedding photographs and discuss what you're hoping to achieve with your photographer. It may be a good idea to ask your photographer to visit your wedding venue before the big day, so they can locate the best photo spots inside and outside of your venue. This will help ensure that things run smoothly on your special day.