As summertime comes to an end (where does the time go) and we make our way into the snowy seasons, it's time to think about booking/ planning your whimsical winter wedding. And while we absolutely love the spring and summer, there is just something so magical when it comes to weddings during the festive holiday period.
They're not everyone's cup of tea, mostly due to the drop in temperature. Some people favour warmer weather and outdoor ceremonies (which are gorgeous) when tying the knot. But we're here to tell you why winter weddings are actually really special, and extremely underrated!
Manor by the Lake is a breathtaking Victorian manor house nestled in the heart of the Cotswolds. One of Cheltenham's most sought after wedding venues, and if our venue wasn't enough to blow you away then maybe our Winter Wedding Deals will enchant you. Click here to see our special offers.
So get your winter jackets and mulled wine ready and read on to find out why we think winter weddings are so magical!
1. Winter Wedding Fashion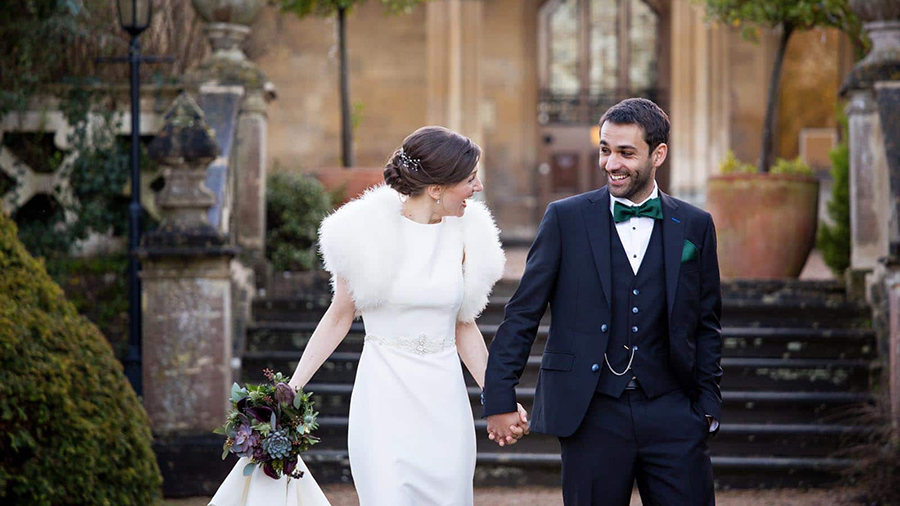 Now this is at the top of the list for a reason! To some, deciding what to wear on the big day is the most important part of planning, and many already have their dream outfit in mind. And winter weddings are the perfect excuse to up the dramatics!
In the summer, due to high temperatures (or so we'd like to think), couples often feel inclined to wear lighter, breezy materials. Whereas, the winter months allow for more layers and fun accessories, such a shawls, capes and gloves, to help keep warm.
2. Winter Wedding Décor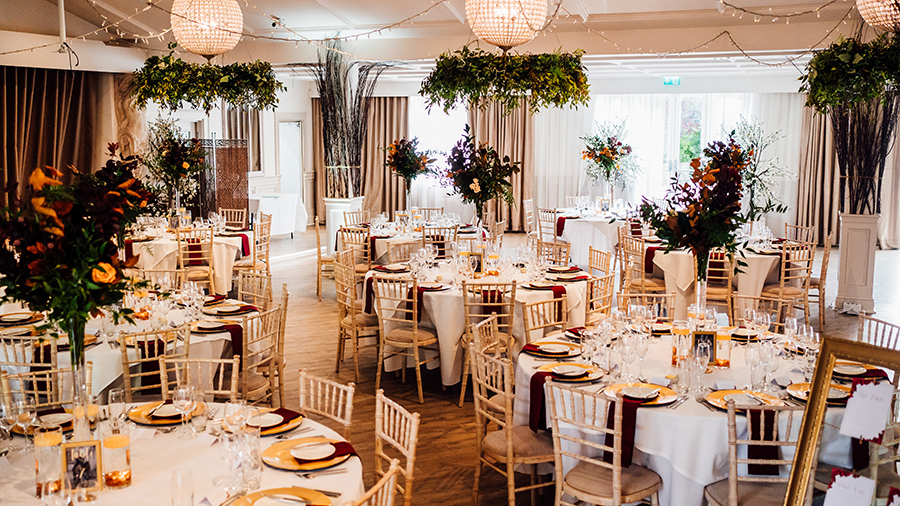 Here at Manor By The Lake, we take winter décor very seriously! For winter weddings, we offer free winter wonderland themed decorations, as well as turning the rest of the Manor into a cosy, Christmas hideaway. Just to make your big day that little bit more special.
Twinkling lights, winter flowers and tinsel adorn the halls to highlight the Manor's natural beauty. Taking the term 'fairy-tale wedding' to the next level. Free winter decor? Yes please.
3. Winter Wedding Photography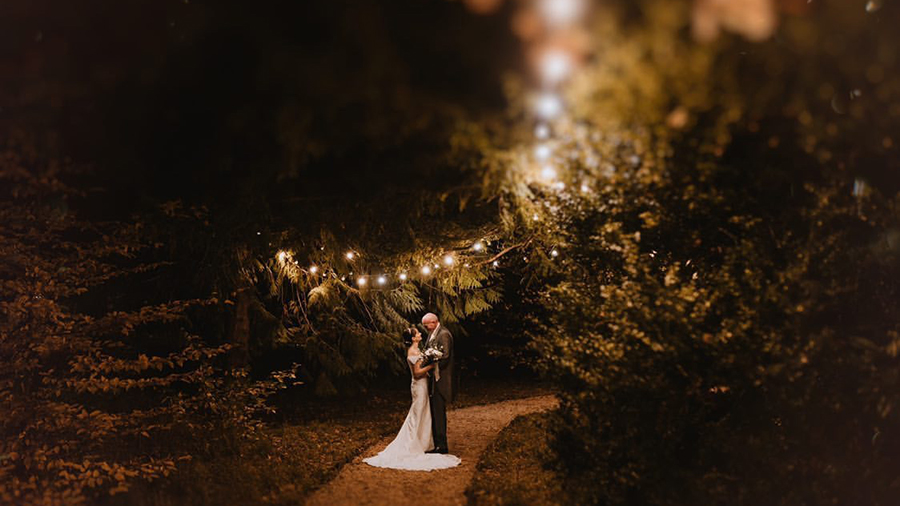 Wedding photography is stunning regardless of the climate/location. One thing most photographers excel at is taking beautiful photographs no matter what weather they're faced with. But there's just something so romantic about wedding photography in the snow!
Some of our favourite pictures taken here at the Manor are from winter weddings purely for this reason. It makes for such a gorgeous backdrop. Imagine you and your partner posed beautifully in front of snowy Manor, what's not to love!
4. More Wedding Venue Availability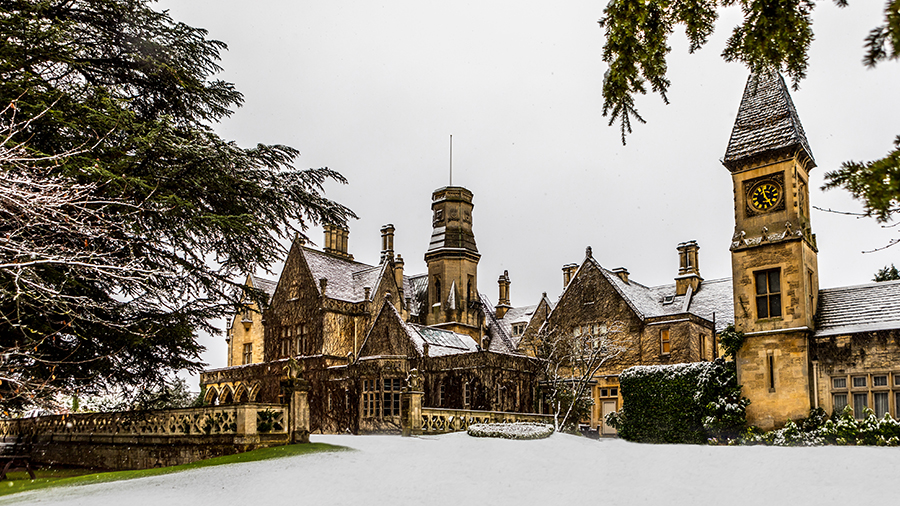 Unlike the warmer months, which are usually all booked up day to day with weddings and parties galore, the colder months are significantly less busy. Which means more availability and less competition for your big day!
It could also mean that your family and friends haven't got any overlaps in their schedules and leaves no risk for double bookings (not an issue at the Manor, we're an exclusive-use venue). If that doesn't make you want to book your winter wedding then we don't know what will!
5. Winter Themed Food And Drink Theme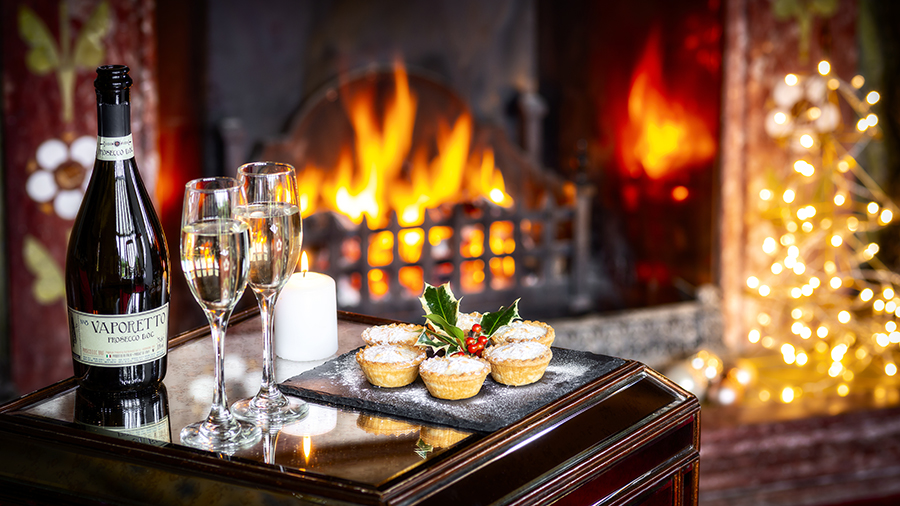 Winter weddings are the perfect excuse to serve all of your favourite seasonal snacks and foods! Whether you're a mince pie lover or a pigs in blanket fan, there's a huge list of holiday treats to eat alongside your delicious three course wedding breakfast. All ready to leave your guests taste-buds tantalising.
And if seasonal food isn't your thing, perhaps Christmas themed cocktails and drinks would be! Mulled wine, sherry and Christmas cosmopolitans top an extensive list of boozy beverages, perfect for a wonderful celebration on your winter wedding day!
6. Something Different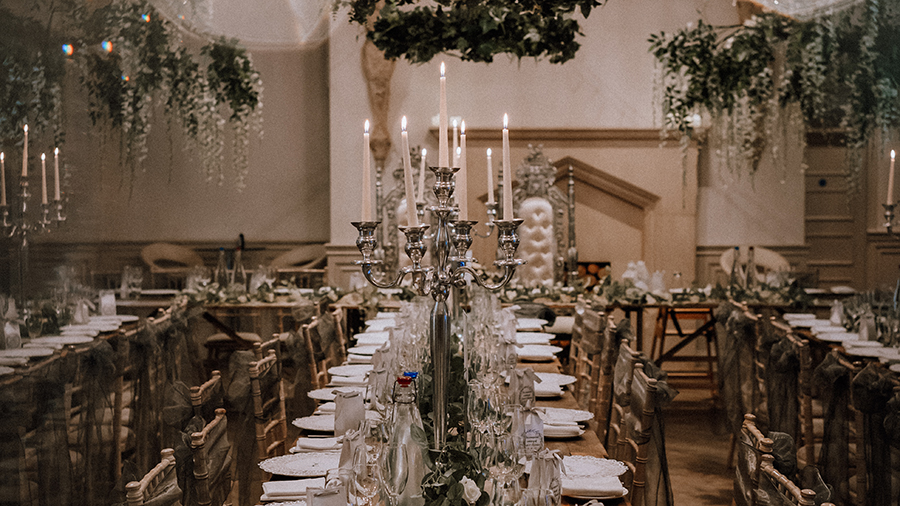 As many of you may know, the peak time for weddings is between June and September, meaning winter weddings are far from the usual. And after a couple of months of weddings in the heat, it's nice to experience something different. Which is what makes winter weddings so magical!
And that's not the only thing that's different. A wide variety of winter themed decorations, foods, accessories and flowers are available that you simply can't get for spring/summer weddings.
So take advantage of this and think outside the box!
7. Keeping Warm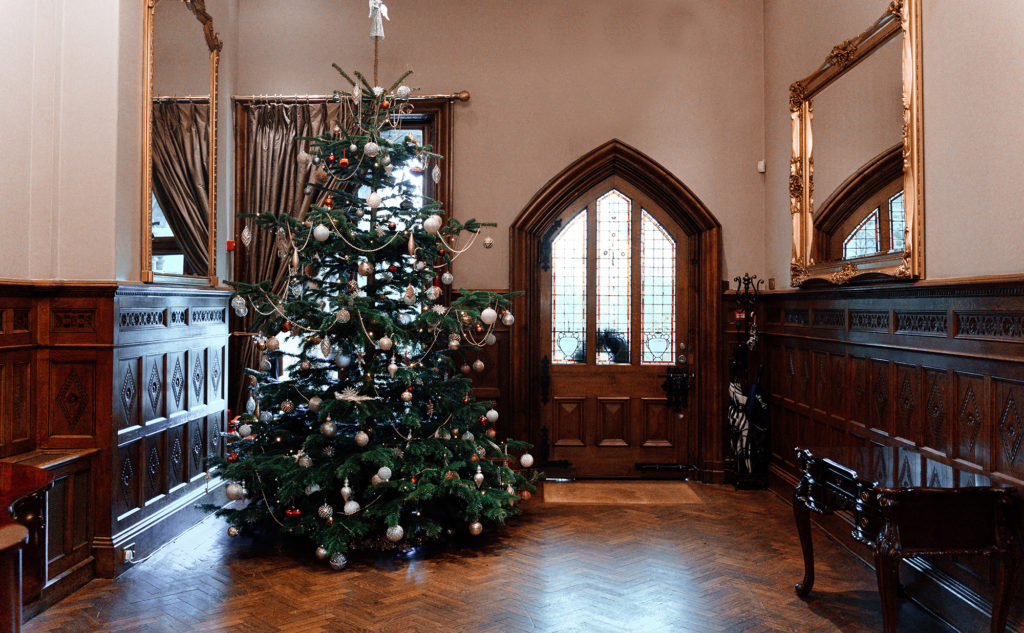 Everyone planning a summer wedding, or outdoor ceremony, hope for good weather on their big day. But being in the UK means that that isn't always guaranteed (we've all be caught in the rain unexpectedly at some point)!
Of course, most winter weddings are usually indoors (unless you feel like braving the cold). Which means less stress on the day of the wedding when it comes to anything weather related. Once you're in the venue, you're in. No need to panic!
8. Hello Honeymoon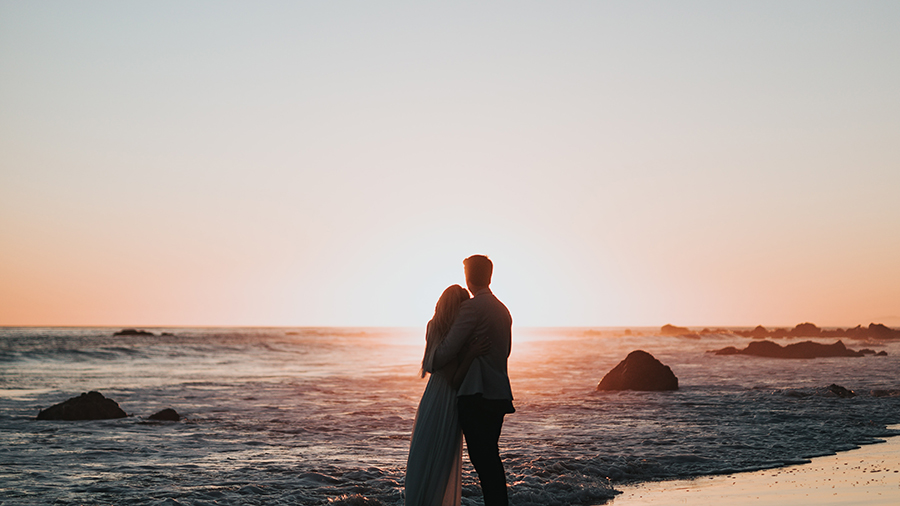 Choosing your honeymoon destination for after the wedding is a whole different ball game in the winter! Popular destinations such a Bora Bora, The Maldives and Hawaii are the perfect places to jet off to if you're looking two escape the cold for a few weeks (and it'll be the perfect temperature there too).
But, if you're a fan of snow, places like New York City, Iceland or even Scotland are beautiful places to spend time with your new partner. So it's the best of both worlds really. Get booking your hotel room right now!
9. Save Some Cash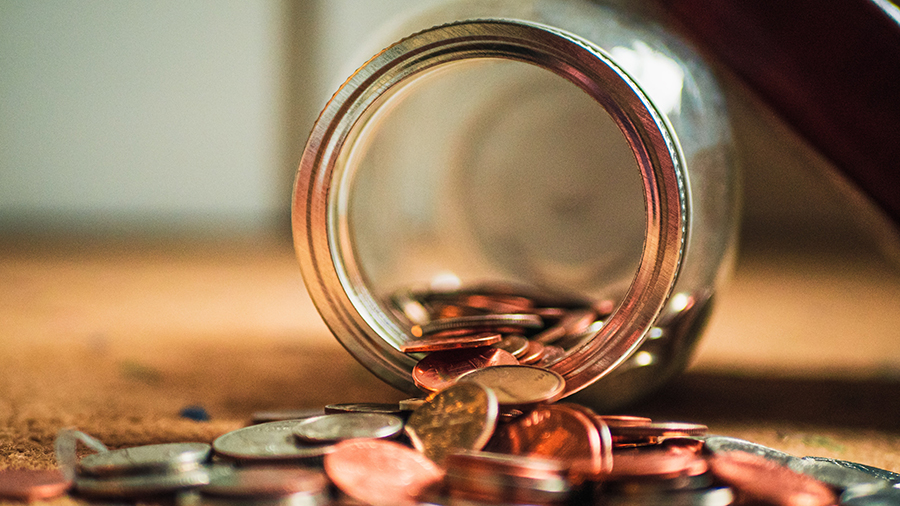 While this may not be true for every business in the wedding industry, you may be able to get married for a cheaper price as October to around April time is classed as 'off season'. And for this reason, the same venues used during the peak (June – September), tend to lower their prices when they expect it to be less busy.
So, if you're looking for that same luxury wedding on a budget, then booking a winter wedding may be the one for you. Save the date!
10. Flower Power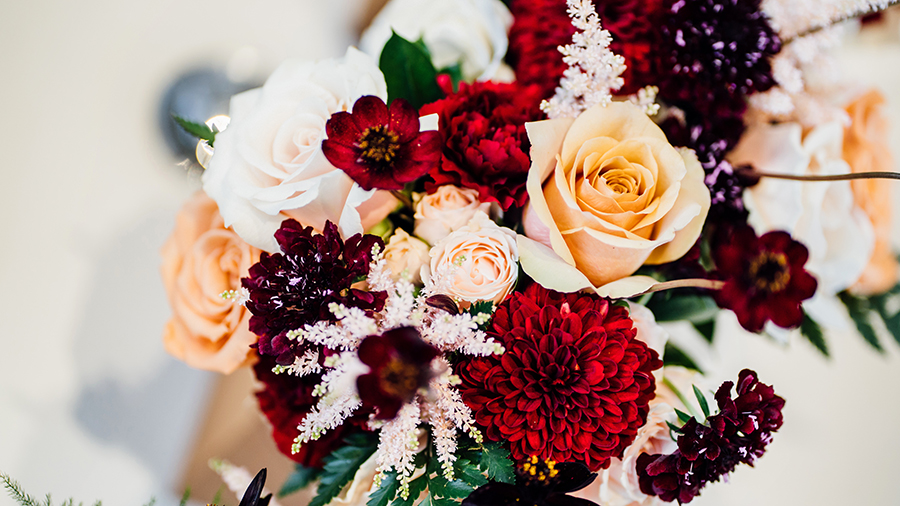 A whole different range of stunning flowers are available in the winter months, that you simply can't get during wedding season! Christmas Roses, Winter Honeysuckle, Snowdrops, Pansies, Daphnes and Winter Heathers are amongst a beautiful bunch of flowers that bloom in the winter.
Whether used to decorate or as part of your bridal bouquet, these are perfect to add a little festive touch when tying the knot!
Hear from our couples about seasonal weddings here at the Manor, Jade & Scott said their "I-Do's" in the winter time and said "I would describe our wedding décor as old school vintage glamour.  The Manor was nothing short of perfection. I used a mix of deep burgundy, blush pinks, peaches, rose golds and coppers in my floral arrangements." 
If you'd like more information about booking your winter wedding here at Manor By The Lake, Gloucestershire, contact our fantastic wedding planning team here.