Christmas wedding have become increasingly popular over the years! And for good reason, as they can offer several unique and exciting benefits over traditional summer weddings. These include: less competition for a wide variety of fantastic venues (such as our very own Manor By The Lake – we're exclusive-use by the way), amazing deals on vendors and suppliers and the chance to plan an intimate wedding like no other!
But when it comes to planning winter themed weddings, there aren't as many planning guides and tips out there, especially in comparison to weddings planned during the peak season (June – September). But don't worry, our fantastic team hear at the Manor are here to give you some top tips!
To help you arrange the wonderful white wedding of your dreams, here are our favourite tips to ensure you plan  an unrivalled Christmas wedding.
1. Look For A Venue To Accommodate Festivities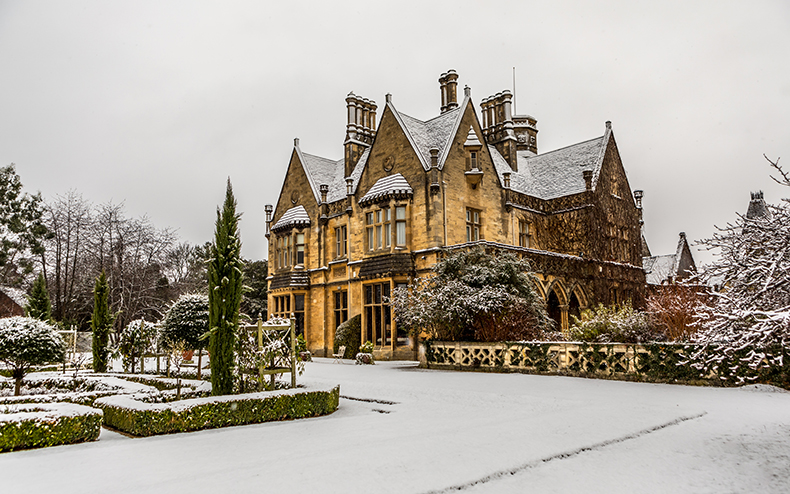 If you are planning a winter wedding, it's important to look for a venue that has the facilities to accommodate festivities and compliment your theme. Fortunately, many winter wedding venues will already be decorated in festive colours like red and green. They may also have decorations like a Christmas tree and fairy lights to add to the festive atmosphere. Here at the Manor, we take decorating for the holidays very seriously!
Make sure you ask your venue what decorations will be on display during the Christmas period. This will help you to organise the rest of your décor to match. Some venues, like our own, will also be able to help decorate to your taste!
2. Choose Your Wedding Colours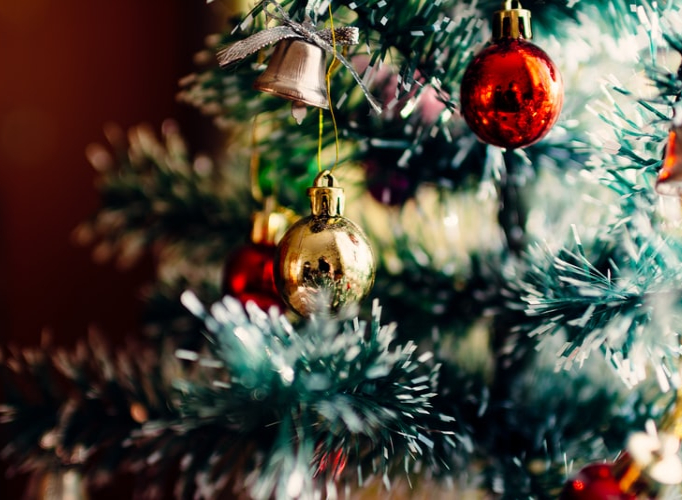 Traditional festive colours are red and green but you don't have to limit yourself to this palette. Gold, cream, silver, burgundy, and light blue are all well suited to a Christmas theme and can look stunning at a winter wedding. Some of the most popular festive wedding colour palettes include: black, white and gold; burgundy and black; all white; and ivory, blush and green.
Make sure you experiment with different palettes and choose a colour theme that suits your particular taste and style. You may feel a traditional palette isn't appropriate for your dream wedding!
3. Create The Most Effective Cake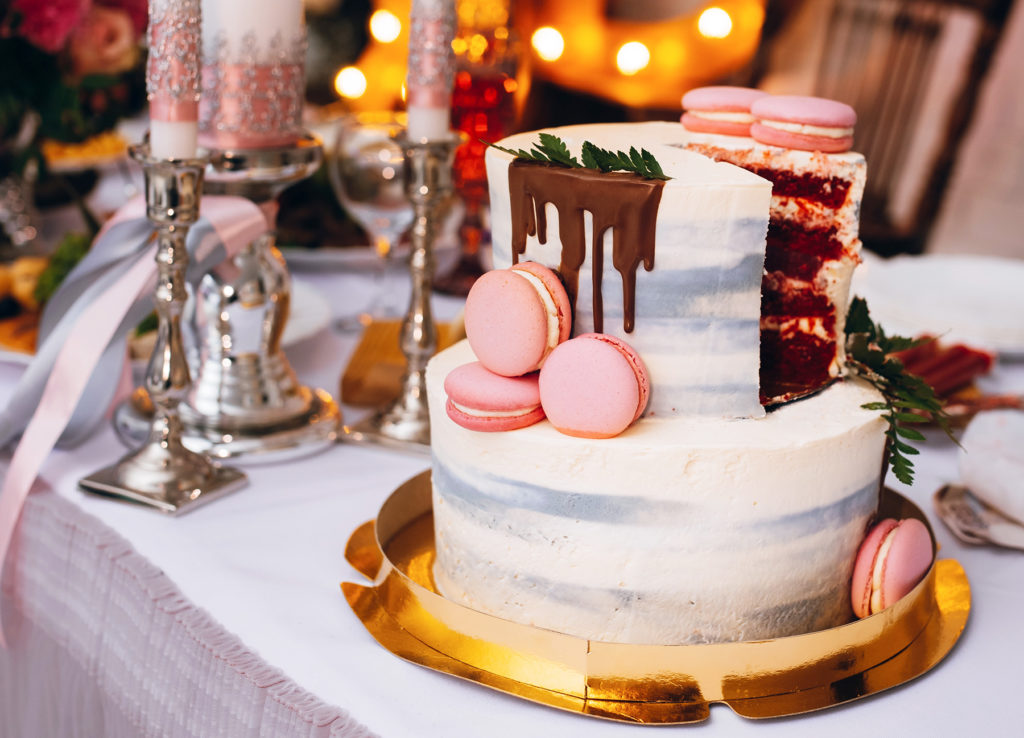 Many unique wedding cake designs are perfect for winter weddings. For instance, having each cake tier decorated like an individually wrapped gift is a popular look at Christmas weddings. You could also have your wedding cake designed in a yule log shape or decorated with frosted pinecones and berries. Naked cakes are also extremely popular with couples planning a festive or rustic themed wedding.
When it comes to taste, winter wedding cakes are all about rich and indulgent flavours. Black forest, chocolate peppermint, gingerbread, and red velvet are all popular choices at festive weddings. Winter weddings allow couples to go all out and choose unique and delicious cake flavours that will surprise and impress their guests. You could even match the cake to the venue's theme.
4. Embrace Seasonal Clothing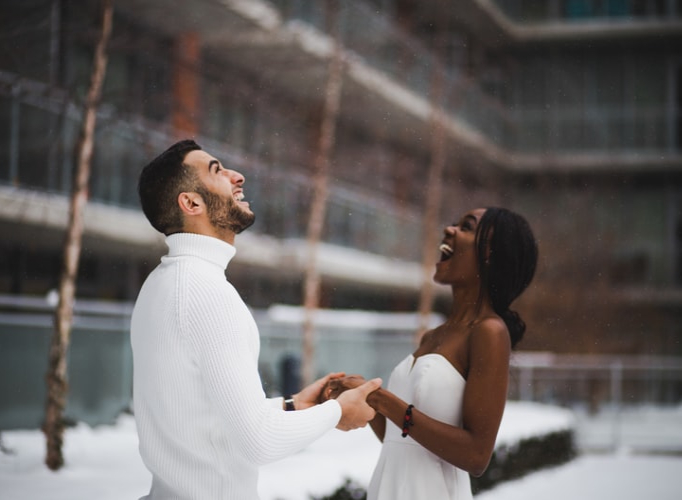 Clothing should be a key consideration when planning a Christmas wedding. If you're choosing to get married during the winter months, you can be pretty certain that the weather will be cold, plus you may have to deal with heavy rain, ice, and snow (if you're lucky). Strapless dresses and sandals may look great at a summer wedding, but your bridesmaids are not going to appreciate standing outside for photographs with little protection from the cold if you're planning a winter wedding. Believe us, we know!
The last thing you want is your wedding party to look miserable and uncomfortable in your photographs! Fortunately, you can make sure that you, your bridesmaids, and the rest of your wedding party are warm by embracing seasonal clothing. A popular bridesmaid look for winter weddings is long dresses with shrugs or faux-fur jackets. You can also provide your bridesmaids with wraps and sparkly drapes to compliment your festive theme.
5. Picking Your Seasonal Flowers And Decorations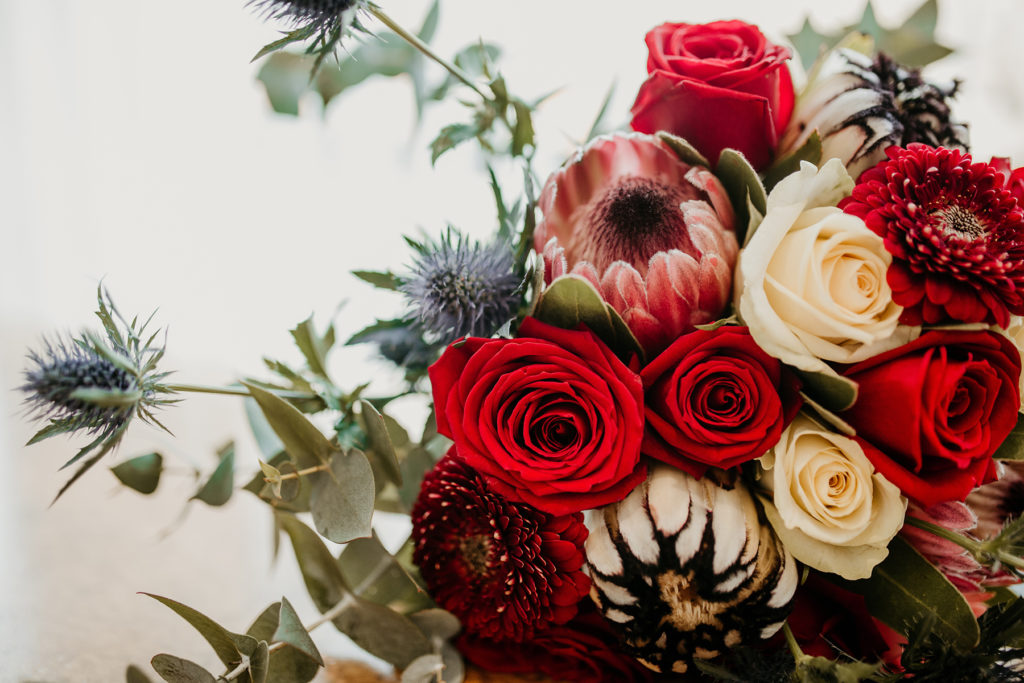 You can keep your flower costs low by choosing styles that are in season. Fortunately, couples getting married around Christmas have an excellent selection of winter flowers to choose from including roses, tulips, carnations, winter jasmine, and snowdrops. Couples can help keep costs low by using decorations like candles, pinecones, and sprigs of holly to create a romantic and elegant atmosphere; something the grandparents will adore!
A simple pot of poinsettia with a ribbon trim can make a beautiful and affordable centrepiece at a festive wedding. Many couples dream of a magical white wedding, but the chances of having a fresh blanket of snow on your wedding day are slim. However, you can easily create a white wedding using artificial snow products. If you want to go all out, then you can hire a professional snow machine to truly embrace a white wedding theme.
Final Thoughts
Christmas is a fantastic time to plan a wedding. More and more couples are swapping a traditional summer wedding for a festive winter celebration – and for good reason! A Christmas wedding allows you to take advantage of amazing deals, maximise your wedding budget, and create a unique, intimate wedding. Use the above tips to help you plan the magical winter weddings of your dreams.
Contact our fantastic team here at the Manor to find out more about booking your winter wedding, we can't wait to hear from you!