Planning an intimate wedding offers a number of great perks. This includes saving you money on wedding costs, allowing you to spend more quality time with your nearest and dearest, and creating a more personal and meaningful celebration. More and more couples are choosing to trade in the idea of a large grand wedding, in favour of a smaller, more intimate celebration. Here are the top reasons why you should consider a micro wedding for your special day.
Easier To Plan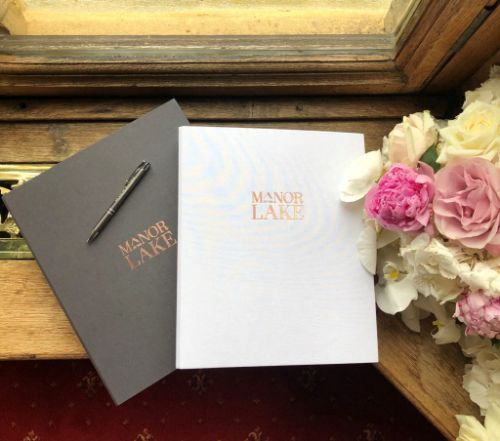 Organising a large wedding can be exhausting and involve months or even years of planning. Whereas, opting for a small intimate wedding should make your special day far easier and less stressful to plan – whilst keeping the love and magic alive. This is because more intimate weddings require fewer guests to organise and fewer suppliers and facilities to arrange. For instance, it's far easier to move 20 people inside if it starts raining on the day compared to 200+ guests. It also means you can spend more time with your closest friends and family with intimate celebrations.
You will also get a far better choice when it comes to venues. Inviting fewer guests will give you the option to have your wedding at unique and less-traditional wedding venues such as our gorgeous exclusive-use Manor house. This will help you plan a unique and memorable day that is personal to you. When you meet the right person, falling in love is easy – so why can't planning your wedding be the same?
You Can Focus More On The Details
Having fewer guests means that you can focus on the small details and let your creativity come to life with things like personalised name cards and homemade wedding favours – our favourite! Smaller weddings allow you to bring your dream wedding to life, without having to skip the small details that may be left out at a larger celebration. Keep in mind that fewer guests generally means a bigger budget. You can use that extra money to enhance your wedding day and give your wedding the wow factor with luxurious extras like champagne, welcome gifts, decorations, and extravagant food options.
You Can Be Vulnerable
Weddings are emotional occasions and some people feel uncomfortable showing their emotions or being affectionate towards their partner in front of hundreds of wedding guests – looking at all the fathers of the brides out there! Couples may feel especially awkward if there are people present at their wedding ceremony who they don't know well i.e. distant family members. Keeping a small guest list of just your closest family and friends will ensure that you feel completely comfortable on the day and don't need to worry about showing your emotions or being embarrassed to show your love for your partner.
Your Guests Can Get To Know Each Other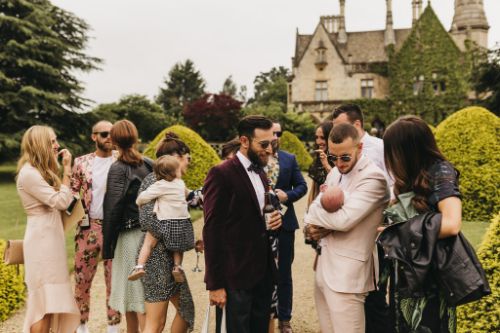 An intimate wedding will give your guests the chance to get to know each other on a more personal level. When there are hundreds of guests at a wedding, people tend to stick with groups of people they know, so often avoid socialising with new people. When planning a small wedding, you can easily arrange fun activities like group games to get all your guests involved and talking. If you are looking for some ideas, speak to your wedding coordinator and they would be happy to give you some suggestions. You also have the option to seat everyone together at one table for the evening meal. This saves you the stress of creating a complex seating plan and allocating people to separate. You can have all your loved ones together.
It's A Fairytale To Remember – No Wedding Day Amnesia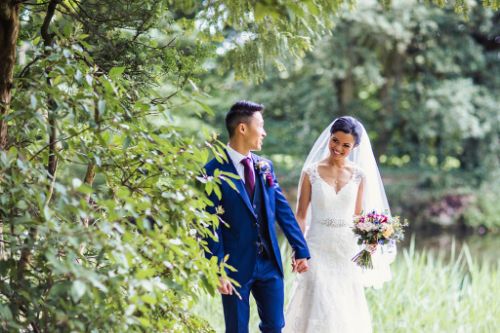 Many couples say that their wedding day went too fast and passed in a blur. It's easy to become stressed with hundreds of guests to greet, organise and entertain all day. Whereas, a small wedding allows you time to take a step back and really appreciate the moment. You'll be able to spend more quality time making memories with your nearest and dearest, instead of spending your special day trying to socialise and entertain a huge group of people.
You Can Still Celebrate With Other People
If you choose a small wedding, there will obviously be some people who you can't invite. It can feel awkward or uncomfortable telling people that they aren't invited to the day. However, it's important to remember that your family and friends should respect your decision and be happy for you regardless of whether they received an invite or not.
Plus, there are plenty of ways to celebrate with people after your wedding. For instance, you could have a small civil ceremony and intimate wedding breakfast, then finish with a big evening reception. Or you could even arrange a big meal with your work colleagues or invite people round to your home for a dinner party and drinks to celebrate your marriage. There are many fun ways to keep your celebrations going and involve your extended family and friends in a less formal and more affordable setting.
We absolutely love small weddings and would recommend having a small intimate affair for your special day. Our favourite place to have your outdoor ceremony is definitely by the Manor arches. As the venue offers exclusive hire, it makes your day extra special with only those invited there as you exchange vows.
Manor By The Lake is located just 5 minutes off the motorway, and only a short walk away from two local hotels. It is also located within 7 acres of grounds, making it a perfect setting for your wedding photographs.
We even have in-house chefs that are known for their award-winning cuisine, and a dedicated wedding team who are happy to help you every step of the way. You'll be assigned a wedding planner for the final 9 weeks leading up to your big day, followed by an on-the-day event manager too.
Please contact our team for more information and to book your private tour of the Manor and grounds, we can wait to speak to you about your wedding day plans!