Choosing the perfect wedding season sets the tone for your special day and allows you to align your theme, style, and food and beverage choices with the enchanting beauty of our venue. Manor by the Lake transforms through the seasons and lends itself perfectly to each. Nestled in the heart of the breathtaking Cotswolds, it is a region renowned for its picturesque landscapes and quintessential English charm.
Come and see for yourselves, get in touch today to book your private tour of our manor and grounds.
Picking a wedding date is a decision that creates a starting point for your journey as a married couple, so choose wisely, along with a sentimental value as this is a date you will remember forever.
Let's explore the unique feelings and experiences that each season offers, ensuring your wedding day is magical in every way.
Spring: Embracing Nature's Rebirth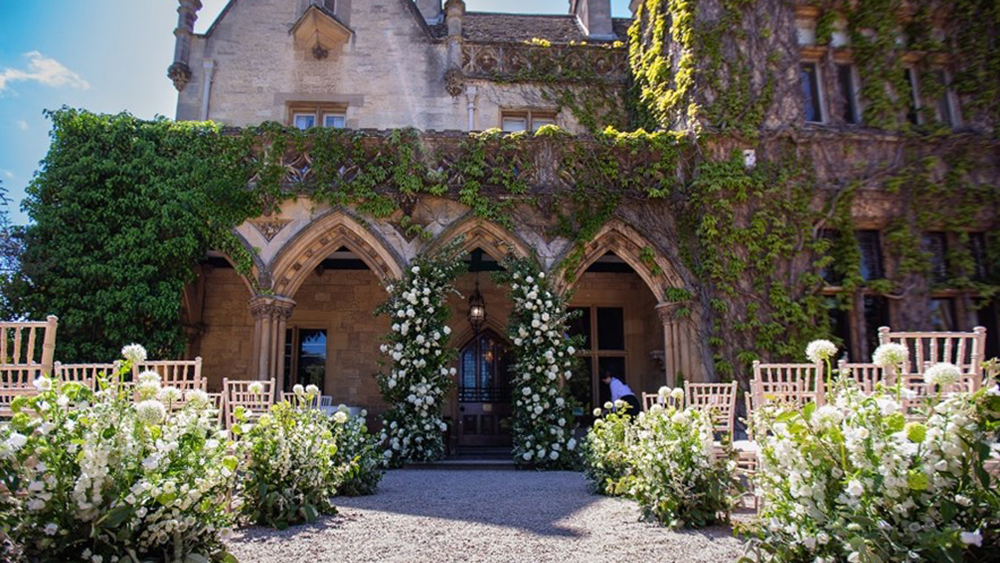 As the winter frost melts away, our stunning grounds come alive with vibrant blossoms and dancing daffodils. A spring wedding at Manor by the Lake exudes freshness and new beginnings. Picture a whimsical outdoor wedding surrounded by spring wildflowers and their delicate petals gliding through the air like confetti, sounds perfect we know!
We have space aplenty for you to say I-Do, from indoor ceremony rooms to open air weddings at one of our 3 outdoor ceremony spaces: The Lakeside Pavilion, The Manor Arches & The Italian Pavilion. These all complement the beauty of spring perfectly.
Spring brings with it a bounty of delicious seasonal treats that can enhance your wedding experience. From incorporating fresh fruits and vegetables into your menu to serving light and refreshing cocktails, you can design a culinary experience that complements the season. Consider incorporating spring flavours like citrus, berries, and herbs to create a menu that delights the senses and leaves a lasting impression on your guests.
To add a playful touch, why not consider an Easter egg hunt in the gardens, creating cherished memories for the little ones?
Summer: Embrace the Sun-Kissed Bliss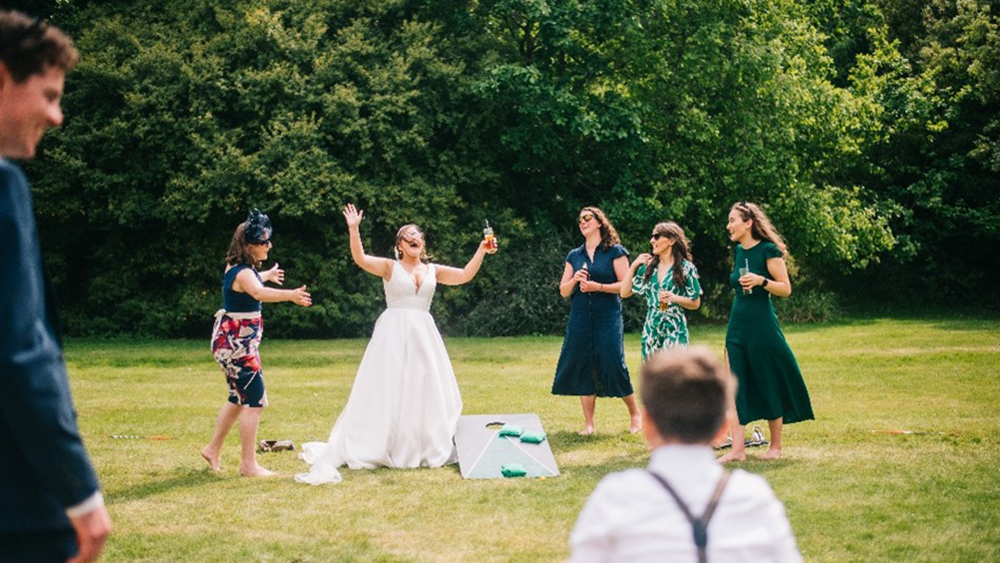 When the sun graces Manor by the Lake with its full radiance, summer weddings truly come alive. Picture saying I-Do outside in the sun, sipping refreshing cocktails at the garden bar, feeding the ducks at the lake, garden games and so much more!
Surprise your guests with grazing stations in our enchanting gardens, inviting them to indulge in delicious, sun drenched, alfresco dining. Summer is a culinary delight, offering a plethora of fresh and delicious options for your wedding menu. Think refreshing cocktails and mocktails featuring seasonal fruits, vibrant salads bursting with flavour, and mouthwatering barbecues or seafood feasts.
A summer wedding comes with lush greenery, blooming flowers, and a world of hues. You can incorporate these vibrant tones into your wedding theme, from bold and tropical palettes to soft and romantic pastels, your stationery and styling can encapsulate just that.
While every season holds its own charm, the summer months are peak wedding season for a reason!
Autumn: A Tapestry of Rich Colours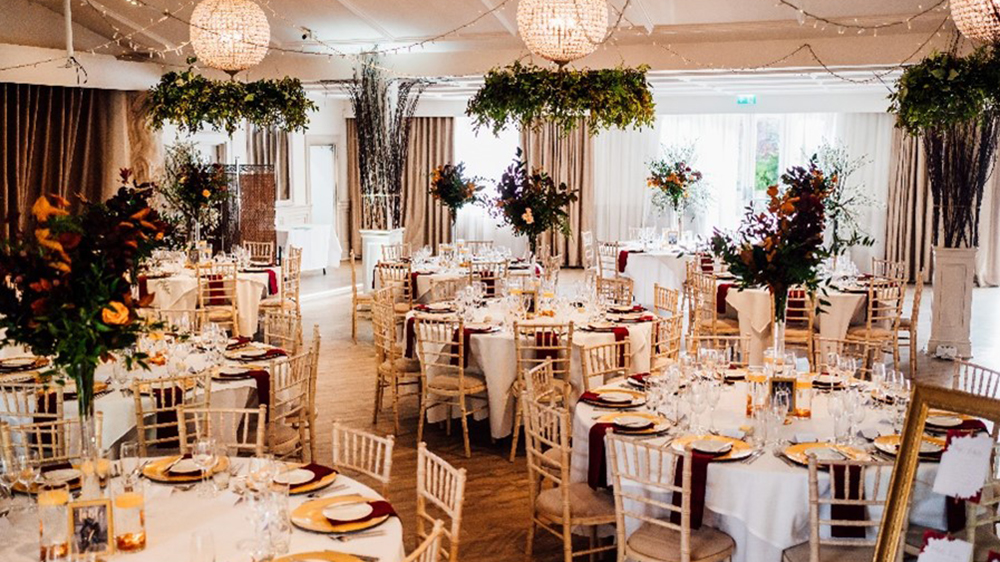 As the leaves turn vibrant shades of red and orange, Manor by the Lake showcases the enchanting beauty of autumn. With our magnificent grounds as your backdrop, create a wedding theme that embraces the natural splendour of this season.
Incorporate warm colours and rustic elements, such as golden foliage accents and textured fabrics, perfect for a fall wedding. Think cosy candlelit receptions, warm blankets for guests, and the opportunity to incorporate natural elements like acorns, twigs, and dried leaves into your centrepieces and stationery. Our team can help you curate an autumnal world that perfectly complements the captivating colours of your surroundings.
Treat your guests to a delectable feast featuring hearty and savoury dishes, seasonal vegetables, and delicious desserts inspired by autumn spices like cinnamon and nutmeg. Incorporating seasonal produce and flavours into your wedding cuisine adds an extra layer of culinary delight to the celebration.
Winter: Cosy Elegance by the Fireside
When the crisp winter air descends, Manor by the Lake transforms into a warm and welcoming haven. Imagine exchanging vows in a winter wonderland, surrounded by the manors crackling fires and delicate period features. Embrace the romantic ambiance indoors with cosy fireplaces and the enticing aroma of warming mulled wine or winter Pimm's.
Winter is considered an off-peak wedding season, meaning greater availability, which is great for you if a winter wedding date is your chosen season.
Winter weddings offer a delightful opportunity to indulge in a dining experience that is both comforting and festive. The colder months provide the perfect setting to serve a menu filled with hearty dishes that will warm the souls of your guests. Think of rich and savoury options like slow-roasted meats, braised lamb shanks, or succulent roasted chicken paired with root vegetables and fragrant herbs. For a touch of holiday cheer, consider adding festive treats like hot coco stations, spiced mulled wine, or a decadent dessert bar with delights such as gingerbread cookies, warm apple crumble, or indulgent chocolate truffles. The winter wedding food experience will not only satisfy you and your wedding guests' appetites but also evoke a sense of comfort, joy, and celebration during this magical season.
With winter comes the beginning of a new year, and what better way to celebrate than with a New Year's Eve wedding! As the clock ticks closer to midnight, your guests will delight in the anticipation, counting down to the stroke of midnight as you share a magical first kiss as newlyweds. Festive elements such as a champagne toast, confetti showers, and a dance floor that all comes alive with the sounds of celebration. A New Year's Eve wedding is a glamorous affair, offering a one-of-a-kind celebration that sets the stage for a lifetime of love and joy.
Manor by the Lake: The Perfect Venue for Every Season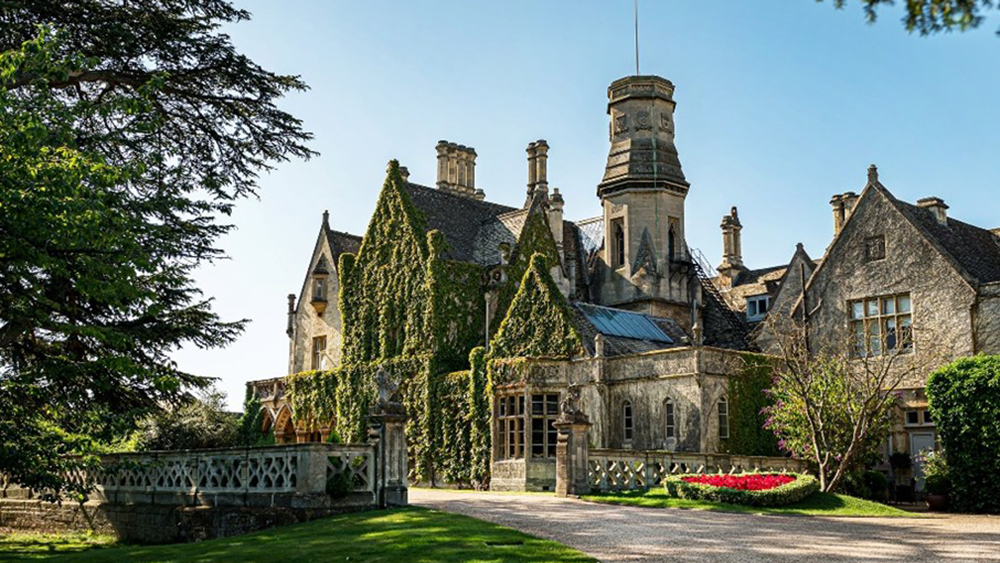 At Manor by the Lake, we take pride in our ability to transform into the perfect wedding venue for any season. Our team of dedicated professionals understands the nuances of each season and works closely with you to bring your vision to life. From spring's blossoms and outdoor weddings in the sun to autumn's rich pallet and cosy manor house ceremonies, we meticulously curate every detail to match the unique themes, styles and personalities of each couple.
Choosing a wedding date and month to get married is such an exciting part of your wedding planning process, this reveals your season and is your moment to set the stage for your special day and everything that goes with it. At Manor by the Lake, we ensure that your big day reflects your dreams, no matter the season.
Our couples from every season have spoken, so get inspired and hear it for yourselves from our Real Wedding newlyweds. Also take a look at our selection of wedding collections to suit every couple, budget and every season, of course.
Let the magic of Manor by the Lake embrace you and create memories that will last a lifetime, get in touch to start your wedding journey.